Music
The Head and the Heart
DAR Constitution Hall
December 9
The Seattle folk-rockers released their second album in October 2013, featuring songs inspired by travels they embarked on after their self-titled 2011 debut. $34.
Natalie Merchant
Lincoln Theatre
December 10
The singer/songwriter's 2014 self-titled album is her first collection of entirely original tunes in 13 years. Never one to shy away from exploring the boundaries of her sound over her long career, she's nailed what might be her most fully realized work. $55.
Megan Hilty
Kennedy Center
December 13
Some of the TV projects she's been involved in have been panned (Smash; Sean Saves the World), but her musical talent (Broadway's 9 to 5) has never been in doubt. Hilty applies the latter to Christmas music from the Great American Songbook. $65.
Zion's Muse: Three Generations of Israeli Composers
Kennedy Center
December 14
The Ariel Quartet explores Israel's relatively young but rich musical legacy, stretching from the 1930s work of composer Paul Ben-Haim to contemporary pieces by Menachem Wiesenberg. $44.
Trans-Siberian Orchestra
Verizon Center
December 17
Guaranteed you've heard at least one of their electric-guitar-driven holiday tunes—now watch them perform their "rock opera" The Christmas Attic live for the first time. $42 to $73.
Matisyahu
9:30 Club
December 22
He's shed the impressive beard but not the eclectic reggae sound that earned him a Grammy nomination. Hear tracks off Akeda, Matisyahu's fifth album, which came out in June. $35.
Chuck Brown Band
Bethesda Blues and Jazz
December 27
The backing band of the late Godfather of Go-Go performs some of Brown's greatest hits. Frank "Scooby" Sirius, formerly of the local band Lissen, joins the lineup. $25.
Gogol Bordello
9:30 Club
December 28 (December 27 sold out)
After six studio albums, the gypsy-punk band sounds more raucous than ever. Same goes for its frenetic live show, which has been known to involve crowd-surfing. $35.
Holy Ghost
9:30 Club
December 30
The Brooklyn duo of Alex Frankel and Nick Millhiser gained a following for their synth-soaked remixes of tracks by Cut Copy, Moby, and LCD Soundsystem, among others. Holy Ghost's original tracks are equally worth a listen, as their sophomore effort, September's Dynamics, proved. $20.
Old 97's
The Hamilton
December 30-31
The Rhett Miller-fronted Dallas band celebrated its 20th anniversary this year by releasing its 16th album, Most Messed Up. The new tunes reflect on two decades in the music biz. $35 to $85.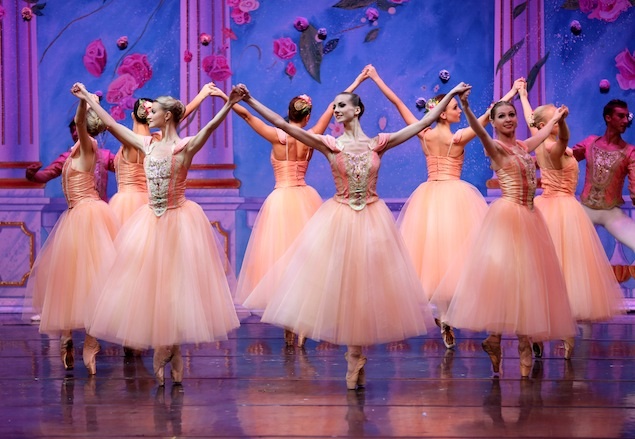 Dance Performances
Ballet West's The Nutcracker
Kennedy Center
December 10-14
This version of the holiday classic—created by the Salt Lake City company's founder, William Christensen—is a Washington favorite. $56 to $165.
Cirque de la Symphonie
Kennedy Center
December 11-13
A kind of Cirque du Soleil designed specifically for concert halls—with acrobats, jugglers, and cortortionists performing feats choreographed to the music of the NSO Pops. $20 to $98.
Kwanzaa Celebration
Dance Place
December 13-14
Observe the weeklong holiday with this event featuring dancers from the contemporary West African company Coyaba and its related academy, along with other special guests. $25 to $30.
The Moscow Ballet's Great Russian Nutcracker
Strathmore
December 14
Hailing from the same country as The Nutcracker's composer, this company has brought the production to Washington regularly since 1993. $28 to $88.
Comedy Shows
Paul Mecurio
DC Improv
December 18-21
If you're a fan of The Daily Show's early years, there's a good chance this Georgetown Law grad wrote some of your favorite lines: He won an Emmy for his work with the show's original writing team. Hear him deliver his jokes his own way. $17.
A John Waters Christmas
Birchmere
December 22
Not to be confused with the 2004 album compiled by Waters, this show gives the kooky director a platform to poke fun at holiday memories and traditions. $49.50.
Good for the Jews
Jammin Java
December 24
Writer Rob Tannenbaum (I Want My MTV: The Uncensored Story of the Music Video Revolution) and David Fagin of the indie band the Rosenbergs team up for this tongue-in-cheek show of musical comedy. $20.