Sip by a Fire
Cozy up to the wood-burning fireplace in the lobby of the Ritz-Carlton Georgetown (3100 South St., NW; 202-912-4100), furnished with comfy leather couches. A butler serves complimentary Valrhona-chocolate s'mores each night from 6:30 to 7, perfect with the bar's spiked cider. For ultimate relaxation, start your visit in the hotel's gem of a spa.
Artful Meditation
The Phillips Collection's Rothko Room (1600 21st St., NW; 202-387-2151), an intimate space with four dramatic canvases, is so soothing that Duncan Phillips called it a "chapel." Find even more calm on a new Slow Moving and Mindful Viewing audio tour, which encourages visitors to breathe and really look at different works. Try "hearing" the sounds of Renoir's "Luncheon of the Boating Party," and you may find yourself absorbed.
Walk in a Circle
Labyrinths are simple: You follow a single path to the center and back out. Unlike in a maze, there are no decisions—leaving you free to focus on inner thoughts. At the University of Maryland's Garden of Reflection and Remembrance (7600 Baltimore Ave., College Park) labyrinth, you can give the notion a spin. You'll also find benches, trees, and water elements to help you connect with nature.
Life in Perspective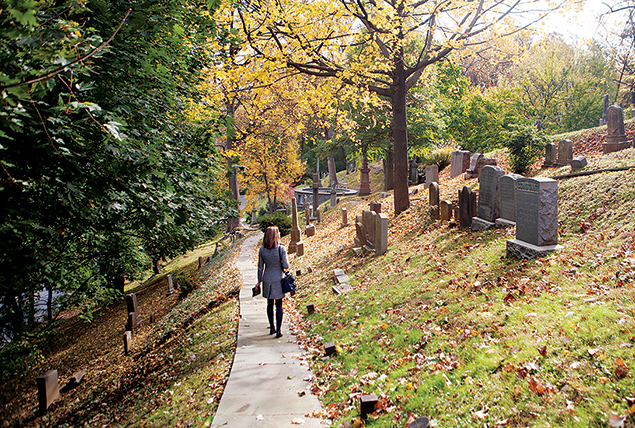 Walking through Oak Hill Cemetery (30th and R sts., NW; 202-337-2835) in Georgetown, you'd be forgiven for thinking you're in a Victorian sculpture garden. Amid the quiet greenery and meandering paths, artful memorials—some mid-19th century—stand sentinel. Sculptor Augustus Saint-Gaudens created one monument, and a Gothic Revival chapel was designed by architect James Renwick. A sense of time standing still hangs in the air.
Zen Retreat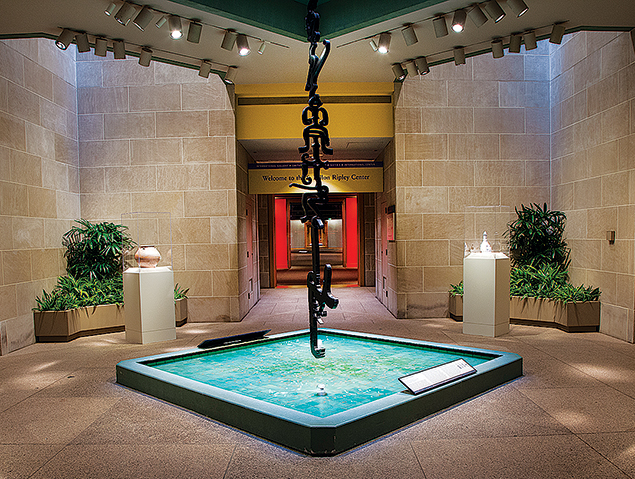 Subdued lighting and subterranean spaces give the Freer and Sackler Galleries (1050 Independence Ave., SW; 202-633-1000) a Zen-like calm. Enhance the feeling by taking in "Monkeys Grasp for the Moon," a 90-foot-long sculpture by Chinese artist Xu Bing that hangs in the Sackler's skylit atrium from the top floor to just above the reflecting pool on the lowest level. The play of water and light is relaxing from whatever vantage you choose.
Time Stands Still
Put down your smartphone for the Hirshhorn Museum's "Days of Endless Time" exhibit (Seventh St. and Independence Ave., SW; 202-633-4674), comprising 14 moving-image works that focus on the importance of contemplation and meditation. Pieces such as Su-Mei Tse's "L'Echo," a video of the artist interacting with the reverberation of her cello off the Swiss Alps, evoke serenity and timelessness.
Garden Paths
Although the azaleas, roses, and other flowering plants won't be in bloom, Brookside Gardens (1800 Glenallan Ave., Wheaton; 301-962-1400) in Wheaton is still an enchanting spot for a winter walk. Don't miss the Japanese teahouse, where you can sit over a pond and gaze over the gardens. If a chill is in the air, warm up in the conservatory full of tropical plants.
Time for Tea
When the going gets rough, do what Brits do: Sip a cuppa, preferably in a soothing spot such as the Ritz-Carlton's Entyse Wine Bar & Lounge (1700 Tysons Blvd., McLean; 703-506-4300) in Tysons. With a crackling fire, low lighting, and cozy corners, afternoon tea is a leisurely affair with finger sandwiches, scones, whipped cream, Lilliputian pastries, and leaf teas; adults $44 to $56 (with sparkling wine). Weekdays are calmest, but even weekends will transport you to that nothing-can-bother-me state of mind.
Relax With Monet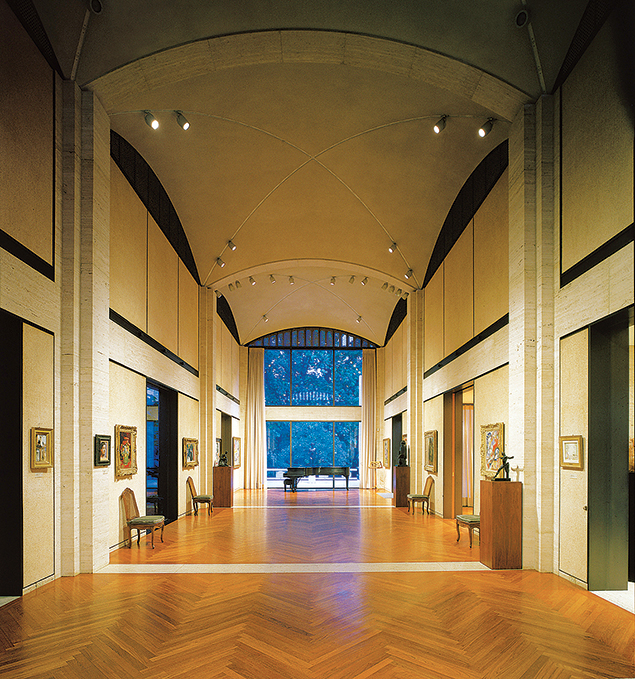 In a woody area off Foxhall Road in DC, the Kreeger Museum (2401 Foxhall Rd., NW; 202-337-3050) has spaces indoors and out that are perfect for finding your center. Perch on a bench in the Monet gallery and take in nine of the Impressionist master's paintings of sea and countryside. Then stroll to the new five-acre sculpture garden with its reflecting pool and abstract metal works by Jean Arp and Henry Moore, among others.
Along the Water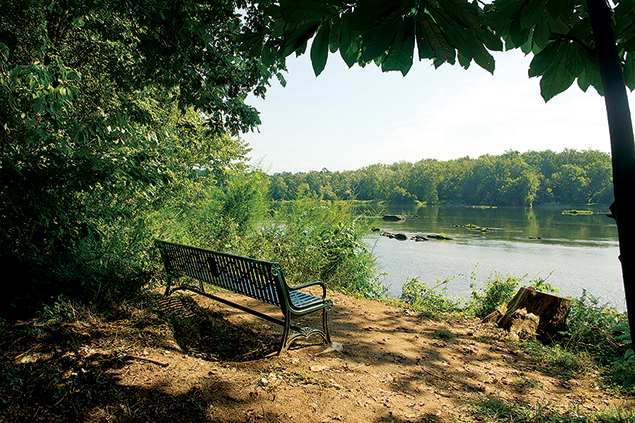 Avoid the occasionally long line of cars waiting to get into Great Falls Park—beloved by hikers—by starting just north, in adjacent Riverbend Park (8700 Potomac Hills St., Great Falls; 703-759-9018). A trail leads south along the Virginia bank of the Potomac, to the dramatic overlook area at the heart of Great Falls Park. Woods, rocks, water, and an earthen path that's five miles round-trip all make for a pleasant walk in almost any weather.
This article appears in the December 2014 issue of Washingtonian.