Adams Morgan is quickly becoming a great neighborhood for Asian comfort fare: hot stone cauldrons of bibimbap at Mandu, heaping Japanese rice bowls at Donburi, and Sakuramen's many varieties of noodle soups. Now the team behind the last introduces more homestyle food to the neighborhood with BUL, which opened just before New Year's. Co-owners Jonathan Cho and Jay Park took inspiration from the street food served in pojangmachas in their native Korea, stalls dishing up grilled skewers, mandu, and other street eats. You'll find similar dishes served in a 70-seat restaurant, formerly Cafe Toulouse; a mural of the French artist still covers the building's exterior. Here's what to look for when you go.
Mom-made kimchee, hangover soup
Many of the menu's dishes are meant to evoke flavors that Cho and Park grew up with, and this means literally starting at home. The kimchee is made by their mothers, served as a side dish or roasted and fried up with rice and Berkshire pork belly. Other pojangmacha-style items include a large variety of grilled skewers cooked over an open flame—the restaurant's name means "fire"—with several options for the adventurous, such as chicken gizzards and hearts. You'll also find booze-friendly items like seafood pancakes, and those meant for recovery, such as odeng, a savory fish soup Cho nicknames "hangover soup" for its restorative qualities.
An Asian-style bar (eventually)
The restaurant is still waiting on its liquor license, but expects to add a bar soon. Once permits go through diners can sip a variety of Asian spirits and beverages, including a mix of soju, sake, beer, and magkeolli, a milky alcoholic drink made from rice. Cho says the goal isn't to open a full, Western-style bar—no tequila shots—but to focus on drinks that pair well with the food.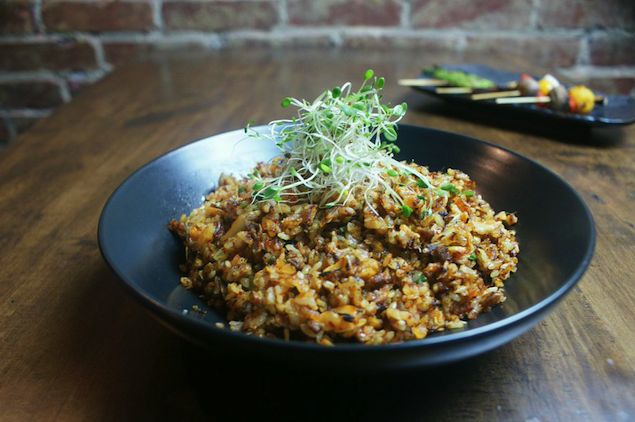 Vegetarian versions of the classics
The meatless crowd does well at Sakuramen, which serves delicious veggie soups. Vegetarians and vegans can also find riffs on traditional meaty dishes here, such as bibimbap made with three varieties of mushrooms instead of ground beef, tofu with roasted kimchee, and vegetable skewers.
Local kombucha on tap
Fermentation fans can order kombucha served like beer, poured from taps at the bar. Local producer Craft Kombucha makes flavors exclusively for the restaurant, made with green tea.
Reservations
Sure, Adams Morgan is known for its youthful bar-hoppers, but the dining scene is decidedly more grown-up. Case in point: reservations, which are available online via OpenTable or calling the restaurant.
BUL. 2431 18th St., NW; 202-733-3921. Open Tuesday through Thursday 5:30 to 10:30, Friday 4:30 to 11, Saturday 11:30 to 11, Sunday 11:30 to 10. Closed Mondays. Note that hours are subject to change once the liquor license is attained.