We always had hope for local cheftestant George Pagonis on Top Chef season 12. The toque already does more than an elimination challenge's worth of work on a daily basis, heading up three of Mike Isabella's current and upcoming Greek restaurants: the highly rated Kapnos, Kapnos Taverna opening next week, and the upcoming Kapnos Kouzina in Bethesda. Still, after getting kicked off the first episode, fighting his way back on the show, and landing among the final four, the battle seems to be over. Pagonis was told to pack his knives and go last night, leaving Mei Lin, Melissa King, and Gregory Gourdet to head off to the finale in Mexico.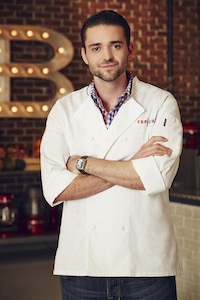 The final contest in Boston required the chefs to create a dish that was innovative and pushed boundaries, whether in technique, flavor, or a personal challenge. Pagonis's first disappointment came at Whole Foods, when the butcher counter lacked pork belly to spice up a surf 'n' turf with octopus. The chef was left with a plain old cephalopod—he's Greek, after all—but attempted to push the envelope with a plate that combined grilled octopus legs, a crispy croquette made out of the ground head, green apple harissa, lentils, pickled mustard seeds, and a bacon chip.
Sound like one component too many? The judges thought so, as well.
Fellow contender King, who already secured her place in the finale by winning the elimination challenge two episodes prior, won yet again for her seared duck breast over a rich walnut-miso sauce and scored a $10,000 prize in addition to her pre-determined seat. Lin came in a close second with another duck dish, this time with curry and aerated yuzu yoghurt. Gourdet was on the chopping block along with Pagonis for a salmon with Thai tom kha broth and crispy chicken skin. Ultimately Pagonis was sent packing for his unharmonious plate and a too-hard char on the octo that head judge Tom Colicchio found bitter.
So there we have it. Or do we? Colicchio reminds us that Pagonis could come back yet again on Last Chance Kitchen, the side-cooking competition that allowed him back on the show in the first place. Perhaps we'll see him in Mexico.