Anna Spiegel
Pork-belly bao bun at China Chilcano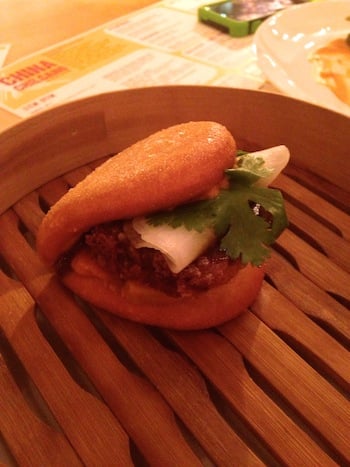 There's much to like about José Andrés's newest restaurant, a Peruvian spot in Penn Quarter. The place has energy, and not just the hype and crowds of any big opening. You feel it in the decor—which pops with bright pillows and winding red lights—the staff, and the menu.
Perhaps the eclectic nature of Peruvian cooking lends a natural liveliness to the concept. Influences from Spain, China, and Japan meld with native South American ingredients and traditions, making for a cuisine that's interesting to explore from a chef's perspective, and eat from the diner's.
The menu is fairly large, and a meal for two feels like a brief introduction—earthy squash and rocoto pepper dumplings; a bright ceviche studded with corn and sweet potato; "airport" fried rice with 20 vegetables, some fashioned into tiny planes. The best item came from the "dim sum" section of the menu: a pork bao bun. I've ordered the dish dozens of times—who doesn't love a steamed bun stuffed with a slab of hoisin-glazed pork belly?—but this version is the most unusual, and one of the tastiest. In addition to the rich meat, Andrés adds puréed sweet potato, miso, citrusy ají limo peppers, and a slice of pickled daikon. The bun itself is lightly fried at the end for a crisp exterior, lending layers of texture.
One bun comes per order. I'd suggested adding a few.
Todd Kliman
Mole poblano at Taqueria El Mexicano, Hyattsville
This is one of my favorite dishes in the world, and this memorable preparation is the best I've had in years.
The taqueria's owners, Bernard and Claire Lucero, hail from the state of Puebla, which some culinarians regard as the birthplace of mole poblano. Some, not all—many centuries later, its origins remain in dispute. In any event, Pueblans are passionate and fiercely particular about their mole poblano, which some culinarians (some) believe to be the national dish of Mexico.
The sauce is the thing—thick, brown-black, dotted with sesame seeds, and with a taste as rich and complex as any of the French master sauces. At the same time, it's infinitely more idiosyncratic, a sauce that seems to change the way you think about it with each bite: now sweet, now slightly bitter, now spicy, now slightly smoky.
Dark chocolate is the not-so-secret ingredient, and gives the dish its identifiable color, but the strange, mysterious character of mole poblano cannot be chalked up, simply, to the inclusion of chocolate—the mix also includes sweet, smoky guajillo chilies, fried nuts, and raisins, as well as a larder's worth of toasted, ground spices.
A great mole poblano—and this one qualifies—has such depth that it seems almost impenetrable, unknowable.
Each order comes with two pieces of unexpectedly tender chicken (in most cases, a leg and a piece of meat cut from around the breast), good rice and stewed beans, and—an even bigger surprise—two handmade corn tortillas. (If there's anybody making tortillas like this in the area, with this perfect, pebbly surface, please let me know; these are fabulous.)
The cost to walk away with a memory: $11.50.
Ann Limpert
Nicolaki Cocktail at Iron Gate
I start pretty much every weekday morning with some kind of yogurt—whether it's Fage with chopped apples and honey, a grab-and-go muesli cup from Pret, or rich Noosa swirled with coconut. It's not so often though, that I end the day with the stuff.
My new favorite cocktail might change that.
When I ordered Jeff Faile's Nicolaki on a recent heat-lamp-fueled evening inside the surprisingly cozy carriageway at Iron Gate, my friend looked skeptical. Greek yogurt and honey in an alcoholic beverage sounded as potentially heavy as a TGI Friday's mudslide. But the result—an ethereal shake-up that included vodka, rosemary, and lemon—was wonderfully light and airy, with the slight sweetness and tang of a lassi. It was a lovely prelude to a leisurely dinner. But it went down so easy I'd just as soon order it up with brunch, too.