I never expected to find myself on the Montgomery County food police's "Most Wanted" list. My crime: Providing an unauthorized celebratory offering to mark a major event in the life of my grandson Drew. In other words, I took the cake.
Drew was graduating from preschool, and I was invited to contribute to the potluck feast that would mark this auspicious achievement in his educational career. He had mastered snack time, show-and-share, "crisscross applesauce," and, if he hadn't aced every opportunity for "first-time listening," he was definitely improving.
So I brought a sheet cake for the entire class. A "congratulations" cake lovingly baked by my nearby supermarket.
It wasn't an organic cake. It wasn't sugar-free or gluten-free. It wasn't a clever concoction hiding spinach or kale beneath its sweet surface. It was an old-fashioned, abandon-all-diets, full-speed-ahead cake. The kind I had served at dozens of birthday parties during my children's childhoods. I had even made allowances for picky eaters—half yellow cake, half chocolate. And I knew enough to request "no nuts."
No sooner had I arrived with the huge cake box than I began to sense a strange discomfort in the parental ranks. On the school's side lawn, a large platter of vegetables and hummus was already on display next to cut-up fruit, juice boxes, and something green and gelatinous surrounded by healthy crackers. In a far corner of the yard, a father was getting ready to grill hamburgers and hot dogs, including a smattering of veggie and tofu options.
None of the kids looked interested in any of this bounty. But their eyes lit up when they spied the cake.
After the graduation ceremony—complete with mortarboards, diplomas, class pictures, and individual photo ops—it was time to chow down.
The parents headed to the hummus and the grill. The kids went straight to the cake. A few, like Drew, didn't wait for an official cake cutting, and ran a finger along the edge to sample some icing. I noticed a couple of adults indulging similar instincts.
I grabbed up the cake, explaining that it was for after dinner. I tried to redeem myself by cutting child-sized pieces, but it was too late: I had already been branded a deviant sugar pusher.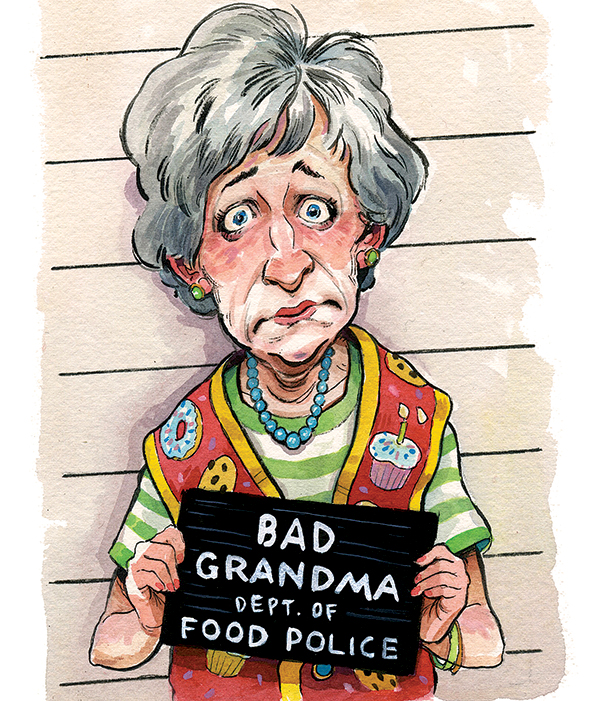 Since then, I have learned that some schools ban classroom birthday parties to keep kids safe from cupcake exposure. Parents planning private kids' parties bend over backwards to accommodate a variety of food preferences.
I can understand the concern about food allergies and medical conditions like gluten intolerance and juvenile diabetes. But the self-appointed food police go much further. If they had their way, broccoli tops would totally replace ice cream pops.
Plenty of parents are feeling the pressure. Best-selling Australian author Liane Moriarty recently admitted to the New York Times that when her son's kindergarten class was putting together a recipe book, she "sent in a nutritious-sounding avocado muffin recipe that I had never made in my life just so I would look like a good mother."
One of the rationales for the ban on sweets is the perceived connection between sugar consumption and hyperactivity. But an analysis of research published nearly 20 years ago in the Journal of the American Medical Association found that sugar in the diet did not affect most children's behavior. The authors did note that the studies didn't rule out that sugar might have a slight effect on a small number of children.
But the current parental culture cannot be mocked. Think about that other woman who said "Let them eat cake"—she lost her head.
Too late, I tried to make the leftover cake disappear. But the teachers were already packing it up to nibble on in their break room the next day. So now I'm officially on the "Bad Grandma" list. Don't be surprised to see my wanted poster soon at a post office near you.