Washington is often, and mistakenly, presumed to lack natives, but even so, you don't find many people like Paul Ruppert. His roots in the city go deeper than just about anyone you'll meet. The space that until early this year housed the Passenger cocktail bar was once a hardware store, and the Ruppert family has owned the property since the 1890s. Ruppert's father's family arrived from Germany in the 1850s. His mother's goes back even farther—Ruppert's great-great-grandfather was Colonel Jehiel Brooks, a War of 1812 veteran whose name graced the now-shuttered Colonel Brooks' Tavern, an institution in Brookland (also named for him).
All of which makes Ruppert the antithesis of the carpetbagging celebrity chefs who in recent years have set up shop with their soulless outlets of empire. The real-estate mogul/restaurateur has had an explosion of activity after years of lying low—opening, in recent years, a succession of superlative cocktail bars (the Passenger, Columbia Room, and Hogo) along with the small, quirky restaurants Room 11 and Petworth Citizen, which quickly became beloved fixtures in their neighborhoods. (He even launched a bookstore, Upshur Street Books, in November.)
His new place, Crane & Turtle, looks modest, offers just 25 seats, and occupies a stretch of Upshur Street, in Petworth, that the New York Times—with its predictable assumptions of what constitutes legitimacy—recently described as "scrubby." Walking in, you might well conclude that what we have here is yet another cool, unassuming neighborhood joint that isn't up to anything much at all.
The short, slyly funny cocktail menu, with its "white Negroni" and "black Manhattan," provides the first indication that in fact it's up to quite a bit. The chef, Makoto Hamamura, is fresh from a seven-year stint at Eric Ziebold's recently closed CityZen, most recently as sous chef, and his cooking is an attempt to marry his tradition, Japanese, with his training, French. Hamamura's precise and elegant presentations wouldn't be out of place at a four-star hotel, but they don't do what you expect them to. An order of tuna tataki brings slices of hay-smoked fish shingled atop a thick, pale-orange smear of what looks like Sriracha mayo. Only it's not mayo—it's tuna sauce. Which means that what appears to be a straightforward and modern Japanese dish is actually a winking play on the Italian classic vitello tonnato. Tonno tonnato?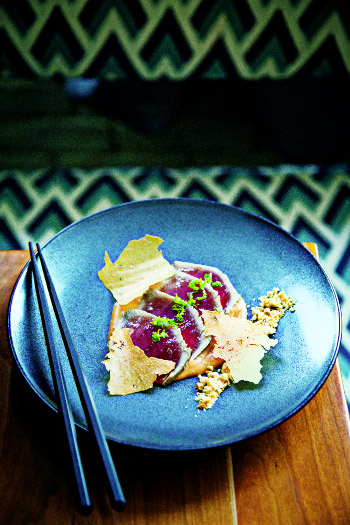 Another tataki, this time with hamachi, is an even more daring bait and switch. Expecting the mild delicacy of uncooked yellowtail, I was jolted to discover that this fish, too, had been smoked over hay. The kitchen crew amplified the strong taste.
This isn't comfort food. You're never made to settle into it. You take a bite and think about that, then take another bite and change your mind.
Most chefs would look to balance the richness of duck breast with something sweet or tangy or both. Hamamura opts for a bit of Middle Eastern bitterness, pairing the rich, rosy meat with tahini. The crisp skin of the duck finds its chewy counterpoint in a substance known as yuba, which results from heating soymilk until it produces thin, pale sheets.
It took me three visits to figure out that the best way to understand this chef is to think of him as a jazz pianist who, though he can play melodically—as in a sublimely simple interpretation of bouillabaisse or a preparation of sweet, seared scallops with chorizo-stuffed dumplings—would just as often prefer to experiment with atonality and dissonance.
Early on, he inexplicably set a light, crunchy skate wing down in a pool of grapefruit juice, which, just as inexplicably, he had studded with logs of yuzu-marinated, peeled cucumber. That dish has been axed, but Hamamura still sometimes seems more interested in discomforting diners rather than comforting them. Pan-roasted monkfish arrives on a purée of flageolet beans, a study of taupe on taupe; the other half of the plate is black, with smoked squid and shiitake mushrooms submerged in squid ink.
"Interesting," my friend said after pausing to come up with the right word. Pointedly, it wasn't "delicious."
By night's end, she decided she admired Crane & Turtle more than she liked it. Fair enough—it's not for everyone. Which, I think, is precisely the appeal to those of us who both like and admire it. That stubborn quirkiness. The sense that in eating here you're in at the start of something interesting and cultish, like that indie band you discovered years ago. You can watch it grow and develop and become, you hope, even less like everyone else and even more like itself.
---