Washington neighborhoods tend to have a singular feel—either residential or commercial, tourist-centric or governmental. In contrast, Dupont Circle is a vibrant blend of local haunts and traveler attractions, historic homes and thriving nightlife. While much remains unchanged in recent years—including the area's status as a center of gay life and host of the Pride Parade in June—there are also enticing new restaurants and shops that keep even longtime Washingtonians coming back.
A day of exploring can start at virtually any hour thanks to one of Dupont's landmarks, Kramerbooks & Afterwords Cafe (1517 Connecticut Ave., NW; 202-387-1400). The funky bookstore and cafe/bar is open 24 hours on Fridays and Saturdays—early and late on other days—and serves a classic American brunch all weekend.
In warm weather, another good spot to sip coffee and people-watch is on the benches ringing the marble fountain in Dupont Circle proper, the traffic circle/park that defines the neighborhood and is home to chess matches, political rallies, and, in winter, snowball fights.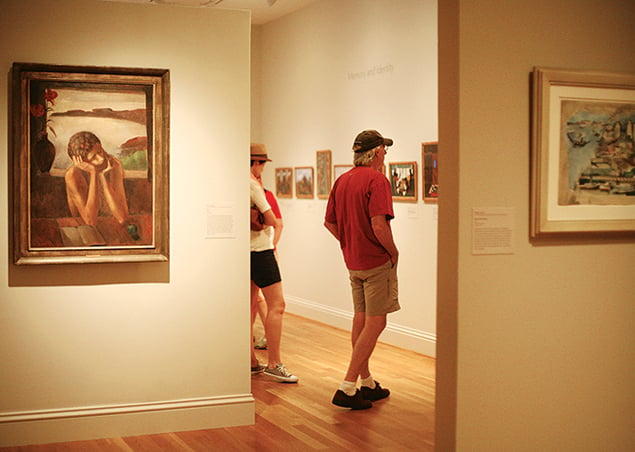 After you've fueled up, head to the Phillips Collection (1600 21st St., NW; 202-387-2151), America's first museum of modern art. The Phillips boasts some 3,000 works by the greats—including Renoir, Monet, and Rothko—plus exhibits ranging from Georgia O'Keeffe to local collector Anita Reiner. If emerging talents are of interest, don't miss Hillyer Art Space (9 Hillyer Ct., NW; 202-338-0325), steps away. The contemporary commercial gallery features international artists and is a must-stop during First Fridays (firstfridaydupont.org), when Dupont's galleries stay open late and offer the chance to chat with curators.
More into shopping than admiring? Well-dressed women like Emporium DNA (1666 Connecticut Ave., NW; 202-232-1770) for contemporary designer labels, while those on a budget love Secondi (1702 Connecticut Ave., NW; 202-667-1122), a bright consignment shop where Chanel and Kate Spade can be found in top condition at discount prices. Offbeat items fill Proper Topper (1350 Connecticut Ave., NW; 202-842-3055), including statement hats and funky jewelry. Nearby, Tabletop (1608 20th St., NW; 202-387-7117) is a haven for homebodies, with an array of decorative pillows and coasters, bar- and kitchenware, and cookbooks.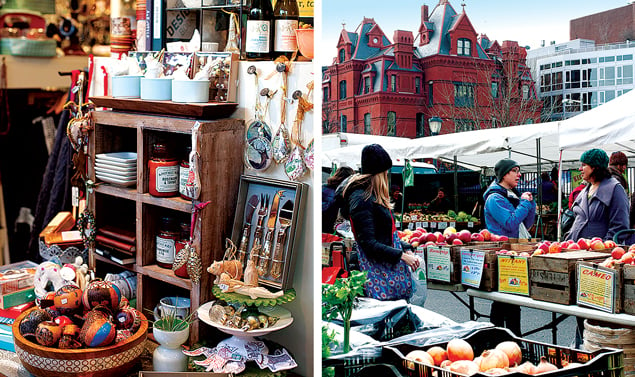 Dupont is a good bet for anyone looking to stock a kitchen, especially on Sundays, when the Dupont FreshFarm Market is held from 10 am to 1 pm (April through December, 9 to 2). Other shopping opportunities span the globe: from Pansaari (1603 17th St., NW; no phone), which specializes in Indian spices and prepared foods, to Glen's Garden Market (2001 S St., NW; 202-588-5698), a source for items from the Chesapeake watershed. The latter also offers a tasty quick lunch, including sandwiches with house-roasted meats, thin-crust pizzas, and local beers. Duke's Grocery (1513 17th St., NW; 202-733-5623)—not a store, despite the name—offers another relaxed lunch option, with cold pints and a British-inspired menu of bacon "sarnies," or sandwiches, as well as burgers and pub plates.
After lunch, you might visit the neighborhood's baronial gem: Anderson House (2118 Massachusetts Ave., NW; 202-785-2040), a magnificent Beaux Arts mansion that's home to the Society of the Cincinnati, Washington's oldest historical organization, founded by American Revolution officers in 1783. Visitors can take hourlong guided tours of the home or browse through the museum, which features weapons, portraits, and artifacts from the Revolutionary War. History buffs can also explore the more recent past at the Woodrow Wilson House (2340 S St., NW; 202-387-4062), a Georgian Revival mansion where the 28th president spent his final years. An hourlong tour reveals quirky personal items, including an early slow cooker and Wilson's surprisingly large shoes.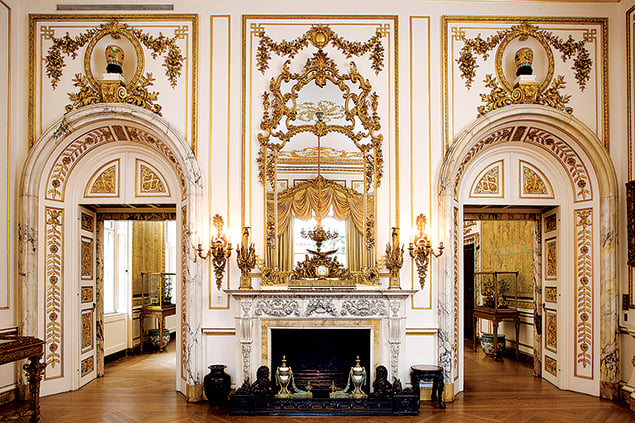 Iron Gate restaurant—a recently revived version of one of Washington's oldest, the Iron Gate Inn—makes for an atmospheric evening stop (1734 N St., NW; 202-524-5202). Guests can savor expertly crafted cocktails on the patio under century-old wisteria vines, warmed by fire pits and heat lamps in winter, or linger over Mediterranean tasting menus in the firelit dining room. Not in the mood for multiple courses? Drop by a neighborhood favorite, Hank's Oyster Bar (1624 Q St., NW; 202-462-4265) for New England-style seafood and one of the best lobster rolls in town.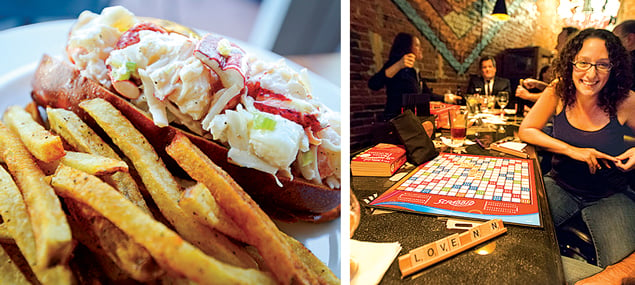 Come nighttime, the neighborhood offers watering holes as varied as their clientele. Fans of authentic dives can play tunes on the jukebox at the Fox & Hounds (1537 17th St., NW; 202-232-6307), which pours straight glasses of booze with a mixer alongside (go for a gin and tonic). A youthful crowd rents board games like Jenga to play at the Board Room (1737 Connecticut Ave., NW; 202-518-7666), while Alex Ovechkin and fans of infused vodka flock to Mari Vanna (1141 Connecticut Ave., NW; 202-783-7777), a Russian bar and restaurant modeled after a babushka's home—it's known for Friday-night diskoteka dance parties. The 17th Street strip, a draw for gay nightlife, is home to the spirited club Cobalt and the adjoining Level One restaurant (1639 R St., NW; 202-745-0025) plus Annie's Paramount Steakhouse (1609 17th St., NW; 202-232-0395), which welcomes all and is open 24 hours on Friday and Saturday.
Regardless of the evening's flavor, a nightcap at cozy McClellan's Retreat (2031 Florida Ave., NW; 202-265-6270), modeled after a Civil War-era officers club, is a fitting farewell to the neighborhood. Union Army general George McClellan's statue stands nearby.