Pop quiz: In 2014, which rookie rapper scored the highest first-week sales for Def Jam, hip-hop's most hallowed record label?
A) YG, the biggest West Coast gangsta rapper in a decade.
B) Iggy Azalea, the Australian Bratz-doll look-alike whose debut album went on to pick up a Grammy nomination.
C) Logic, a blue-eyed biracial artist who hails from Gaithersburg, a.k.a. the boondocks of hip-hop.
Because you're reading a profile about him, you inevitably made a wise selection and chose C. The answer wouldn't be obvious otherwise, because it's the most improbable of the three.
Logic, a 25-year-old rapper with the boy-next-door looks of his middle-class Washington suburb, gave the industry its biggest surprise last year. He became rap's breakout star after his first album, Under Pressure, streaked straight to number four on the Billboard charts and sold 73,000 copies in its first week, more than all but one other rookie in 2014.
The numbers wouldn't be all that spectacular for an established recording artist. But for a relative newcomer, they're impressive. In the music-on-demand-for-free era of Spotify, iTunes Radio, and Pandora, it's tough for an unknown to build a following die-hard enough to shell out for the number of albums that'll cause a splash. Remarkably, Logic did it without much of a gimmick or the kind of exaggerated persona that has become a prerequisite for musical superstardom today. Instead, his motto—and the key to his appeal, it seems—is "real all the time." And for him, what's real isn't so pretty.
Under Pressure is autobiography. It tells the scarring narratives of Logic's impoverished youth, the kind of life most locals don't associate with Montgomery County: living on food stamps with absentee parents, watching drug deals go down, the first time he heard gunshots.
But another part of Logic's heritage is also central to his album—and makes him stand out in hip-hop. Born to a black father and a white mother, he was frequently derided as "white boy" growing up because of his pale skin tone. Now he's trying to make it in an industry that tends to second-guess white rappers. He's used his music to grapple with his heritage and his looks. "Papa was a black man, mama was a racist," he raps in a song called "Mixed Feelings," about his desire to "break free of this biracial jail cell."
Growing up she called me nigga, kids called me cracker / While the whites got whiter, and the blacks got blacker / I was hurting, doing everything I can / Perceived as a white boy with the soul of a black man.
The music's emotional charge and soul-baring vulnerability resonate. "He's earned the level of respect that comes when we know where you came from and what you love," No I.D., Kanye West's mentor, who produced Under Pressure, told me last year.
At the same time, Logic's tales of woe are interwoven with unexpected verses pulsing with love, positivity, and straight-up striving. "He's a modern, interesting artist who fits into a new era and style of MCs," says Peter Rosenberg, the Chevy Chase-raised deejay who has become one of New York's biggest radio stars on Hot 97 FM. "He totally blurs lines racially, has a very strong voice and very good lyrics. He can rap his ass off, has a really interesting life experience, and proves that you can reach the kids by being a good guy and cool."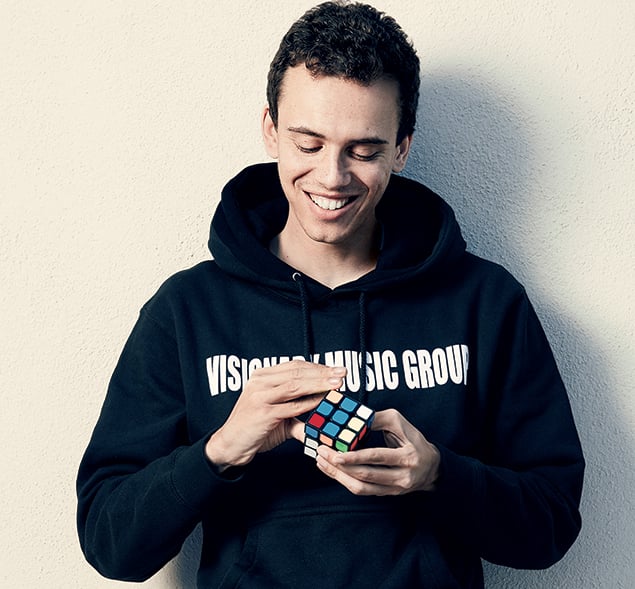 It's Martin Luther King Jr. Day, and Logic is in a studio in Burbank, California, rapping at lightning speed while solving a Rubik's Cube, his favorite pastime. Tell me how you feel / I feel like the grass is green . . . .
He's had a couple of momentous months. In November, he made his first national TV appearance, on The Tonight Show Starring Jimmy Fallon. Today's rehearsal is for tomorrow's performance on Jimmy Kimmel Live. Two days after that, he'll turn 25. And on the 26th, he'll head out on a 50-concert, two-month international tour, hitting most major US cities and college towns, along with London, Paris, and Amsterdam. On March 4 and 5, he plays two hometown shows at the 2,000-seat Fillmore in Silver Spring. Many of the dates are sold out. "It's crazy as hell, but I want Coldplay stadium status, I want One Direction numbers," he says.
Having heard himself sound maybe a little too real about his ambition, he backtracks slightly: "But this is all amazing and I don't take it for granted."
If you wandered in and were forced to identify the rapper from sight alone, Logic might not be the first one you'd pick in the room packed with musicians. Even though he's three days shy of finally being able to rent a car, his skinny frame and partly pimpled visage call to mind, well, adolescence.
When he was starting out, one of the first mixtapes he released was dubbed "Young Sinatra." Since then, he has partly styled himself after the crooner, whom he listened to and watched as a kid. His female fans, like Frank's, are known as BobbySoxers. There's the wavy hair and the ol' blue eyes—Logic's are a mineraly shade. He calls his entourage of friends and managers his RattPack. (The extra "t" is a nod to the "real all the time" motto.)
It's an interesting stylistic choice, considering his conflicted feelings about his race. And one of the many things that make Logic a little different from a lot of the hip-hop stars in LA. He isn't flashy. He is super-serious, and focused, almost exclusively interested in making music (and solving Rubik's Cubes)—even something of a hermit who likes to stay home and work.
Today Logic is modestly dressed in his de facto uniform: baseball cap, black jacket and jeans, red retro Air Jordans. No jewelry. No visible tattoos. Throughout the day, he lavishes compliments on his band. When he notices someone else's litter on the studio ground, he silently picks it up. For Hollywood, he's so nice in person that it's almost weird.
The song for Kimmel is "Buried Alive," a big single from Under Pressure.
Battle the image inside of my mind / I know Imma keep going / Tell me I can't but I'm already knowing / I know I'm gonna rise / Even though I've been buried alive / Buried alive, will I survive?
It's what almost happened, back home in Gaithersburg, before he was Logic and everybody just knew him as Bobby.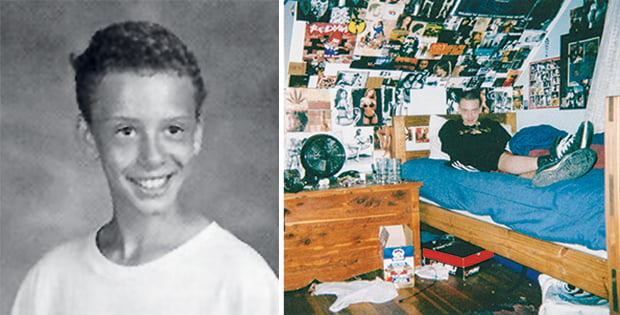 That's short for Sir Robert Bryson Hall II, born January 22, 1990, to two parents who barely knew each other. A musician who sang and played conga with DC go-go bands, the elder Hall and Logic's mother each had children by other partners. They never married and for most of Logic's early years, he says, his father wasn't around much.
The rapper's preadolescent memories—multiple incidents in which he says he was accidentally abandoned in public places, all the drugs he says he saw relatives getting high on, birthdays and Christmases without gifts, refrigerators filled with only stale rice cakes and powdered milk—are almost uniformly traumatic yet recounted without the least bit of drama.
From fifth through eighth grade, Logic says, he wasn't in school much. Instead, he passed the time skateboarding, watching anime, and writing and drawing his own stories. He eventually attended Gaithersburg and Seneca Valley high schools but never graduated from either.
"I used to dream about going to sleep and never waking up," he says. "And in some way, I still always fear that I'm asleep and will wake up as a four-year-old again. And all this was bullshit."
Though Logic says he hasn't spoken to his mother in years, she's the one he has to thank for his interest in music: "She taught me about Frank Sinatra, the Rolling Stones, Nirvana, and early hip-hop. Even though the bad far outweighs the good, I do want it to be known that there were many sweet moments in my life."
His relationship with his father is more complex. They speak occasionally, but Logic says the conversation is often strained. On the title track of Under Pressure, he raps in character as the elder Hall, saying he's two years sober and politely asking his son to stop rapping about his past drug abuse, then asking for money in the next breath. It concludes with an actual voicemail from Dad telling his son how much he loves him. (In interviews with MTV and Hard Knock TV, Hall has talked candidly about his drug use and his family's history of addiction, saying that his son "saw a lot of things that he shouldn't have." In Hall's words, "Shit does happen in Gaithersburg.")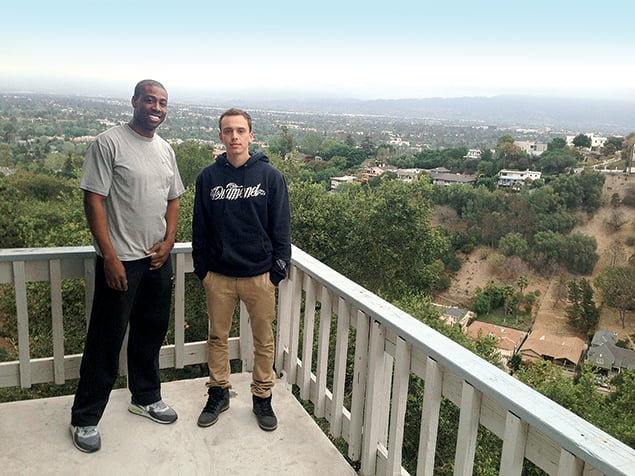 How is it that Logic wasn't buried alive? Credit a trio of mentors who watched over him in his teens.
The first was former Gaithersburg resident Solomon Taylor, who met Logic while videotaping games for the Rockville youth football league. When Logic told Taylor he wanted to rap, Taylor bought the boy a computer, a mike, and programs to make beats, and gave him hundreds of instrumental recordings to rap to. He fed him, pushed him, and tried to keep him out of trouble. Logic "wasn't a knucklehead—he was unpolished but an obvious star even then," says Taylor, who lives in Chevy Chase now and runs a nonprofit called Save Youth Football that helps fund sports programs throughout Washington.
Mary Jo LaFrance and her husband, Bernie, the parents of one of Logic's close friends, let him move in. "We took him on vacation with us, discussed his future, and most importantly taught him how to set goals," says Mary Jo, who works part-time at the Gaithersburg Historic District Commission. "Sometimes he had felt like his own safety was in question, and that's a terrible place to be in. He was always incredibly funny, intelligent, and a natural storyteller."
Eventually, Taylor lined up Logic's first show: opening for the Wu-Tang Clan's Ghostface Killah at the former End Zone bar in Gaithersburg. Taylor still remembers how police initially balked at letting the then 19-year-old rapper perform. (They came around.) And how, when Logic came out onstage, it felt like watching 8 Mile, the thinly veiled biopic starring Eminem. "It was the same exact scenario. A white kid in a baseball cap and hoodie murdering it, and everyone was shocked," Taylor recalls. "There was one guy heckling him that night, but Logic never wavered."
More shows followed, and Logic built a small buzz in DC's hip-hop scene. To pay the bills, he worked at the Gaithersburg Safeway and Jiffy Lube and as a florist. He later bussed tables at Joe's Crab Shack. Tumult, meanwhile, continued to reverberate through his personal life. In 2010, his close friend Josh LaFrance, the son of his surrogate parents, was sentenced to ten years in a state prison for stabbing a man in the stomach. "It's bizarre to think that any of this happened," Logic says. "He was raised in the nice part of town by two wonderful parents who loved him. In many ways, his fate should've been mine." Instead, when he performed on Jimmy Fallon's show in November, he says LaFrance watched from prison.
Bobby became Logic with the help of another hungry twentysomething. While surfing YouTube late one night in early 2011, Chris Zarou, a Long Island native, stumbled across a video of Logic freestyle-rapping a cappella. He'd been filming low-budget clips and posting them online with hopes of being discovered, but most were stalling out at a few thousand views. Only 21, Zarou was an aspiring music manager and decided he wanted Logic to be the flagship artist of his newly formed Visionary Music Group.
At the time, Logic was thinking only about how he could become the biggest rapper in Washington. There was heavy competition, including from Fat Trel and Shy Glizzy—two street rappers with strong followings. Washington was considered notoriously difficult for hip-hop artists to break out of. Its only major mainstream rapper was Wale.
But with Zarou's marketing help, Logic's music soon caught fire on music blogs with college-age readerships. Between 2011 and 2013, the pair released numerous songs and YouTube videos, then three mixtapes. There wasn't a lot of science to it—just grassroots internet love from fans who spread the word through Twitter, Facebook, and Tumblr. Logic started playing clubs across the country, booking larger venues each time.
Eventually, hip-hop's most venerable label—Def Jam—wanted him, and Logic signed (for an undisclosed amount) with the record company. No I.D., the label's executive vice president of A&R (artists and repertoire), agreed to executive-produce Under Pressure.
Logic moved to LA and started hibernating in his studio. The result was an album that pays tribute to his own favorite hip-hop acts. He pinches the alien voices of Outkast, the computerized narration of A Tribe Called Quest, the grandiose neon ambition of Kanye West, the intricate good-kid-in-a-mad-city narratives of Kendrick Lamar. (In "Gang Related," a simulated news broadcast announcing "a massive manhunt" after a deadly shooting near the 400 block of West Deer Park in Gaithersburg is spliced in between a tale told through the eyes of Logic and one of his brothers.)
When Under Pressure debuted last October, the reception was overwhelmingly positive. The Chicago rapper Lupe Fiasco hailed Logic as a better lyricist than Lamar, the Grammy-winning gangsta-rap deconstructionist. When the legendary New York rapper Nas met Logic, he quoted the Gaithersburg native's own lyrics back to him. The hip-hop magazine XXL compared him to Kanye West and pronounced that Logic was here to stay. One of the few dissenting voices was Rolling Stone, which hailed his "technically excellent style" but said he lacked "emotional depth."
In the five months since the album came out, Logic has mostly been gearing up for the biggest tour of his career. He says he's uninterested in Hollywood clichés or temptations, and he lives pretty low-key. He rents a house in LA's Tarzana neighborhood, which is mostly home to lawyers and professionals, not garish entertainers. By rap-star standards, his living situation is actually modest. He shares the three-bedroom house with his fiancée, Jessica Andrea, who sings backup for him; his day-to-day manager, Leon Ressalam, from Adelphi; and his longtime producer, 6ix (né Arjun Ivatury), a native of Bowie.
Rather than rent a tricked-out LA recording studio, Logic likes to stay home and work in a spare bedroom. By all accounts, parties and clubs don't tempt him. His childhood vice—cigarettes—has been tamed, thanks to e-cigs. Logic's only material indulgences seem to be a video projector, a vintage Akai MPC sampler, and dozens of Rubik's Cubes. There's no car (or even a driver's license). Eventually, he'll buy a BMW, he says. But not until he gets off tour.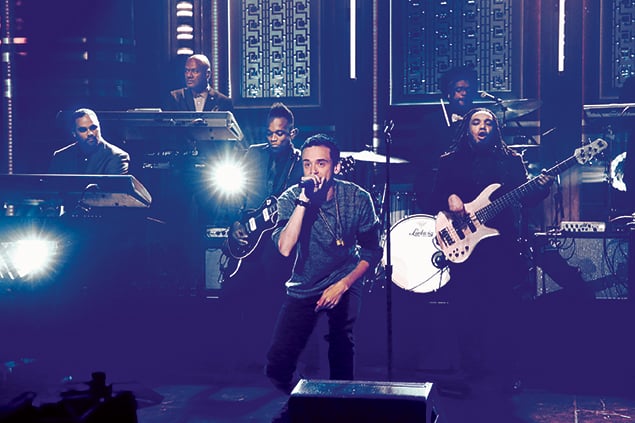 Hours before the Jimmy Kimmel taping, the line of Logic super-fans extends for blocks on Hollywood Boulevard. Mostly under 25, the RattPackers are a diverse crowd. There's Tyler Caldwell, an 18-year-old who drove five-plus hours from San Jose. "I don't necessarily identify with his past, but it's inspiring to hear how he overcame it," says the high-school senior wearing a Logic T-shirt.
There's Jennifer and Francisco Valle, 22 and 24—a Latino brother and sister who drove in from their home in South LA. Francisco is wearing an autographed Logic basketball jersey. "You can bob your head to it, but it's more about the message that he sends out," Jennifer says, explaining why she likes the rapper. "He's not afraid to tell people to stay in school or be positive. I watch a lot of his interviews on YouTube, and you can see that he's real."
Inside the Kimmel dressing rooms, Logic seems more stressed about solving a Rubik's Cube in less than a minute than in putting on a show for 2.3 million viewers. "This is the only thing I've ever done that taps into the same memorization part of my brain as rapping," he says to one of the observers.
The crowd is already roaring when Kimmel's hype man finally announces him and Logic cruises onto the stage, all adrenaline and quick-twitch muscles as his backup singers, violinists, cellist, and deejay fire up "Buried Alive." He stares, slightly dazzled at the size of the crowd. "This is crazy," he says, beaming and flashing the peace sign to them. "It's about to be my birthday. This is crazy."
The show is all exuberance, Logic bounding across the stage, teenagers waving posters of his face, and RATT PACK POR VIDA! signs. When the song ends, Logic announces he's going to give a four-song mini-concert in the Kimmel lot, and the applause spills out onto Hollywood Boulevard.
As tour kickoffs go, it'd be hard to top the excitement of the week Logic has just had. Two nights before the Kimmel show, his fiancée threw him a surprise party at home for his 25th birthday.
"Seeing all the people who care about me was wonderful, but scary, too," he says. "It lets me know, not necessarily how much I have to lose, but that I'm creating a family. For the first time in my life, I know how important that is to me."
Jeff Weiss (@passionweiss) is a writer in Los Angeles who writes for Rolling Stone, Pitchfork, and LA Weekly. He can be reached at passionweiss@gmail.com.
This article appears in our March 2015 issue of Washingtonian.