Snow day got you down? Don't fret. There are still a bunch of cool things to do around town, and let's be serious: Anything beats watching the dud that is Season 3 of House of Cards. Here's what's going on — as well as what's canceled or rescheduled–around town.
---
What's still going on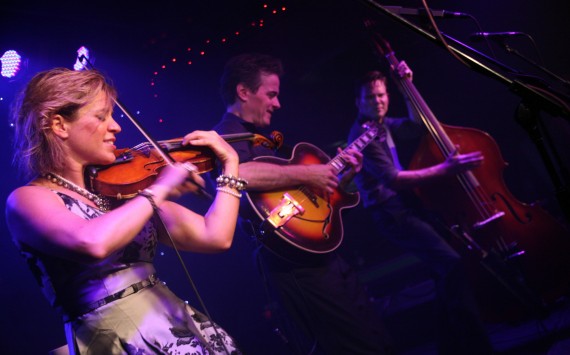 Hot Club of Cowtown at Hill Country BBQ Market
Nothing can stop this hot jazz band from Austin, Texas — not even a winter storm. 9 PM, $18 to $22.
Pat Green at 9:30 Club
The Grammy-nominated performer will be crooning his country songs as of 10 PM tonight. $35.
Jimmie Vaughan and the Tilt-a-Whirl Band at the Hamilton
Vaughan, considered one of the most respected guitartists of pop music, will be rocking out with Jonny Grave. 7:30 PM, $30 to $40.
Comedy Night at the Topaz Hotel Bar
Laugh away the cold at this live standup comedy show, featuring ten local standup comics and a $25 cash prize for the best joke. 8 PM, free.
Grounded and Godspell at the Olney Theatre Center
The shows will go on at 7:45 and 8 PM, respectively. Tickets start at $38.
Kid Victory at Signature Theatre
Tickets for tonight are still available for this collaboration between Greg Pierce and John Kander, the famed composer behind Cabaret and Chicago. 8 PM, $29 to $80.
Beat the Clock Happy Hour at Nellie's Sports Bar
Kick the weekend off a little early with $2 drinks, starting at 5 PM.
"Frozen" Karaoke at Sticky Rice DC
Order a couple of sake bombs and grab the mic at this sushi bar in Northeast. 10 PM.
---
What's canceled/rescheduled
Exhibits and events at the Phillips Collection, including tonight's After 5 gallery talk and tasting
Brew Tours by DC Brew Tours
This afternoon's Cottage Conversation with Brian Jordan and Emily Wax-Thibodeaux at President Lincoln's Cottage has been rescheduled to March 26.
National Geographic Live's Deep in the Okavango. Ticket holders should call 202-857-7700 tomorrow for a refund.
Tonight's performance of King Hedley II at the Arena Stage in Southwest has been rescheduled for Sunday at 2 PM. Ticket holders should call 202-488-3300.
DC9's show with Desert Noises, Paperhaus, and Linear Downfall
Signature Theatre's community event Inside Signature with Jake Winn
The craft beer tasting event at Paul's Wine & Spirits
Most Smithsonian museums (though the National Air and Space Museum and the National Museum of American History are open), Smith Center, Art League, and Artisphere, as well as Cutting-Edge Spanish Crafts at the former residence of the Ambassadors of Spain.
Know anything else that's canceled/still happening? Send information to ecodik@washingtonian.com.