To Julia Vogl, Tysons Corner is a future city. It's still too young to have a clear identity. So the 29-year-old artist recently embarked on a mission to help the Northern Virginia town out. Together with the Arts Council of Fairfax County, Vogl plans to unleash a project dubbed Tysons Tiles—the city's first-ever public art engagement work. With the project, she wants to answer two questions. "Who is the community at Tysons?" she asks. "And what type of culture do they want?"
These questions are just the beginning of what may lay ahead for Tysons. By 2050, Fairfax County hopes to transform this office-building-clogged city into a sustainable, walkable urban center. And Vogl says one of the best ways to accomplish that is with public art. "It's about starting a conversation about what art and culture can be," she says.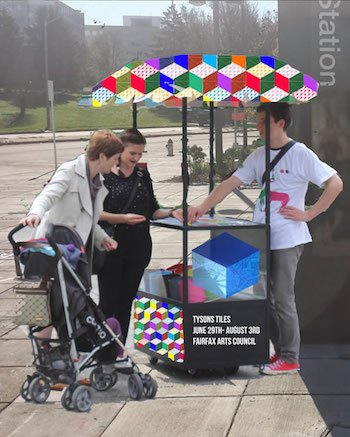 Vogl will start the conversation between May 18 and May 24. That's when the artist herself will pop up with a trolley in about 20 different locations across Tysons—everywhere from the shopping mall food court to restaurants like the Silver Diner—to survey 1,000 people, asking them questions about their role in the community, their relationship to culture, and a fun fact about their personal lives.
Here's how it works: Each participant answers a few multiple-choice questions on an iPad. Then they get a badge with colors representing their answers. Later, Vogl will use those colors to construct 5,000-square-foot ground murals at the Greensboro and McLean Metro stations. The installation will be displayed from June 25 until August 3, when participants can locate the tiles corresponding to their own badge. Vogl hopes these badges will come to represent communal values.
"So much of the culture [in Tysons] is in cars," Vogl says. "I'm hoping that these badges become an anecdote but also a symbol for people who are in that neighborhood and creates more connections for pedestrians."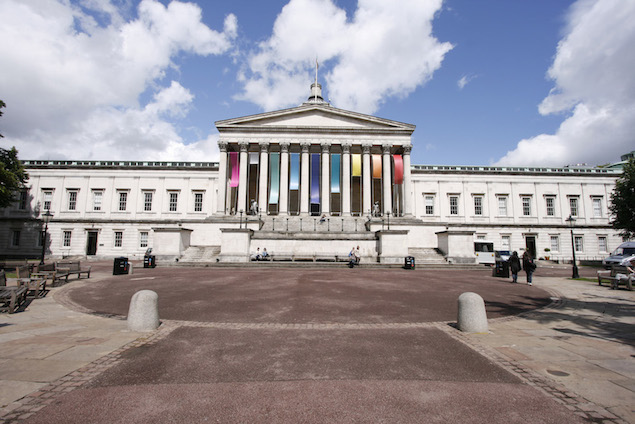 A DC native, Vogl is no stranger to the task ahead. Her work has taken her from New York to Poland and England, where she now lives. In 2011, she surveyed 1,000 Londoners and asked how they'd spend £1,000,000 of public funds. The results were organized in different colors—royal blue for education, hot pink for arts and culture, and red for transportation, for example—and converted it into a massive bar chart at the University College of London.
The same lessons she learned there can be applied here. One of Vogl's questions at Tysons will relate to public art; the answers will help Fairfax County understand the public's perception of these projects. Tysons Tiles cost $130,000 and was funded by both public and private money, including a $50,000 grant from the National Endowment for the Arts. Is this an effective way to build community? Should the county spend its cash on public art?
"Tysons is undergoing a lot of development and really emerging as a city," says Linda Sullivan, president of the Arts Council of Fairfax County. "The idea is that through this project, we're talking with the community about their wishes and visions for the arts."