Let's begin with an old cover of Sports Illustrated. The issue date is April 9, 1984. The image is of a Georgetown University basketball star, big-elbowed and bald-headed, dunking over two flailing University of Houston basketball players during the Final Four.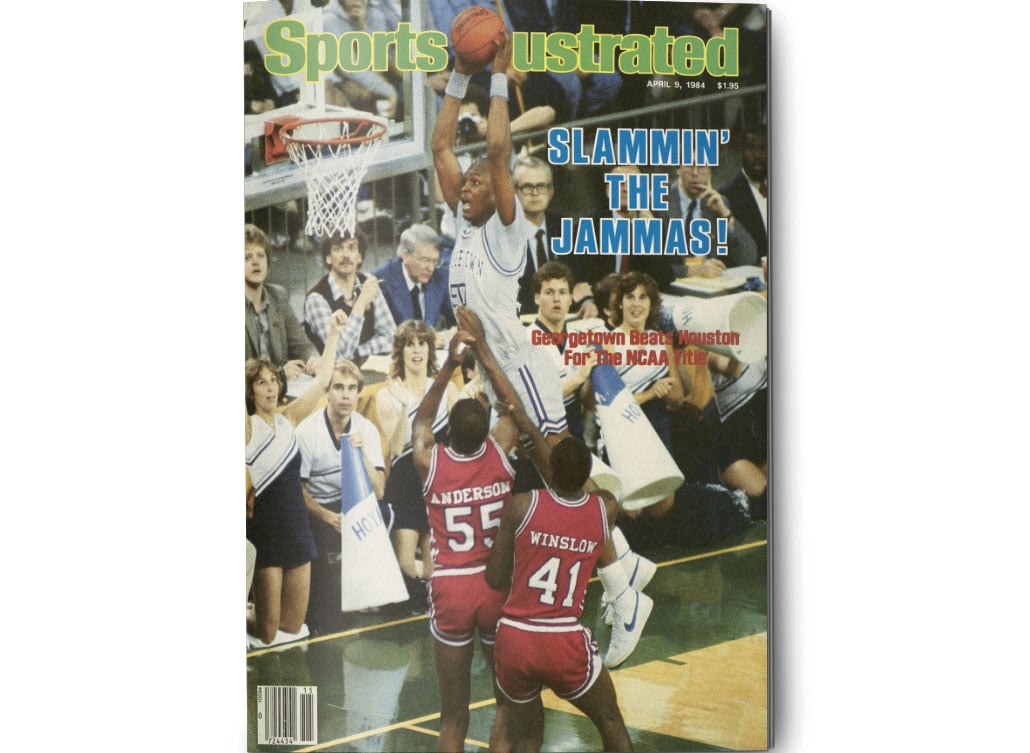 That's how America remembers Michael Graham, at least on those occasions when it does. In the process of helping the Hoyas win their first national title with that victory, the freshman from Southeast DC with the most fearsome reputation on the team became a household name.
"He was a scary dude on the floor," says Chuck Everson, who played at Villanova University from 1982 to '86. "Very, very aggressive. He wouldn't think twice about ripping your head off."
To the media, Graham's attitude perfectly aligned with the philosophy of his team— then the most subversive in college basketball. While black superstars had long propelled the sport's powerhouses, all but a few of their coaches were white men. Georgetown, though, was led by an opinionated, brilliant, wagon-circling African-American coach who suffered no fools: John Thompson Jr. With his team's win against Houston that April, he became the first black basketball coach to win a Division 1 national championship.
The indomitable, stoic center Patrick Ewing was the face of the Hoyas. But for a short, profoundly memorable stretch, nobody embodied Georgetown's establishment-rankling ethos more than Graham.
"He was a bald head in the middle of everybody wearing the Jheri curls, the Afros, the shags," Public Enemy frontman Chuck D once told me. "That was a f—in' statement." And it was usually a statement that came trailed by controversy. Graham was the guy who in March 1984 alone was accused of throwing a punch at Syracuse forward Andre Hawkins and leveling University of Nevada Las Vegas center Richie Adams with an elbow; he also bowled over Dayton guard Sedric Toney, prompting Toney to say, "There's such a thing as being physical, but he comes down and tries to hurt you." Graham was the program's id: a 220-pound, gum-chomping, hyper-aggressive menace.
And then it was over. After finishing with 14 points and five rebounds against Houston in the championship game, he never played for Georgetown again.
***
On April 4, 2013, the DC Lottery sent out a press release announcing the winner of a $1-million Powerball ticket. The lucky man's name: Michael Graham. He'd bought the ticket at a Shell station on South Dakota Avenue, Northeast, while driving around during his shift at Rent-A-Center.
Later that year, I began trying to get in touch with him. It wasn't easy. I knew a lot had happened to the guy in the intervening years and figured there'd be a lot of interest in the intriguing ups and downs in the life of the man who helped Georgetown win its only national title and then disappeared. But after our first quick phone conversation in 2013, it took five months of e-mails, Facebook messages, and phone calls to arrange a sit-down. Last year, the cycle repeated itself. Every time I thought I was close to pinning him down, poof.
In some ways, I could understand it. The media have never been good to Graham. He was a one-year wonder, and for a long time after the Georgetown triumph, sports pundits were still hammering him. Take the instance in 1989, a full five years after Graham's last collegiate game, when a major newspaper columnist dubiously claimed that during the 1984 championship, Graham and a teammate "couldn't speak a coherent English sentence in a postgame TV interview," adding, "It embarrassed Georgetown students—past and present." Or the time in 2013 when ESPN's Grantland website included Graham in its "Most Hated College Basketball Player" tournament. This, 30 years after Graham's lone season as a Hoya.
"I had a shaved head," Graham says today. "You look at it and you're like, 'Damn, that was some scary shit.' " To many, he was just a poor, black, uneducated inner-city kid equipped with athletic talent and little else—a stereotype. In reality, his life has been more of an odyssey. "I've been places," he says, "where very few have."
Graham has had some bad luck, but he's also been graced with incredible good fortune. The odd thing is that every time he's caught a break or been given some enviable opportunity, he's pulled his disappearing act or made a questionable decision that doomed him.
As we talk, though, it becomes clear that Graham is determined to correct for all that, to rewrite his history. His vehicle for doing so is the sort of thing that could make any future disappearing act a lot trickier: a restaurant, named—like the vanity establishments of so many all-time greats—after him: Michael G's BBQ Backyard Grill.
Graham started working on the idea early last year. I got my first tour of the Bryans Road location, in Maryland's Charles County, last November. With a spring in his Timberlands, he led me past a wooden crate containing a new deli case and into the kitchen, where he pointed to an old stove that would soon be replaced. The ceiling needed new tiles, the soda fountain needed fixing, and the expansive menu needed trimming. Nonetheless, the proprietor of Michael G's sounded cautiously optimistic that the place could open by January of this year.
"Even though there are some days I say, 'Why in the hell did I pick this?' " Graham said, "I'm pretty confident."
The restaurant, as he describes it, is a celebration of the very short era that brought Graham so much fame. He plans on offering cheeseburgers named after Thompson and Ewing, and the walls of the 1,600-square-foot space are covered with photographs of Graham dunking on various opponents.
But more than that, Michael G's is the culmination of Graham's three-decade quest to be remembered for something beyond his maddeningly brief time as a Hoya.
"I'm trying," he says, "to get a great storybook ending."
Of course, he's not there yet. January has come and gone, and as of press time, anyway, Michael G's has yet to open.
***
Graham grew up with his mother and two younger brothers in the nowdemolished Arthur Capper housing project on Capitol Hill. He also had six half siblings, his father's kids.
"We were on public assistance all my life," Graham says. His athletic career was born of necessity. "I was such a bully in middle school. They tried everything to keep me out of trouble."
He joined the basketball team at Jefferson Junior High and quickly distinguished himself—"just head and shoulders above everybody," as Richard Bachman, his coach, once told the Washington Post.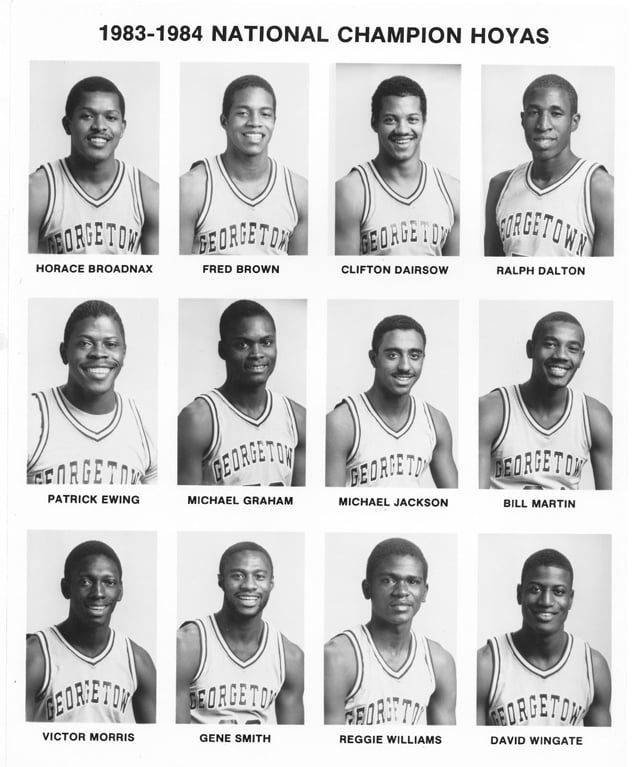 At Spingarn High School, the now-shuttered Northeast DC hoops powerhouse, Graham led his team to the 1982 DC Interhigh championship. By the fall of 1983, he was enrolled at Georgetown on a full scholarship. And he was playing for Thompson, perhaps the proudest son of Washington basketball, who went from starring at Archbishop Carroll High School to later playing for the Boston Celtics.
"I didn't have a father figure," Graham says. "To me, he was that father figure—somebody you don't mind running into a wall for."
"Big John" Thompson, who's six-foot-ten, saw eye to eye with Graham literally and figuratively. "Coach had an affinity for him because of where they came from," says Horace Broadnax, a point guard at Georgetown from 1982 to '86. "Michael didn't come from an easy background, and coach Thompson didn't, either."
But adjusting to Georgetown—an exclusive, overwhelmingly white institution— was difficult. And Thompson didn't pamper anyone. Graham's life was far from the cushy, cloistered existence now associated with bigtime college basketball. "You could barely get shoes from Coach," he says. "People thought you was getting something at Georgetown. They are totally wrong."
Graham's focus faded in and out; life outside the brick-walled campus tugged at him hard. He was a father—his high-school girlfriend, Thomasine Burrell, had given birth to their son, Michael, a year before. On weekends, he'd drift off campus to hole up with old friends and family. He'd disappear "to the place he felt comfortable," says former Hoyas assistant coach Mike Riley, often dispatched by Thompson to go and find Graham. The city, he adds, "was like a magnet."
Thompson suspended Graham at least once for neglecting his schoolwork. But the coach seemed to understand that his team—then in the midst of its best year ever—could use Graham's muscle. By late March, the freshman forward's playing time had increased and the Hoyas had rolled past UNLV and Dayton to advance to the Final Four.
During the tournament, Graham was dominant on the court. Against Kentucky in the semifinals, he finished with eight points and six rebounds. In the title game, he was even better and was named to the all-tournament team alongside Ewing and Hakeem Olajuwon, future Hall of Famers.
Off the court, though, he was an emotional wreck. The Final Four that year was in Seattle, and the weeks leading up to it had been full of travel along the West Coast. Graham had never been away from DC for so long. He remembers spending much of the Final Four weekend missing home. When Lionel Richie's slow jam "Hello" came through the speakers during one practice at Seattle's Kingdome, Graham started sobbing: "I just listened to it and boo-hooed."
***
Now 51, Graham is no longer the lean, mean Michael Graham of 1984. He has added some weight to his six-foot-nine frame, and the glare he once perfected is nowhere to be found. In person, he's an easygoing, genial giant who peppers conversations with his practically seismic laugh. The first time I met him, I asked why he still shaved his head. It's not because he wants to look intimidating—if he didn't, he told me, his hair would grow in gray.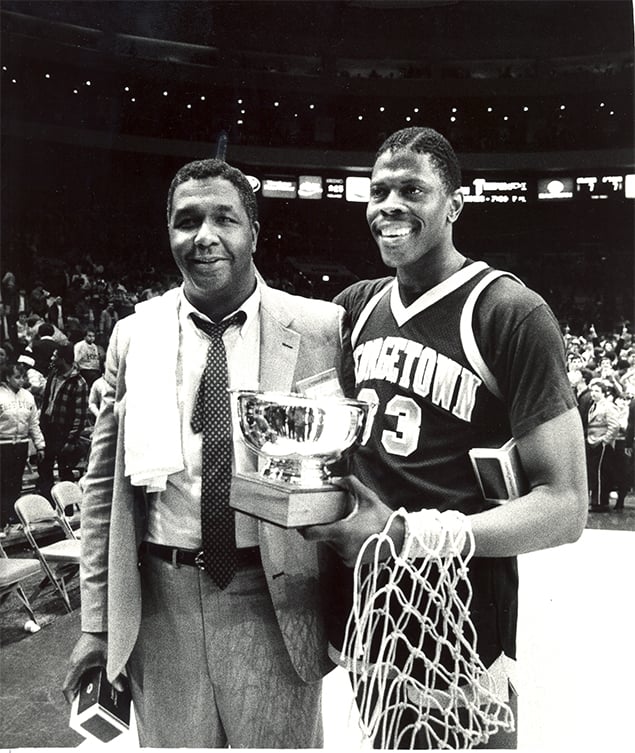 We were at his newly built home in Waldorf, finally sitting down to relive his glory days. In the basement, he pointed to a blown-up copy of his Sports Illustrated cover, then grabbed another. This one, dated November 26, 1984—the fall after Georgetown won the national championship—features a portrait of Thompson, Ewing, and President Ronald Reagan. "Maybe I could've been a part of that," Graham says. "I don't know."
He wasn't a part of it because by then Thompson had suspended him for his sophomore season. After the Final Four, Graham had become a minor celebrity, appearing at events around town. He'd also slacked off on schoolwork. "I sort of, like, let it get in the way," he says. "I was my own worst enemy.
"It was a void," he adds. "One, I failed myself. And I failed my teammates. And especially my mother. You know, it was never a problem of [not being able to] do the work. I just didn't."
Under the terms of his suspension, Graham retained his full scholarship but wasn't allowed to play or practice with the team. But unlike other star players—who in those days usually played at least two or three years of college ball before going pro—Graham had never been interested in school as more than a ticket to punch en route to the NBA. Once off the team, he lasted a semester before he remembers thinking, Maybe Georgetown's not the thing for me.
Thompson, clearly frustrated, publicly rebuked his wayward star shortly after Graham dropped out.
"The biggest thing that disappoints me about this is that I know, as well as I know anybody that I've ever had here, that Michael had the innate intelligence to do the work," Thompson told Michael Wilbon, then of the Post. "But a person can only be counseled by so many people so many times. He's 21 years old. He's getting to the point now where there's not going to be anybody to talk to."
The coach went on to tell Wilbon that he believed the Hoyas could have become national champions without Graham. Thompson, however, would never win another NCAA championship, and as Graham likes to point out, in 1985 the heavily favored Hoyas famously lost to Villanova in the title game without him. Still, he speaks of the era today with a note of regret, wishing Georgetown celebrated his accomplishments more.
To plenty of Hoyas fans, Graham remains a folk hero. In December, I tagged along with him to the Georgetown-Kansas game at the Verizon Center. Before walking from the concourse down to his courtside seats, a short, middle-aged fan approached and asked for a hug. Kansas ended up winning 75-70, and after the final buzzer a different fan spotted him. "We could've used you out there tonight," the man said.
Graham smiled and replied, "I wish."
***
After Graham walked away from Georgetown, the University of the District of Columbia's coach, Wil Jones, took him in. "People thought that the scowl on Graham's face was legitimate, you understand?" Jones told me last year before he died of cancer. "The scowl on his face was a facade. Michael was one of the sweetest kids in the world. But a lot of people didn't understand that."
Jones recalled how he'd tried to recruit Graham out of high school, until "all of a sudden, here come the big boys. John [Thompson] got in there and stole him." Still, for Jones, eventually landing Graham at UDC was bittersweet. "Shit," the late coach said, "I wanted him to go to Georgetown so he could win three or four national championships, you know?"
Graham broke Jones's heart a second time, and in short order. After UDC informed him he wouldn't be eligible for the 1985-86 season because he didn't have enough class hours, Graham dropped out, just as he'd done at Georgetown. "The heck with it," he remembers saying to himself. "I'm gone."
It didn't take long for Graham to get what he really wanted: a chance to go pro without any more bother about college. The following summer, the Seattle SuperSonics picked him in the fourth round of the NBA draft and he signed a contract with the team. But he blew his chance by partying his way through training camp. "Again," he sighs, "immaturity." A week before the season started, Seattle cut him loose.
He got yet another chance, this time with the Albany Patroons, part of the Continental Basketball Association. Then a virtual farm system for the NBA, the CBA should have been the perfect place for Graham to relaunch his career. His job was supposed to be simple. "All I had to do was rebound," he says. "That was my strength." The problem was he fancied himself a scorer, and "that wasn't my strength."
On New Year's Eve 1986, Graham and his coach, Phil Jackson, got into it in the middle of a game. A few days later, the Patroons axed him after only 11 games.
Jackson, who went on to lead the Chicago Bulls and Los Angeles Lakers to a combined 11 championships, is considered by many to have been the best coach in NBA history. But even as he used his memoir to describe leading the likes of Michael Jordan and Dennis Rodman, he still devoted space to Graham, the star he'd failed to mold back in the minors.
"Nothing I said made any difference," Jackson wrote. "Whenever I tried to talk to him, his eyes would glaze over and he'd retreat to some dark inner corner nobody could penetrate."
The coach described pulling off the highway the night he let Graham go and starting to cry at the thought that he might have ended the player's promising career: "Here was a kid who was born to play basketball, someone who had enough talent to be a star in the NBA, and yet despite all my sophisticated psychology, I couldn't reach him."
Over the next few years, Graham bounced around basketball's minor leagues, playing for half a dozen teams for about $1,000 a week. He was frustratingly inconsistent. One night he'd grab 14 rebounds; the next he'd get into a fight. "It always seemed like I took one giant step forward and two back," he says. In 1989, shortly after the Tulsa Fast Breakers signed Graham, the team turned around and cut him for testing positive for cocaine.
Graham maintains that he wasn't an addict at the time, nor had he ever previously failed a drug test. He'd done coke while hanging out with teammates, he says, and, "lo and behold, the next day they popped me. I was like, wow." The incident still pains him: "I put myself in bad positions. That wasn't a smart thing. It wasn't at all."
It was another opportunity squandered. Graham had been playing well at the time, too. "He worked his ass off," says former Tulsa general manager Jay Stone, now a lobbyist in Washington. "He always showed up at practice. And [coach] Henry [Bibby] was happy with him. He was getting better and better all the time." That year, Tulsa ended up winning the CBA championship without Graham. Stone never saw him again.
***
By early 2013, Graham was working at a Rent-A-Center location in Prince George's County, delivering and recovering merchandise to make a living after two decades marked by various losses and disappointments.
Graham had quit basketball in 1993 after a few years playing professionally in Venezuela, Portugal, and Mexico. He'd fathered two daughters with women he met during his years on the road, but he wasn't putting in a lot of family time with them or his son. In 1994, he married Francine Williams, a native of Charles County. But while he was with her, he says he fathered his fourth child, a son, with another woman.
Graham and Francine divorced, and he moved to South Carolina, where he became a furniture-store manager. In 2004, he married for a second time. Two years later, he was diagnosed with type 2 diabetes. "When the doctor told me that, I cried," he says.
Then, in June 2008, things got unfathomably worse. During a trip to Kings Dominion amusement park, Graham's son Michael, the one who was born when Graham was in high school, began vomiting, then collapsed and hit his head on the pavement. An ambulance rushed him to the hospital, where he died. Doctors told his mother that Michael had a tumor on his brain. "We don't know whether or not it came on so suddenly or if it was cancerous," Thomasine Burrell says.
Michael Burrell, who had worked as an armed guard, looked like his father, his mother says. In the years since his death at age 25, she and his dad have barely talked about their son. Graham says he shut down after the loss but also realized it was time to grow up: "You always think, being a parent, that you're supposed to go before your kids. That was a real shock to me."
Graham might have been lost to history by the time he'd divorced for a second time, moved back to DC, and started working at Rent-A-Center. But on the ides of March in 2013, he was graced with a very strange stroke of luck.
That day, his shift began miserably. After hearing that the Georgia Avenue location was missing some laptops, he drove over to see what he could find out. After his questions turned up little, he headed back to his usual posting in Capitol Heights. On the way, he stopped to use the bathroom at a gas station. As a courtesy, he wanted to buy something first. But nothing in the snack-food aisle looked very appetizing. So instead of candy or a bag of chips, he bought a lottery ticket.
"By the way," he remembers asking the clerk, "you got a bathroom in here?"
"No," the man replied from behind a glass partition. "No public bathroom."
Graham was so angry he almost tore up the ticket.
A few nights later, Graham was nodding off in front of the nighttime newscast when he heard an anchor mention that DC Lottery officials were looking for someone who'd purchased a winning ticket at a gas station on South Dakota Avenue. Instead of checking his ticket right away, he went back to sleep. The next morning, he finally looked at it after getting out of the shower. "I couldn't believe it," he says. Excluding the Powerball, Graham had hit five numbers: 3, 7, 21, 44, and 53. The prize was $1 million.
It's here that Graham's tortured relationship with Georgetown came full circle. He had lost touch with most of his old DC basketball friends and coaches. But not Thompson. Even after the coach had taken him to task in the Post, Graham still felt close to him all these years later. When he discovered his winning ticket, Thompson was one of the first people he called.
Thompson didn't believe it. "Michael, are you sure?" he kept asking. Graham drove the ticket over to Georgetown and showed the numbers to his old coach. "Goddamn, you did, son," Thompson finally said.
The press release the DC Lottery sent out that April to announce Graham's $1-million win called him—predictably—"The Enforcer" and mentioned the 1984 title he'd helped the Hoyas win. But at a press conference, Graham refused to talk about Georgetown. "Today's about winning the lottery," he said.
***
After taxes, Graham took home about $750,000, he says. The first thing he did was buy new gravestones for his grandmother, mother, and aunt. He and his first wife, Francine Williams, had begun dating again, and on Christmas Eve 2013, Graham surprised her by taking her ring-shopping. They bought the house in Waldorf with his prize money, and last June, at the Aria in Las Vegas, they married for the second time. Their daughter was born a few months later, making Graham a father for the fifth time, at 51. "I needed that," he says. "I needed that bundle of joy."
The girl is seven months old now, and for the first time in his life, Graham is partaking in and enjoying fatherhood—even the early-morning feedings. "I've never been around any of my kids to do that," he says. Now he's hopeful he could become closer to his three older children, the youngest of whom attends a DC high school.
Michael G's BBQ Backyard Grill is the last piece of making things right, of finally finishing something he started. Graham knows he faces long odds. The National Endowment for Financial Education claims that as many as 70 percent of Americans who experience a cash windfall end up losing it all. And the restaurant business—staging, equipment, inspections, hiring, customer service—is a slog.
Over the many months I spent chasing Graham, Michael G's was supposed to open five or six times at not one but two locations. That's pretty standard in the industry; openings are always delayed. And Graham seemed to be taking extra care. "I'm not gonna blow it," he told me last fall.
January 2015 came and went. On the eve of the next target for opening day, in early February, Graham and I were supposed to meet at his Brandywine location, but when I arrived, a restaurateur named Terry Thomas, Graham's business partner, seemed surprised to see me. Graham wasn't there. He'd forgotten about our meeting.
We finally caught up a few days later, and he confessed that although the restaurants were getting close, there was still a little more work left to do.
"I gotta get this right—it's gotta be right," he said, trying to ward off any misunderstandings, but maybe also trying to convince himself that this time there will be no vanishing, that Michael Graham, owner of Michael G's BBQ Backyard Grill, is here to stay.
Alan Siegel (asiegel05@gmail.com) has written for Sports Illustrated, Slate, and Washington City Paper.