Months after they were supposed to be rolling down the tracks, Metro's newest batch of railcars are finally ready to open their doors to passengers. The 7000-series fleet, as the Washington Metropolitan Area Transit Authority calls it, will make its public debut on April 14, the agency announced Thursday.
The cars, which feature modern touches like slip-resistant rubber floors, brighter lighting, seats with lumbar support, and screens showing customers how far they are from their destinations, are supposed to eventually replace the oldest cars in Metro's fleet. Metro still has nearly 300 of its original 1000-series cars in service; the Red Line train that crashed at Fort Totten in 2009, causing nine deaths, was assembled from 1000-series stock.
Metro has been testing the 7000-series cars for more than a year since taking possession of the first batch in early 2014. But the new models aren't quite a fleet of their own yet. Only eight cars will be ready for service on April 14, and will travel as a single train on the Blue Line. And unlike Metro's earlier models, which can be mixed and matched, 7000-series cars will only be coupled to each other.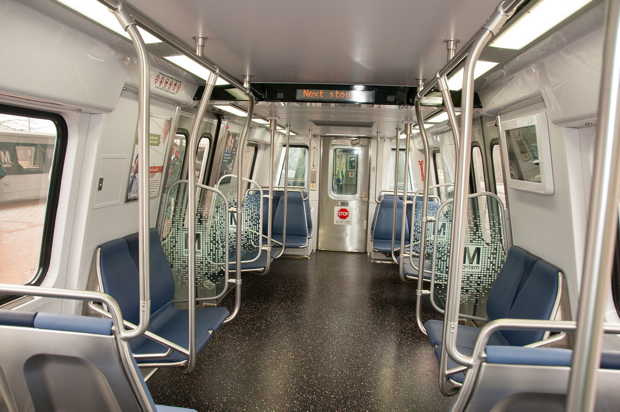 In total, Metro has placed orders for 528 of the 7000-series cars, enough to replace its entire 1000- and 4000-series stock and expand the overall fleet by 128 units. But the rollout will be slow—full implementation of the new cars isn't scheduled to be completed until 2018. After the cars currently ordered, Metro has an option to purchase another 220 for $1.47 billion. That could be a tall order for the cash-strapped agency, especially when DC Mayor Muriel Bowser and Maryland Governor Larry Hogan believe Metro should focus more on stabilizing its finances than expanding its transportation network.