A generation ago, restless, high-minded Western chefs began looking east for inspiration. Blending the flavors of China and Thailand with the techniques of France, they invented a new kind of fusion. This wasn't an organic fusion, the kind that occurs when one culture rubs up against another—as, for instance, when Italians arrived in America and gave us giant meatballs doused in red sauce or Mexicans merged with the culinary traditions of Texas and spawned the sunken burrito. This fusion was willed, and there was more than a touch of the imperial about the various mutations that followed, as chefs boasted about improving upon native traditions by upgrading cuts of meat. Publicists marketed these chefs as tour guides to distant lands, but with their Western sense of scale and emphasis (everything subjugated to the meat, which dominated the plate), their ventures were essentially an attempt to exoticize the upscale American restaurant, dressing up a protein-heavy plate with spicy (but not too spicy!) accents.
In recent years, a vigorous counter-revolution has emerged, with a generation of globetrotting chefs, determined to avoid the scarlet letter of appropriator, spearheading a new kind of embrace. Unlike their forebears in high-minded, inorganic fusion, these second-wave chefs —including, in DC, Johnny Monis of Little Serow and Haidar Karoum of Doi Moi—have rejected the notion of "interpreting" their findings for a Western audience. What animates them is the chance to present their discoveries with scrupulous fidelity to detail (albeit with superior meats and produce).
This next generation has undeniably produced better, more exciting food than its predecessors, but an air of self-congratulation, of Westerners taking a humble cuisine and upgrading it, lingers. Contrary to the breathless blog posts, the ethno-culinarians haven't invented a new form; they've taken an old form and reconceived it for the masses, serving mysterious and spicy dishes in low-affect settings where, in the case of Little Serow, you can nod along to twangy roots music as young servers in hipster glasses talk about how awesome the larb is. The Thai joint down the street also makes a pretty mean larb, but you don't get the retro-cool music and no one waits an hour to get in.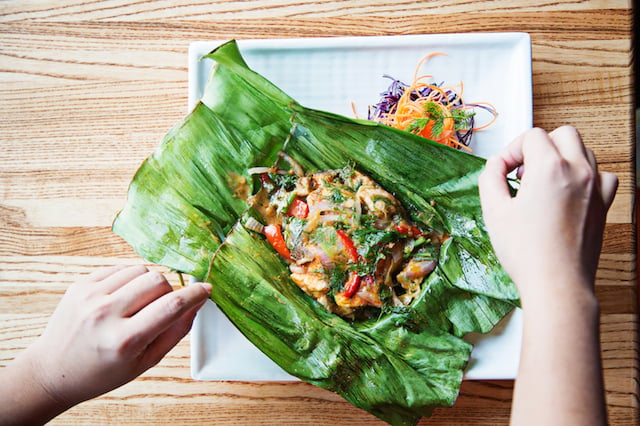 As you might imagine, the Asian mom-and-pops have been taking in this second wave with a mix of astonishment and envy. Last year, the owners of Mandalay opened a second, slicker restaurant in trendy Shaw, with the plainspoken comforts of Burmese cooking reshaped into a $70 tasting menu. Alas, the place shuttered after nine months.
The latest Asian mom-and-pop to insert itself into the conversation is Thip Khao, an offshoot of Bangkok Golden, the Thai restaurant in Falls Church that rose to prominence when foodies discovered its secret Lao menu. You'd never guess that the two restaurants shared the same owner, to judge from Thip Kao's bright, modern space with lacquered tables and hardwood floors. By the standards of most fashionable restaurants, it's more dowdy than dazzling, but it's at least two cuts above the hole-in-the-wall homeyness of Bangkok Golden. Add to that a prominent storefront in Columbia Heights, along with slightly higher prices and more dramatic plating, and there can be no mistaking that this is a bid for the big time, or what tastemakers believe to be the big time, which is not necessarily the same thing. A prime address and a trendier setting will change the way many diners perceive chef/owner Seng Luangrath, who, it must be pointed out, is a refugee from the very part of the world that the scholar chefs are all so curious to discover and who doesn't need to try to keep it, as they might say, simple and straightforward.
What makes a Lao meal so thrilling is the way it seems to expand the dynamic range of a standard-issue Thai meal. Everything feels intensified, sharpened, like a recording in which the bass and treble are both turned up to max. Dishes aren't hot and sour and pungent. They're HOT and SOUR and PUNGENT. The papaya salad comes with a warning, but if anything the effect is undersold—it will scorch the taste buds from your tongue. The tamarind-spiked sour soup is a little poem of tartness, but more often Luangrath employs acid to jolting purpose—mixing ginger with fresh dill in her knap pah, for instance, to transform a mild piece of cod into something electric. Moak pah is tamer but not tame; my salmon filet, slathered with curry paste and dill, was as bright as a ceviche.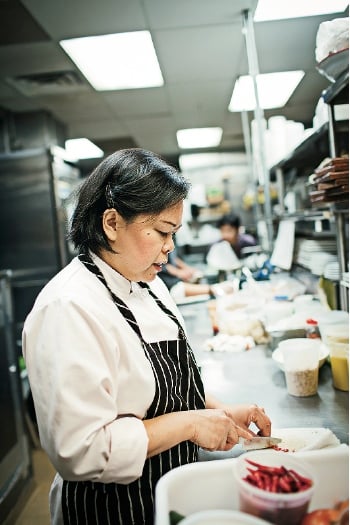 A plate of pork necks, shellacked with fish sauce and set to smoking on the grill, will seem as anodyne as porridge by comparison. Consider it a must-order: If only to give your mouth a chance to appreciate the spikier flavors, you need a dish like this on the table. Even better is a starter of sun-dried beef, chewy and crunchy and dusted with a kind of dry rub of lemongrass, sesame, and pepper.
To Luangrath's credit, she has refused to calibrate her cooking to delicate palates. To her discredit, she hasn't done enough to instruct her staff to explain these dishes—to have them distinguish the merely hot dishes from the infernal ones, to demonstrate how to ball up the sticky rice and scoop up bites of larb. Though, in a way, maybe this is of a piece with the general mission—if it needs to be explained, you're not having an "experience."
Even the intrepid will be unprepared for the primal funk of many of the dishes—which the chef has whipped up not to tempt and tease jaded foodies but rather to teach them about her traditions, in which intestine and pig's ear are cornerstones and not curios.
Those dishes might not sound appetizing to you, and to be fair, a larb made with beef tartare and beef tripe is perhaps best appreciated in small bites and in between other, less gutsy dishes, like the koi, a kind of Laotian ceviche, its lime-soaked tilapia tossed with mint, fish sauce, and toasted rice.
All of these dishes are gathered under the menu category "Let's Go to the Jungle," and you can sense Luangrath raising a brow at her wide-eyed newbies: You want authentic? Okay, you asked for it!
I'm not yet ready to declare the start of a third movement, but if there's a template for that coming wave of Asian-owned Asian hipster restaurants, this is it, in all its boldness, simplicity, and deliciousness.
---