China Chilcano looks like the kind of frenzied dream an art-history student might have after a night spent cramming for a Modern Art 101 final. The ceilings in one dining room are illuminated with red neon tubes in Keith Haring-like scribbles. A flowery portrait, equal parts Frida Kahlo and Salvador Dali, looms over the dining room. And the lighting imbues the place with the buttery brightness of a David Hockney interior. The effect is not relaxing, but it is as fascinating as it is chaotic. In other words, welcome to the mind of the real artist in the spotlight here, José Andrés.
If by chance you haven't seen him on Letterman or eaten at any of his 21 restaurants in Washington and in LA, Miami, Puerto Rico, or Vegas, Andrés is the Spanish-born chef who has a knack for taking a varied cuisine—Spanish at Jaleo, Mexican at Oyamel—and distilling it into a flurry of small plates. At his best places, he manages to interpret a culture without losing its essence.
Here the Andrés team focuses on Peru, which sounds less ambitious than, say, "Mediterranean," the cuisine he pulls off so seamlessly at Zaytinya a few blocks away. But Peruvian food isn't just char-grilled chickens, ceviches, and tiraditos. It's also chifa, the Chinese-accented stir-fries and fried rices that evolved after a wave of Chinese immigrants settled in Peru in the late 19th century. And it's nikkei, which includes the raw fish dishes that resulted from the Japanese diaspora. (Peru has the second-largest Japanese population in South America.) Thus a table here can be crammed with a dim-sum-like array of dumplings plus hearty stews and delicate bites of sushi.
It's not the easiest lineup to navigate—in fact, your meal can be downright cacophonous—even if you luck into a server like Alex, who exuberantly directed us to some excellent dishes and gave mini-history lessons along the way. It doesn't help that portions are unpredictable—ceviches tend to be more bountiful and filling than, for example, lamb pot stickers or fried shrimp-and-pork dumplings (and don't get me started on the single steamed pork bun for $9). But the thing to remember is that the most rewarding dishes bear Asian accents.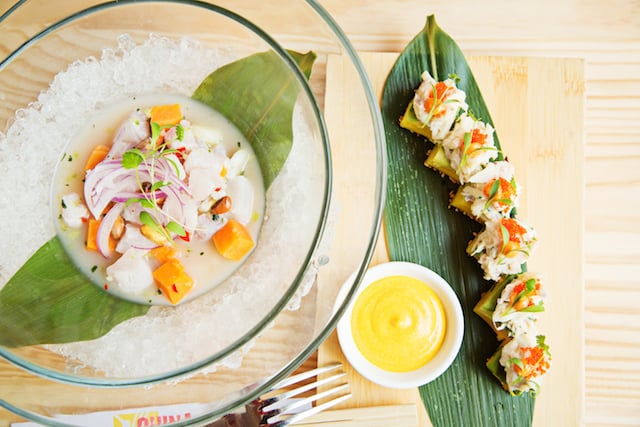 On the chifa side, focus on the fried rice. The kitchen takes the everything-on-the-Sweetgreen-bar approach to its terrific Aeropuerto version, which is loaded with 20 colorful, crunchy veggies—jícama, edamame, and Peruvian corn among them—and topped with airplane-shaped carrots and watermelon radishes. Then there's the head-turning Concolón, a rice pot that sizzles and hisses when the server tosses it tableside with luscious pork belly, meaty shiitakes, and tangy pickled turnips. The stir-fries—including an overcooked lomo saltado and a boringly sauced black-pepper lobster—are less of a sure thing. But one exception is the fabulous homage to Peruvian chef Javier Wong in the form of plump, sweet shrimp glazed in an umami-rich sauce that includes fermented black beans, pisco, and rice vinegar.
Andrés has hired former Sushiko chef Koji Terano especially to oversee the nikkei side of the menu, and his talents are put to good use. The list of nigiri is tiny—tuna, barbecue eel, and flounder fin with uniare the only choices—but the sushi is uniformly excellent, with meticulously cut fish, carefully applied sauces, and perfect pads of rice. Just as good are the "causagiri," fusiony riffs on, say, a California roll, in which sushi rice is switched out in favor of puréed potatoes. I could see coming back here and focusing exclusively on Terano's little corner of the menu.
But what about the rest of China Chilcano? Will it ever rise to the top of the Andrés canon? At this point, it can feel more like a sensory assault than a fulfilling dinner. But like any good piece of art, it'll leave you with plenty to think about—or at least gaze at.
---