Our Washingtonian Recommends lists bring you the best places to eat, drink, and be entertained—all selected by Washingtonian editors.
The cherry blossoms on the National Mall are near peak bloom. Here's where to find great dining options before or after flower-gazing, whether you're going casual, taking the kids, or looking to linger over a meal.
Short Walking Distance
The Tidal Basin may be rich with cherry blossoms, but it's not as wealthy in dining options. The best short walk (about half a mile) is toward the L'Enfant Plaza area.
Muze at the Mandarin Oriental (1330 Maryland Ave., SW)
The Mandarin is a swanky spot, but Muze is designed to be fairly approachable with all-day menus, and options for kids. An East-meets-West theme translates to dishes like blue crab rolls with Sriracha mayo, and kobe beef sliders.
The Food Trucks at L'Enfant Plaza (Seventh and D sts., SW)
One of the most popular food-truck gathering places is around the L'Enfant Plaza Metro during weekday lunch, where you'll find an eclectic mix of street fare such as tacos, curries, and kabobs. Check our daily food truck location listing for the most current map.
Potbelly Sandwich Shop (1240 Maryland Ave., SW)
Toasted sandwiches from this prolific chain do the trick in a pinch, and most cost under $6. Their breakfast options are also tasty. Don't be afraid to load up on hot peppers any time of day.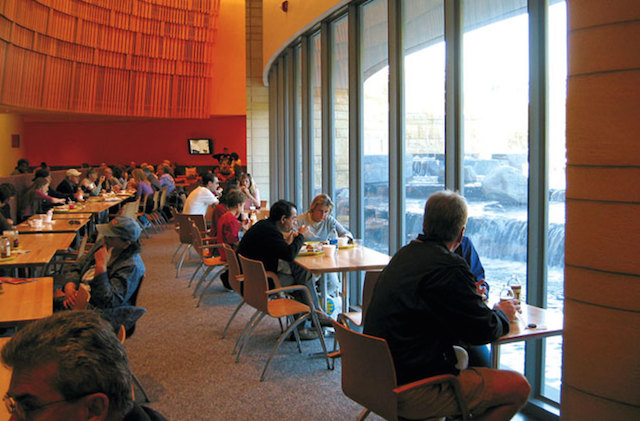 Museum Restaurants
Most of the museum eats are just over a mile's walk from the Tidal Basin, but you can take in the National Mall scenery on the way.
Garden Café at the National Gallery of Art (Sixth St. and Constitution Ave., NW)
A higher-end buffet spread changes seasonally, and is often designed by local chefs like Michel Richard or José Andrés in conjunction with exhibits ($20.75 per person). Wine and beer are available.
Mitsitam Cafe at the Museum of the American Indian (Fourth St. and Independence Ave., SW)
This is one of the more unusual dining experiences on the Mall. Five cafeteria-style stations are themed after Native American groups and their cooking traditions, and serve dishes like cedar-planked salmon, enchiladas mole, and house-ground buffalo burgers.
The Source at the Newseum (575 Pennsylvania Ave., NW)
The star of museum dining is this Wolfgang Puck-owned eatery. The main dining room is special occasion-expensive, with more wallet-friendly options the large first-floor bar/lounge that serves sushi rolls, noodles, and Asian snacks.
The Pavilion Café at the Sculpture Garden (Seventh St. and Constitution Ave., NW)
Warm weather brings diners to the Sculpture Garden for a Mediterranean-style menu of pizzas, salads, and sandwiches, which can be washed down with beer and wine.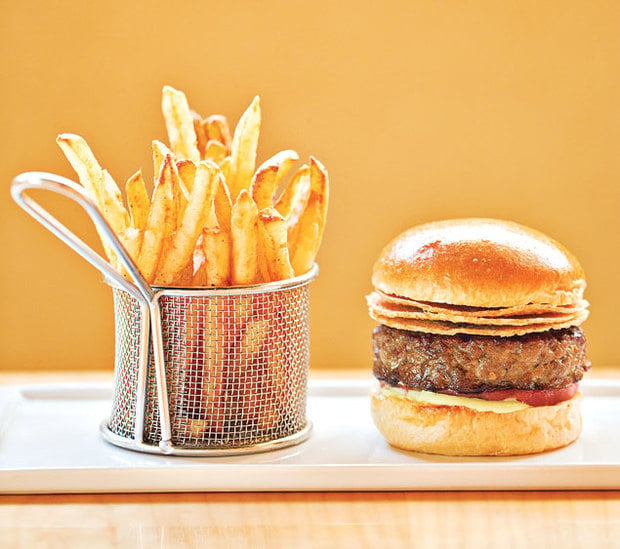 One Metro Stop From the Tidal Basin
The closest Metro station to the Tidal Basin is the Smithsonian stop. Then it's just one short leg on the orange and blue lines to Federal Triangle, where the dining options become more bountiful (these options are all within a very short walk of the station).
Central Michel Richard (1001 Pennsylvania Ave., NW)
Chef Michel Richard's French brasserie is consistently among the top restaurants in the District. Though not "fancy"— there're tasty burgers and fried chicken on the menu—the style is more casual-chic than shorts and t-shirts.
Boss Shepherd's (513 13th St., NW)
Southern-leaning fare is the draw at this subterranean eatery next to Warner Theater, with dishes like a fried green tomato BLT, chicken pot pie fritters, and local beers.
Chef Geoff's Downtown (1301 Pennsylvania Ave., NW)
Chef Geoff Tracy's local chainlet serves a something-for-everyone American menu, and is a good spot for families. It also attracts all ages with a generous happy hour menu that runs all day on Mondays and Tuesdays, and 3 to 7 Wednesday through Friday.
District Taco (1309 F St., NW)
This local string of Mexican fast-casual eateries is a tasty option for a quick bite. Guests can customize tacos, burritos, salads, and quesadillas at a gentle price.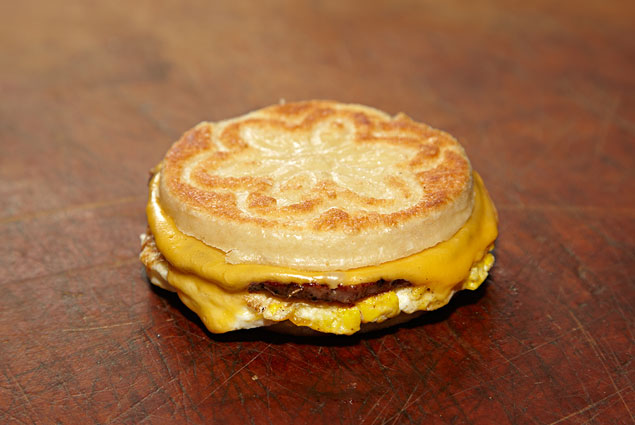 Picnic
For those who prefer to eat around the blooms.
Red Apron Butcher Penn Quarter (709 D St., NW)
Grab breakfast or lunchtime "porkstrami" sandwiches from this butcher/restaurant close to the National Archives. The takeout options are plentiful, but there are also dine-in seats available during the day (not to mention the adjoining full-service restaurant, the Partisan).
Breadline (1751 Pennsylvania Ave., NW)
If your Mall trip includes a walk by the White House, this cafe is a good place to begin. Seats are available for lingering, but sandwiches like French ham and cheese on a baguette or grilled vegetables with black olive tapenade travel well.