Let's be honest: Tossing out the rules often leads to the kind of creativity that's as useful as it is crazy. That was the thinking behind a design challenge we extended to local architecture firms. We asked them to pretend money was no object and to picture a District with no Height Act or zoning requirements—how would they reimagine the city in the year 2050? Our favorite proposals offer two very different takes on a future cityscape: one super-practical, the other a fantasy designed to provoke thoughts, not projects. Both left us feeling wild about the possibilities for our region as it grows and evolves.
Gensler

The multinational firm with a K Street office in downtown DC zeroed in on the Georgetown waterfront.
"In 2050, drones may be the primary delivery agents of packages, and driverless cars may be running the roads, but cities will still serve the vital function of providing connections . . . for services, people, and nature," the firm writes in its proposal. "The District needs more and better connections to its neighbors and across its waterfront, providing more ways for more people to flow into and out of the city."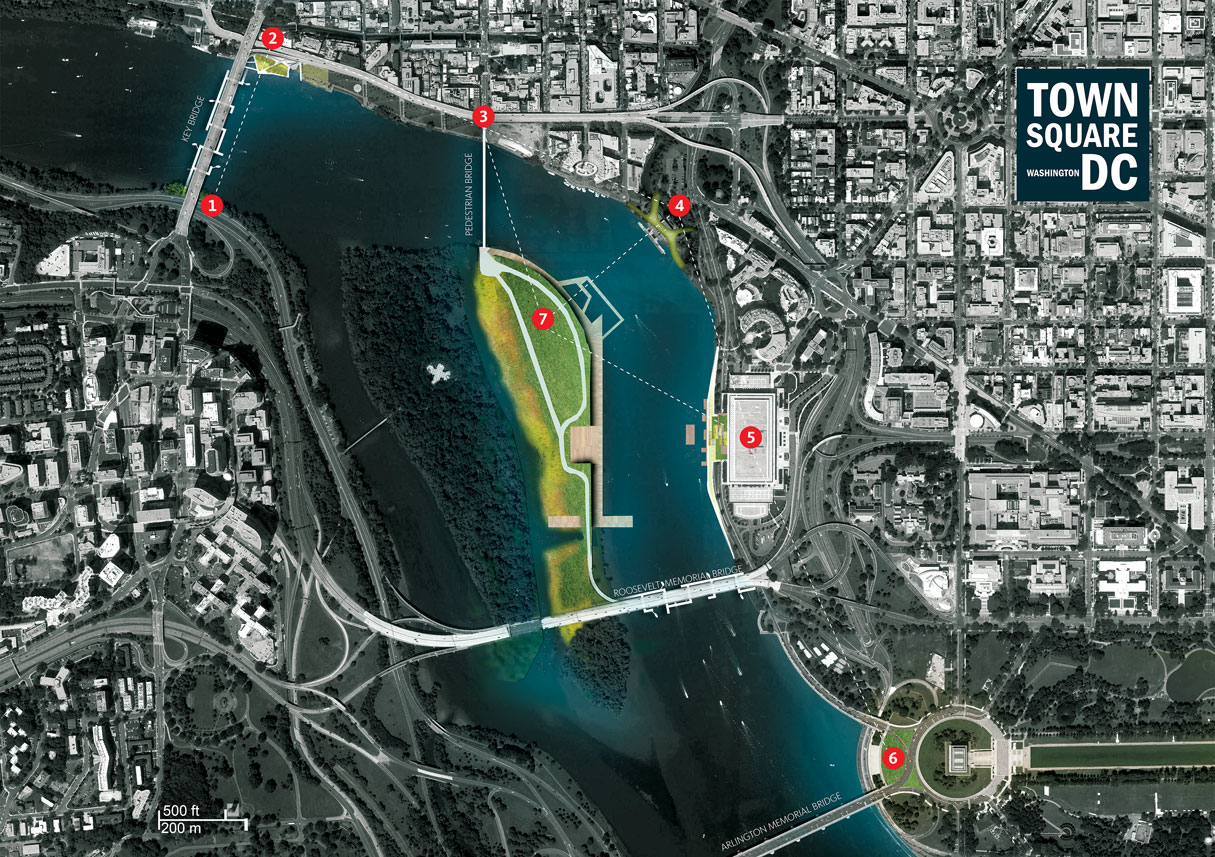 1. Pedestrian platforms for Key Bridge so that casual strollers can stop and take in the sights.
2. Docks for the newest shared transportation program: Paddleshare! Sign out a rowboat, canoe, or kayak and return it to any of the floating kiosks nearby, like at the Rosslyn Metro station or farther down the Potomac and Anacostia rivers.
3. A new bridge for walkers and bikers at the foot of Wisconsin Avenue connects Georgetown Waterfront Park to Roosevelt Island, which right now is accessible only from Virginia.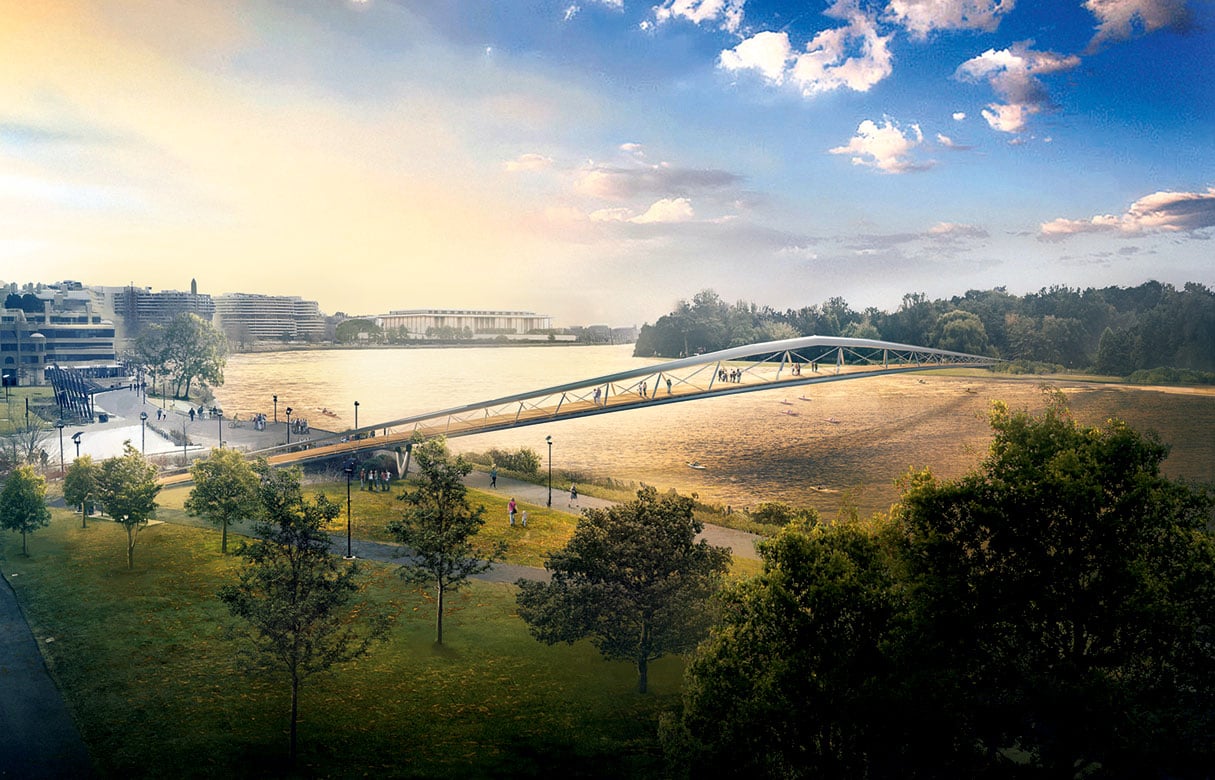 4. Thompson Boat Center (rendering above) gets reclad with a green roof doubling as a "land bridge" so you can go straight to the waterfront rather than detouring around the boathouse parking lot. Bonus: great Fourth of July fireworks views!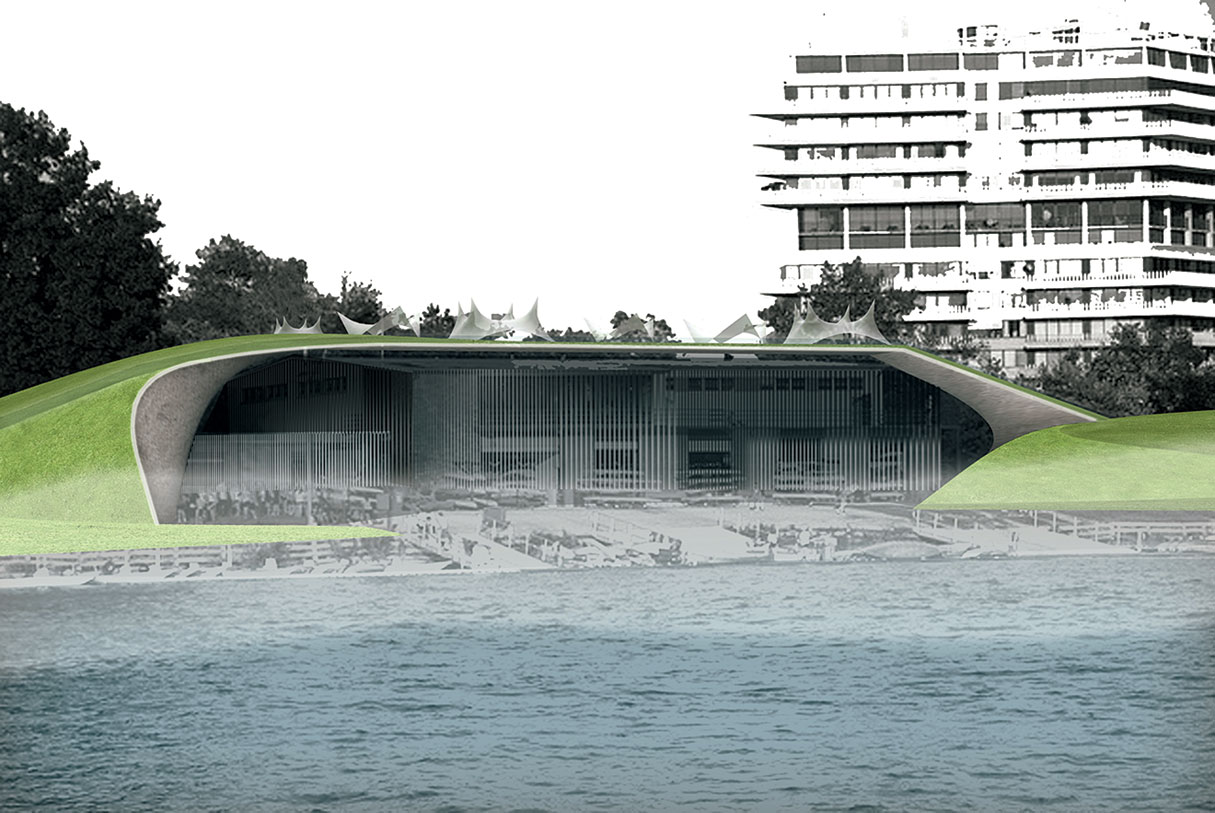 5. At the Kennedy Center, new floating terraces (rendering above) bring people closer to the water.
6. The Lincoln Memorial and the Mall are now more accessible thanks to Paddleshare and the nifty new land bridge.
7. Roosevelt Island gets some refurbishment to make the shoreline more accessible.
Kube

A small Dupont Circle firm that designs homes, restaurants, and offices rethinks two of our most quintessential spaces.
"Washington is a city of high-security buildings that are not accessible to everyday Americans," the firm explains. "This proposal allows the public to occupy and enjoy these previously off-limits zones. Our solution is steel-frame 'scaffold' prototype superstructures that wrap these iconic buildings, creating usable spaces around and above them, in addition to serving as frames to emphasize the isolation of these buildings."
1. A fountain surrounding the dome's turret transforms into an ice-skating rink in winter.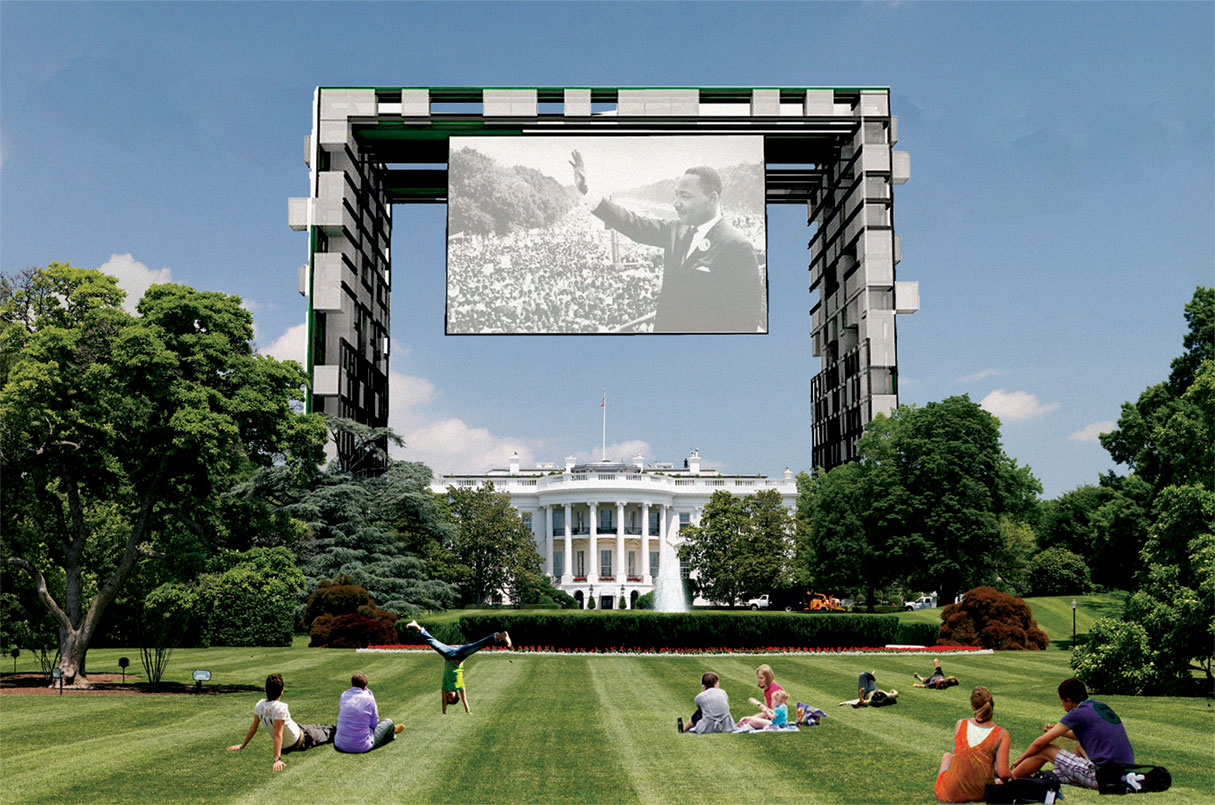 2. The suspended digital screen facing the Ellipse is for demonstrations and outdoor movie nights. Those cubes that are a part of the scaffolding for the giant digital screen aren't there for decoration! It's space for a range of different activities: micro-housing, shopping, park space, even urban farming.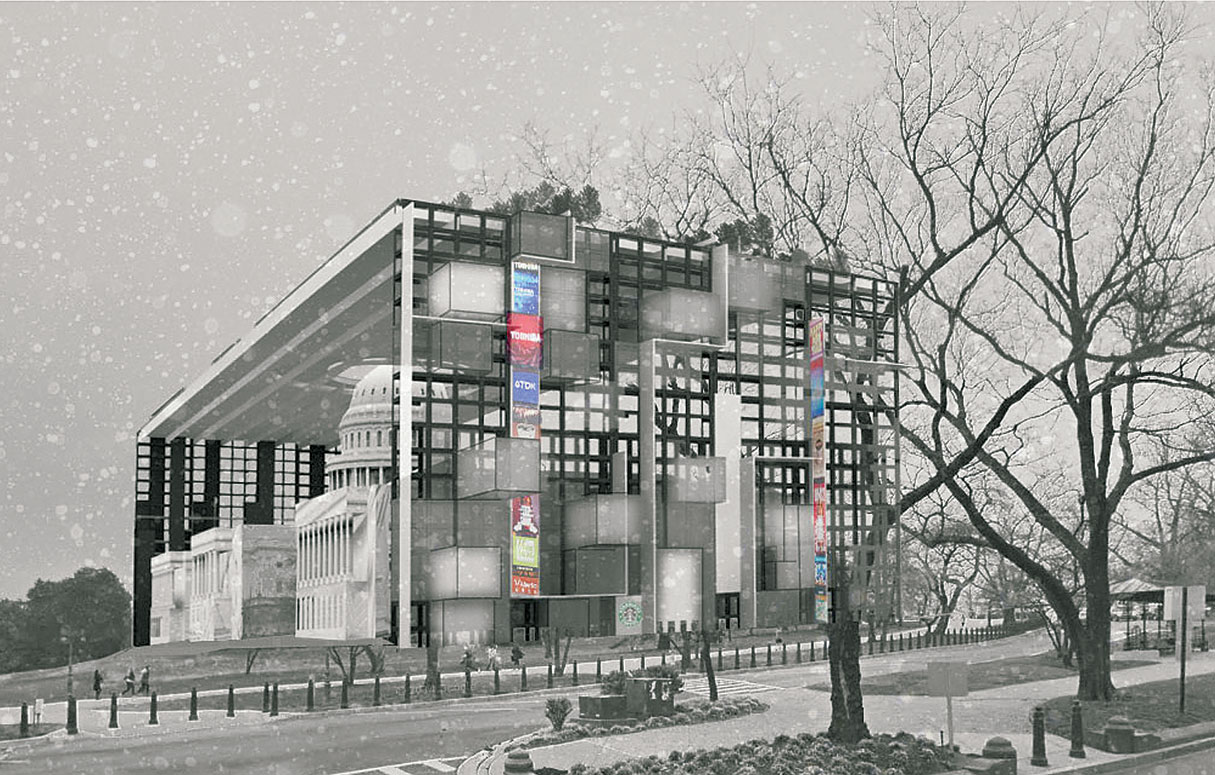 3. Meeting rooms and public spaces.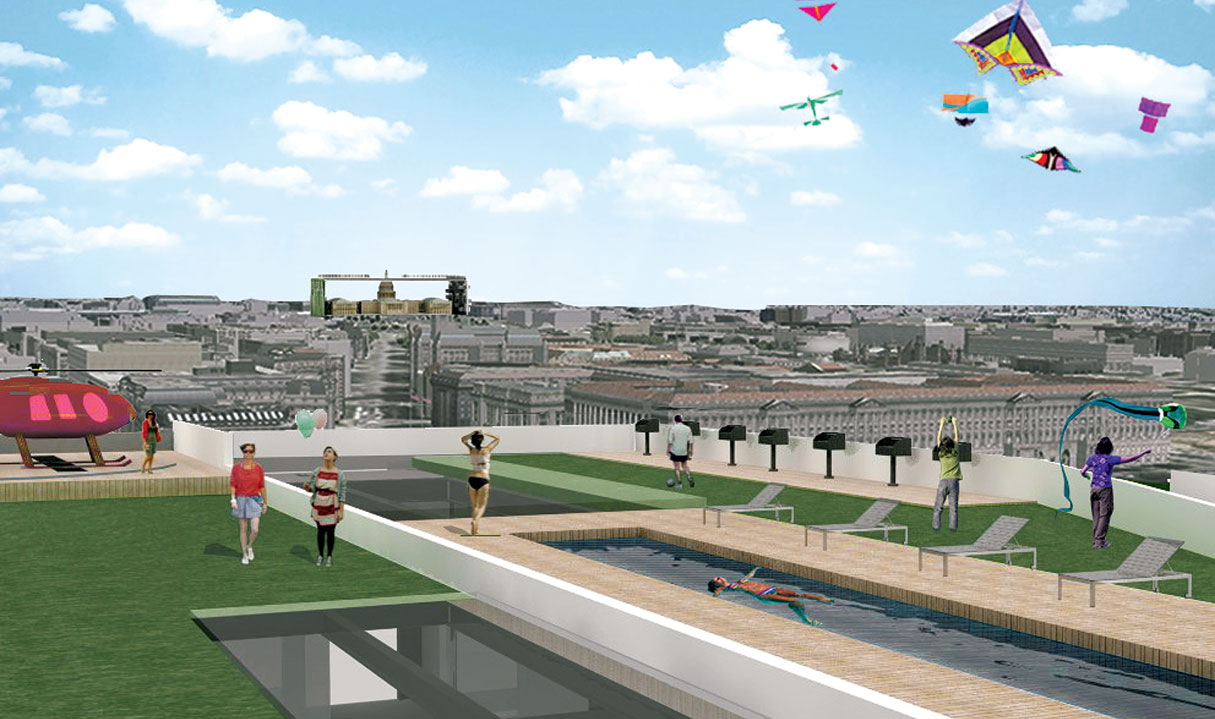 4. A helipad makes it easy for the President to come in from a trip and greet crowds gathered around the rooftop pool and grills.
This article appears in our April 2015 issue in our What Washington Will Look Like in 2050 package.