A new report claims that car-hailing company Uber is nearly even with Washington's taxi industry in providing ground transportation to business travelers, a finding that further cements the role ride-booking smartphone applications are taking in the region's infrastructure.
The study, published by Certify, a Maine company that publishes expense-account-management software, states that Uber, which entered the DC market in late 2011, accounted for 49 percent of paid car rides logged as business-related expenses in the first quarter of 2015, nearly equaling the combined total of traditional cabs, limousines, and airport shuttles. Perhaps even more startling is that Uber appears to have made these gains in a relatively brief span—its share in the first quarter of 2014 was just 20 percent.
The picture is not much different nationally; Uber ate up 47 percent of the business-travel market across the United States over the first three months of the year, according to Certify's data.
The report only accounts for business expenses entered through Certify's software, but the data reinforce the speed with which Uber has established itself as a major component of the transporatation economy. Yellow Cab, the District's largest taxi operator, said last year that the rise of digital hailing services like Uber depleted its business by 30 percent. Besides its technological edges, Uber's increasing bite of the business market is surely driven by its aggressive fare-cutting. Certify measured Uber's average cost per ride at $31.24 between January and March, compared to $35.40 for traditional cabs, limos, and airport vans.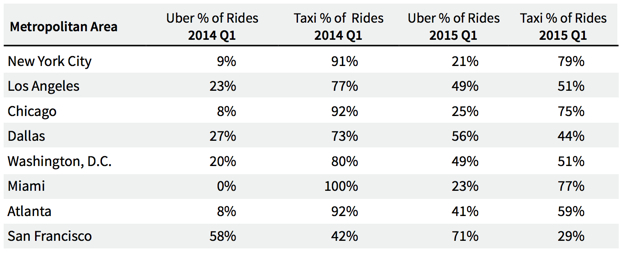 The gains in app-based ride-hailing also seem to be enjoyed by Uber and not any similar companies. Its closest competitor, Lyft, accounted for just 1 percent of the national business-travel market in the first quarter of 2015.
Only two metropolitian areas reported a higher rate of dependency on Uber for business travel than DC: Dallas, where 56 percent of expensed ground transport went through the app, and San Francisco, Uber's city of origin, with 71 percent. But it does not seem far-fetched to project that Washington will be in that tier next year, especially now that the regulatory approval offered to companies like Uber now stretches across the entire region. Maryland Governor Larry Hogan is set to sign a bill that puts Uber, Lyft, and similar outfits in their own class of transportation provider, similar to laws previously enacted in Virginia and DC.