Here's a potentially good piece of news for all you stragglers scrapping your typical Wednesday plans in favor of a sweaty evening with TurboTax: People who file income taxes with both the federal and DC governments have gotten an average of nearly $4,000 back in recent years, says the office of the District's chief financial officer.
The combined average refund for DC taxpayers getting refunds for the 2012 tax year was $3,923, according to the office's District, Measured blog, with $2,933 coming back from the Internal Revenue Service and the other $990 from the city. But the refund rates differ widely between income levels. Tax filers reporting between $40,001 and $80,000 of income—the second-largest bracket—got back an average of $3,084, while people reporting earnings between $80,001 and $150,000 received an average refund of $5,122. People reporting more than $1 million in income received combined federal and local refunds of $103,748.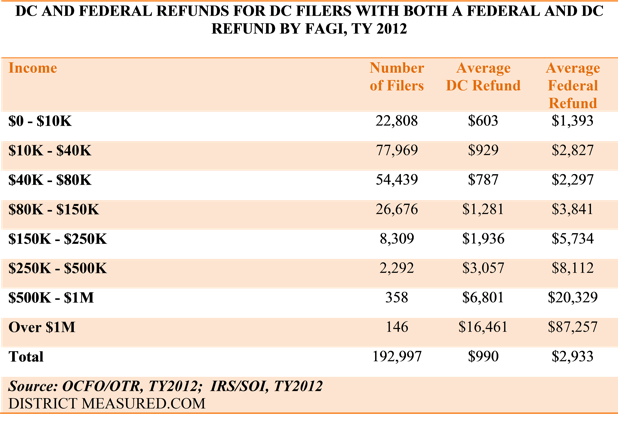 If the numbers of tax filers on District, Measured's chart seem low, that's because they only represent people who received refunds from both the federal and District governments, not the total number of taxpayers. But most people shouldn't be too dispirited by that difference. Nearly eight in ten taxpayers get a federal refund, according to IRS data published last December.