Mentioning Zusha usually leads to a lot of questions. Are they Jewish? Yes, the band–comprised of Shlomo Gaisin, Elisha Mlotek, and Zachariah Goldschmiedt–are Hasidic, an Orthodox branch of Judaism focused on spirituality and mysticism. Second: Are they hipsters? Sure, it can be difficult to discern between a Hasid and Hipster. In this case, they're both.
Is that gibberish I hear? Yep, these twenty-somethings croon wordless melodies, blending jazz, ska, and reggae into a folksy, soulish sound. Called niggun, these melodies are rooted in the Hasidic tradition of wordless prayer. Niggun isn't about words, but about the meaning attached to sounds. "It's a spiritual song," Mlotek says. "Whoever is singing it can attach whatever emotion is in their heart to the song."
The band is making this sort of music at an ideal time. They follow in the footsteps of Hasidic reggae star Matisyahu, who shattered the boundaries of Jewish music when he went mainstream in the mid-2000s. (Matisyahu has since disaffiliated with Hasidism and shaved his iconic beard.) Like Matisyahu did when he first started out, Zusha hopes to make their music as universal–and hip–as possible.
For lead singer Gaisin, that means writing music that's beautiful and relatable. His melodies, typically composed while riding the New York subway or walking around a park, are closely tied to his past. The Silver Spring native grew up in an observant Jewish home and spent about seven years studying jazz as a kid.
While he was in high school at the Melvin J. Berman Hebrew Academy in Rockville, he began studying Hasidism. He would wake up at 5 AM to meditate and study its teachings. "I had never tasted something like this before," he says. "It opened my mind and heart to everything I had been doing by rote for about a decade and a half."
After graduating from school, he hopped on a plane to Jerusalem, where he continued his religious studies. He later moved on to Yeshiva University in New York then ditched school to study raw nutrition with leading raw foodist David "Avocado" Wolfe. Gaisin eventually landed in Washington Heights and met Mlotek and Goldschmiedt around 2010 through mutual friends. They started jamming together, and about a year and a half ago, Zusha was born.
The questions started shortly thereafter. When they first got in the studio to record their EP, their producer was pretty confused. "The producer kept asking us what we were doing," Mlotek says. "'Nay, nay, nay? That's not a language!'"
It may not be a language, but somehow Zusha has made wordless music work. By creating a folksy sound–and recording a great single, "Brother," with Grammy Award-winning guitarist C. Lanzbom–the trio has achieved meaning without words. And that meaning has the potential to reach anyone–Hasidic or not. "In its most raw form," Goldschmiedt says, niggun "is used as a meditative experience."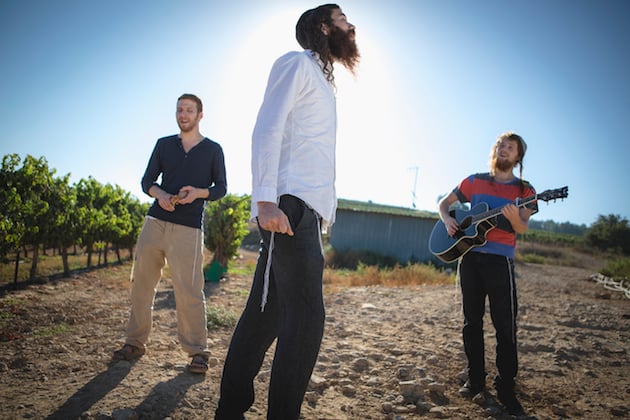 Which might explain why they rather not be described as "Neo-Hasidic hipsters," as they've been labeled by everyone from Fox News to the Huffington Post. They argue their music isn't a new interpretation of Hasidism; instead, it's a return to its origins. Gaisin says he isn't Hasidic in the way people have come to expect. Hasids are typically thought as bearded men in Borough Park. Gaisin, however, identifies with Hasidic teachings and ideals–not necessarily the garbs and secluded communities.
As for the hipster part, Zusha's members just happen to be wearing text-emblazoned sweatshirts, singing wordless melodies, and selling out shows in Brooklyn. Seriously, though, they really don't want to be called hipsters. "People tend to cling to labels, so they can know how to measure you," Mlotek says. "We want to represent where we're coming from, but we also have this message underneath it."
The band is busy recording its first full-length album slotted for a summer release. And for Gaisin, there's an added pressure: He's preparing for his first performance back home. On May 10, Zusha comes to the Washington Jewish Music Festival, where Gaisin's parents will hear him perform live for the very first time.
He hopes that Washington audiences will be captivated by the band's unique brand of music. "Everyone wants to take a fresh breath of air and be able to meditate," he says. "What we're trying to bring is the feeling that it's so good to be alive."
Zusha performs at the Washington Jewish Music Festival at the DCJCC on Sunday, May 10 at 7 PM. Tickets are available for $20.