If you remember the way things were at Café la Ruche, the tiny, long-running Georgetown cafe that closed last summer, prepare for a little shock as you walk through the doors of the space's new tenant, Chez Billy Sud. What was once done up in Land O'Lakes-yellow walls and an atlas's worth of national flags is now a contender for prettiest room in the city. It's a jewel box of a place, painted the sort of lovely pale green you might see at the Plaza Athénée and lined with miniature gilt-framed oil paintings—soothing, refined, the antithesis of the hard-edged, concrete-floored spaces that define so many restaurants in DC.
Nobody's doing restaurants like this anymore, you might think. But perhaps the greatest skill of Eric and Ian Hilton, the deejay/restaurateurs behind the place—and ten other eateries in DC, including the dark, creaky original Chez Billy in Petworth and Marvin on 14th Street—is in conjuring spaces that seduce you into stashing the iPhone and lingering for hours, and that also fit right into their neighborhoods. Perhaps no other dining room in Georgetown feels more Sally Quinn-era Georgetown.
Chef Brendan L'Etoile, who oversees the kitchen here and at the Petworth sibling, traffics mostly in bistro classics. There's a sturdy, coarse-ground pâté enriched with liver and fatback and port-soaked figs, an elegant duck à l'orange with a sauce made from caramelized honey, and a buttery, crisp-skinned filet of trout sauced with loads of lemon and capers. His onion soup is paler and subtler than many versions—he uses duck stock instead of beef—but benefits from onions that have cooked down for six hours as well as a generous sprinkling of Emmental cheese. Less successful is his rendition of the classic frisée salad with a poached egg, which comes with chewy lardons and a faintly flavored dressing. Or an aggressively garlicky, dry lamb sausage with white beans and kale.
Some of the best dishes I had leaned vegetarian. A terrific tomato-and-fennel soup, on the lunch menu, is punched up with chilies and pastis. (Ignore the Gruyère-sprinkled toast on the side, which hides a jarring slather of anchovy tapenade.) Quenelles—little footballs of poached mousse typically made with pike or another fish—are a relic of bygone French menus, but L'Etoile has resurrected them here and turns them out beautifully. His version, made with semolina, rosemary-infused milk, and Gruyère and draped in zesty tomato sauce, has all the comfort of a great polenta.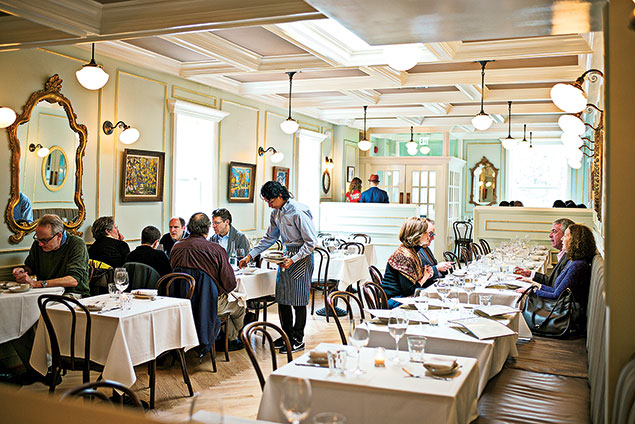 The pale-green dining room done up with gilt-framed paintings and sconces. Photograph by Scott Suchman.
L'Etoile says he doesn't want desserts to "be an event" here, so the sweets skew toward the simple—a decent crème brûlée, a lemon tart. The one not to miss is the Paris-Brest, a wheel-shaped pâte à choux pastry that's halved and piped with praline cream, then showered in slivered almonds and caster sugar. He discovered it on his honeymoon in Paris, and we're lucky to have the souvenir. It's both rich and airy—exactly the kind of confection you want after a hearty bistro dinner—and as pretty and memorable as its surroundings.
Try Chez Billy Sud's Chef Recipes
This article appears in our May 2015 issue of Washingtonian.
---