I first came across José De Brito nine years ago when he ran a Charlottesville cheese shop called Ciboulette. The cheeses were exceptional—De Brito sold them to Café Boulud in New York—but that wasn't what made the place remarkable. What made it remarkable was De Brito himself, one of those people you meet every so often who speak their soul with everything they do.
Passionate to the point of obsession about food, he made it his mission to educate his customers—to lead them to the gastronomic light with, for instance, a spoonful of exquisitely ripe Époisses. De Brito was as acquired a taste as many of his cheeses, which he described on index cards in lengthy, sometimes hectoring tasting notes. I'll never forget the card for Parmigiano-Reggiano, which went something like this: "Do not ask me to grate this cheese. The moment this cheese is grated, it loses its flavor. You might as well buy it at a grocery store. It will destroy the flavor. It will taste like sawdust."
De Brito also cooked, often brilliantly—his $10 lunches might tempt you to move to Charlottesville. His menu, was, however, a sometimes frustrating document, subject to daily, even hourly revision. Regulars knew not to fall in love with any particular dish. As one warned at the time, "His menu changes often, and even when it doesn't change, the dishes may change anyway."
This could be maddening to some diners, but devotees of Ciboulette understood that the idiosyncrasies were the small price to pay for a terrific culinary mind. Cooking, the chef seemed to be saying, wasn't a fixed thing that came with guarantees; a good meal was about reflecting the season, the day, even the mood of the person at the stove. It was personal.
Shortly after I learned of Ciboulette, it closed—"I suspect you have heard the dreadful news," one loyalist wrote me—and I thought I'd seen the last of De Brito. People like that generally don't get a second chance to be themselves. They learn to fit in.
Well, De Brito has resurfaced, I'm happy to report—and with a restaurant that's earned a nod from the James Beard Foundation as one of 25 best new restaurants in the country.
I'm even happier to report that it's as quirky and uncompromising as De Brito himself.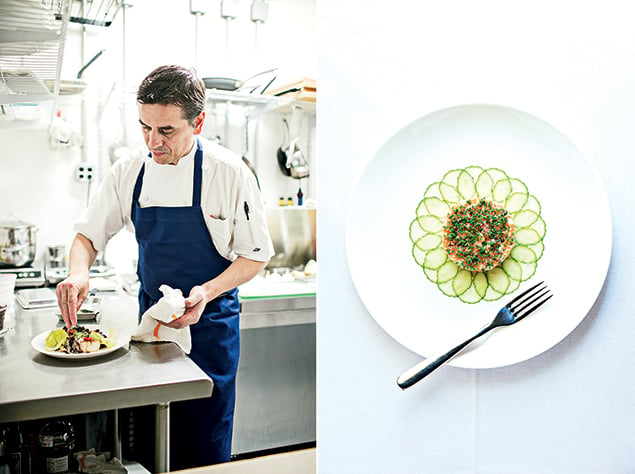 Yes, it's in Charlottesville, but allow me to state the case for making the drive south and seeking out an alley where a gas lamp hangs above an unmarked door: Because in this, the era of Instagram, when chefs across the country swap dish pics at the touch of a button and restaurants at a certain level all begin to look and taste alike, De Brito remains a lone wolf with his own aesthetic.
Let every other chef fry Brussels sprouts; De Brito mashes his with bacon-infused cream, then roasts them along with pearl onions, more bacon, and chestnuts that turn caramely sweet. He uses sunchokes, those trendy tubers, to lend a sharpening edge to a fondue-like soup that coats the tongue with the rich, resonant taste of Roquefort. I can't remember the last time I saw green beans on a menu, but De Brito shows you how something so unsexy can be made marvelous, tossing the beans in an almond vinaigrette and then showering the plate with a snow of foie gras, grated from a frozen block.
And that's just the vegetables.
I first saw the green-bean dish at the table next to mine. "I just told my wife this has ruined me for all other green beans," the guy sitting there laughed. We were seated about eight inches apart. If you consider that cramped, not charming, you probably won't want to read on.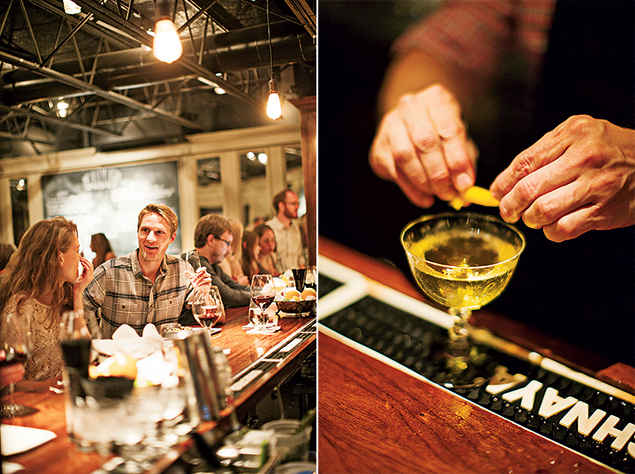 I ended up in conversation with strangers at every meal. One night, I was offered a taste of someone's dish; another, I ended up talking throughout the meal to a couple on a date. The last time I remember that happening, it was late one wintry night at a tiny bistro in the 14th arrondissement of Paris and the mood was so convivial that the table next to me insisted I try a sip of their wine.
Right about now, you're probably expecting to run your eye across that foodie cliché just like a trip to Paris. I've never really understood what that means. The Paris of then or the Paris of now? A place that hangs absinthe posters on faux-Gauloises-stained walls? The Alley Light doesn't go in for easy atmospherics—it resembles an underground cocktail bar—but in its unforced intimacy and rusticity of spirit, it comes closer to conveying the essence of the French than most of the French bistros I've been to in America.
At Ciboulette, the word often attached to De Brito was "arrogant." But if he's arrogant, it's an arrogance on behalf of the tradition that shaped him—the products, the techniques, the combinations of flavor.
The most contemporary dish I ate on my visits was a reworking of shrimp cocktail, the heads severed and cradling the lip of a cocktail glass, at the bottom of which was a horseradish flan and tomato jam (blend them to get cocktail sauce). More typical of his approach was a plate of piquillo peppers stuffed with salt cod and potato, cooked slowly until the ruby-red peppers were softened but not soft, the interior warm and oozing. It was deeply satisfying, the kind of cooking that inspires you to crack open your old Julia Child books and spend a Saturday at the stove.
This is not food for the dainty. Or for vegetarians, gluten-freers, or any of the culinary splinter groups. De Brito comes from a school of thought that says no plate of food can't be improved with the addition of foie gras (he even thinks foie gras can be improved with more duck fat, confiting a lobe of duck liver to create a pâté of surpassing richness), or an immoderately buttery purée, or a wine reduction with the intensity of a liqueur. For a preparation of scallops, he brought together parsnips that had been whipped to the silkenness of Robuchon potatoes and a poached egg that spilled its yolk into a red-wine reduction. If only for De Brito's skill with sauces, I could see becoming a semiregular. I loved his hanger steak, but what made me think about the dish for days was its Roquefort sauce.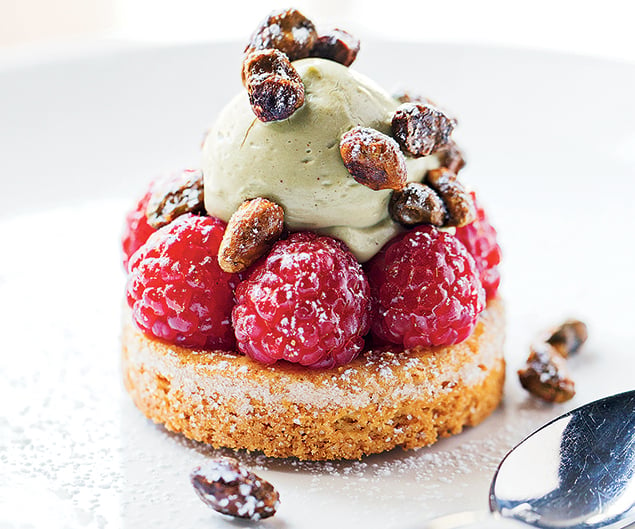 Please don't get too attached to these descriptions. Few, if any, of the dishes will be around when you go. One night, a waiter advised me to hurry and order a plate I had my eye on, joking that De Brito might come out and change the menu. I expected more unevenness in my meals, given the chef's restlessness, but aside from a lag between courses one night, things flowed smoothly. The only disappointment among the 17 dishes I tried was a plate of frog's legs, and that was mostly because everything that preceded it was so good. Oh, and a terrine of foie gras, sweetbreads, and veal was too cold.
I ended that night with a glorious poached pear, scooping out tender spoonfuls of fruit and passing them through a bitter chocolate sauce, after which I went back, yes, to try the terrine again. (Still too cold.)
The waitress smiled knowingly, which tells me that such things are probably not uncommon in the De Brito world, where order and propriety don't matter, only pleasure, deep and sensual pleasure.
This article appears in our May 2015 issue of Washingtonian.
---