Father's Day is coming up this Sunday, June 21. No plans yet? No problem. Unlike the seemingly-obligatory Mother's Day brunch, restaurants offer a variety of specials and deals—and typically aren't booked solid—for dad. Here's where to find great takeout, free beer, and of course, lots of meat.
For dads who like picnicking (but not cooking):

Fried chicken to-go at Jackson 20
480 King St., Alexandria; 703-842-2790
This American restaurant's summery feast includes eight pieces of crispy fried chicken, watermelon, and coleslaw.
Call ahead by Sunday, June 21 to order; $28 per takeout package. BBQ bags to-go at Society Fair
277 S. Washington St., Alexandria; 703-683-3247
Chef Cathal and Meshelle Armstrong's market/restaurant prepares a picnic-friendly basket with pulled pork sandwich makings, barbecue chicken, potato salad, and cornbread. ($75, serves four). The shop also sells a variety of items for the grill (burgers, sausages), prepared sides, and presents for dad like a spiced rum kit.
Order your bag online by 9 pm on Friday, June 19 for pick-up on Saturday, June 20.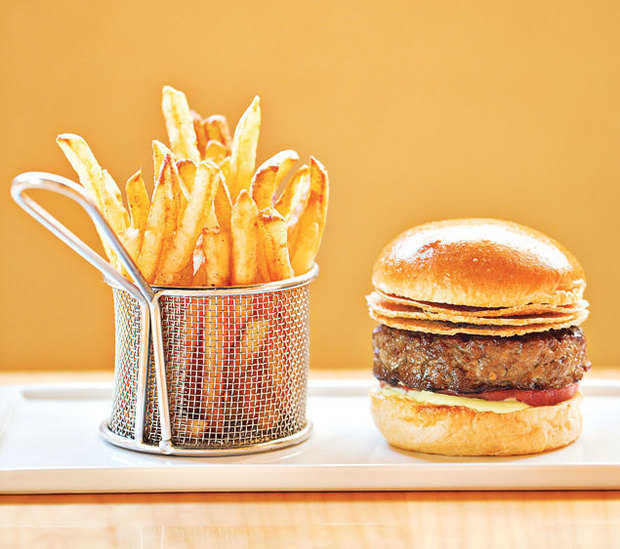 Fathers who love meat:
Suckling pig brunch at The Pig
1320 14th St., NW; 202-290-2821
Pork-loving pops will dig this swine-filled—and wallet-friendly—brunch, featuring biscuits and ham, pork fat potatoes, and the main event: a stuffed, roasted Pennsylvania suckling pig.
Served Sunday, June 21; $25 per person. Steakhouse specials at Dino's Grotto
1914 9th St., NW; 202-686-2966
Chef Dean Gold gets in the Father's Day spirit with Flintstone-esque portions of meat, such as a two-plus pound T-bone from Shenandoah Valley, or a boar strip loin. Dad can top it all off with luxe sauces like truffle and ramp butters.
The a la carte dishes are offered Friday, June 19 through Sunday, June 21. Prime rib dinner at Central Michel Richard
1001 Pennsylvania Ave., NW; 202-626-0015
Central's menu gets a "manly meal" makeover for Father's Day. The special du jour: prime rib, green beans, and a baked potato. Diners can also opt for stellar fried chicken or burgers from the regular menu.
Served Sunday, June 21; $34 for prime rib dinner. "Man-hungry" dinner specials at Et Voila!
5120 MacArthur Blvd., NW; 202-237-2300
Hunker down for a meal of beef Napoleons with mushrooms. or a béarnaise-sauced New York strip. Holiday bonus: the restaurant will throw in a monogrammed pilsner glass for dad.
Sunday, June 21; a la carte menu. More meats at MET Bethesda
7101 Democracy Blvd., Bethesda; 301-767-1900 (Inside Westfield Montgomery Mall)
Manly specials planned for brunch include a surf n' turf Benedict with filet and lobster. Dinner brings a ribeye steak for two with all the trimmings.
Sunday, June 21; $28 for the Benedict special; $49 per person for prime rib dinner. Joe's classics at Joe's Seafood, Prime Steak and Stone Crab
750 15th St., NW; 202-489-0140
Filet mignon, grilled tomatoes, Alaskan king crab, and banana cream pie are among the specials for dad. The restaurant recommends reservations.
Sunday, June 21; a la carte menu.


Dads who love beer:

Complimentary beer at Kapnos and Kapnos Taverna
2201 14th St., NW; 202-234-5000; 4000 Wilson Blvd., Arlington; 703-243-4400
Dads get a complimentary cold one at both of Mike Isabella's Mediterranean eateries. The restaurants suggest Victory Brewery's Summer Love—part of Kapnos's June tap takeover—Port City, or Champion Killer.
Sunday, June 21; a la carte. Free beer with a barbecue dinner at City Tap House
901 9th St., NW; 202-733-5333
Love beer and meat? Head in for chipotle-glazed, hickory-smoked ribs, and get a complimentary beer for dad. On the side: homey dishes like cornbread, coleslaw, and baked beans.
Sunday, June 21; $25 per person. Burgers and brews at Del Frisco's Grille
11800 Grand Park Ave., North Bethesda; 301-8881-0308;750 15th St., NW; 202-450-4686
Two local Del Frisco's branches offer a burger and beer deal, which includes any beer on tap, fries, and a cheeseburger ($17.50). The North Bethesda location also offers an a la carte brunch on Sunday with Father's Day specials.
Sunday, June 21; $17.50 per person. Dads with eclectic tastes:
1110 Vermont Ave., NW; 202-955-0075
Mio mixes Puerto Rican and traditional DC-brunch dishes for their Father's Day specials. Dad's can celebrate with a whole fried snapper, ceviche, beet salad, and a caipirinha.
Sunday, June 21; a la carte menu. Virginian wine dinner at Jardenea
2430 Pennsylvania Ave., NW; 202-955-6400
Explore the local wine world with dad over a four-course pairing dinner at the Melrose Georgetown Hotel's restaurant. Dishes include duck breast with mushroom bread pudding and roasted strawberries with bourbon chocolate ganache.
Sunday, June 21; $75 per person person.