On Tuesday, Amanda MacKaye announced she still doesn't have the permits to put on this summer's Fort Reno concert series, nor does she have the money to cover some associated fees—in particular overtime for a few US Park Police officers to patrol the planned concerts.
It was the second year in a row MacKaye had surprised DC in June with news that the series might not happen. And not long after, a question, bordering on apostasy, began to rocket around DC's punk music scene on Twitter, Facebook, and elsewhere—is it time for MacKaye to relinquish her control of the concerts?
Washington Post pop music critic Chris Richards called the situation "depressing." Surely MacKaye "could have raised a couple grand between last August and now," Washington City Paper arts editor Christina Cauterucci wrote. "Fort Reno, you keep breaking my heart," NPR Music's Lars Gotrich tweeted. "Agree it's time to hand over the reins to a DC DIY promoter."
Last June, MacKaye's gripe was that the National Park Service had told her very late in the planning process she would need to pay for the presence of a Park Police officer during the shows at the cost $66 per hour, or $2,640 for the summer. With a shoestring budget for the concerts—$2,500, mostly for a sound engineer and portable commode rentals while bands play for free—MacKaye said the Fort Reno concert series could not afford fees that more than doubled her expense.
But MacKaye had turned in her 2014 permit application months later than usual. And she confided to the 2014 bands, who she'd already selected before last year's announcement, that she was banking on loyal concertgoers to pressure NPS and the Park Police. "I hope that if we can get NPS and USPP to come to a different resolution, you will still be willing to go on with the show!," she wrote in an email the same day she announced the supposed cancelation. "I was careful in my timing hoping that we could still open on schedule when NPS and USPP hear the outcry."
There was indeed outcry, and Park Service officials admitted they had not been as communicative as they should have been in informing MacKaye of the new financial responsibilities—they had, in fact, skipped a scheduled meeting with her to work through the issues. Peace was brokered (on the Kojo Nnamdi Show, of all venues), money was raised, and the shows went on.
But that story won't work two years in a row. So yesterday's plea, that "last year's change in procedure from the National Park Service and US Park Police EMPTIED (and then some) our piggy bank," sounds not as much dire as it does irresponsible. NPS did not make any changes in policy; in fact, according to an agency spokeswoman, officials started meeting with MacKaye to plan out this year's shows in February.
MacKaye, despite repeated requests, has said nothing on the record aside from the statement posted on FortReno.com. She is scrambling again to put together the money at the last minute, preferring it in the form of donations filtered through the Washington Peace Center—or directly to her, for people who don't mind skipping a tax write-off—but this year's plea reads far less sincerely than last year's. MacKaye may succeed in raising enough money, but in a way that would be unfortunate, because it would only validate the reckless management decisions of a person who appears to be willing to let the Fort Reno concert series burn for the sake of the punk aesthetic.
In the summer of 1968, after riots left much of Washington scorched and ruined, the National Park Service sponsored free, outdoor concerts in its properties across the District to give the city's youths something to do. In Tenleytown, NPS coordinated with a team of neighborhood activists, a Catholic priest, and a group of hippies with adolescent children to schedule shows in Fort Reno, the old Civil War-era fort that sits on the District's highest topographical point.
The hippies programmed acid-jazz and blues-rock bands, the crowds included bikers and street gangs, audience members passed around bongs and flasks. (An apocryphal story claims the Grateful Dead once played there.) Genres changed with the years—acid jazz and blues rock gave way to new wave and power pop, which gave way to punk—as did the people booking the bands.
NPS funding paid not just for the sound engineer, it actually gave the bands small stipends. And after the federal money dried up in the 1980s, the District government stepped in and fronted the costs, seeing it as a summertime youth-diversion program.
"We got tax dollars to put it on through the auspices of various youth programs," says Paul Strauss, one of the District's "shadow senators," and a Fort Reno volunteer in the '80s and '90s.
Municipal budget-slashing killed the city's Fort Reno contributions in 1993, Strauss recalls. By then, the concert series had been in the hands of DC's punks for the better part of a decade, but with good results, at least sonically. The early '90s were peak times for local record labels like Dischord and Teen-Beat, the Riot Grrl movement was cresting, and fans of all these bands were in their teens and early twenties. Concerts funded entirely by personal donations fit snugly with the punk scene's righteous communalism.
But while the motivations behind the current era of Fort Reno hark back to that hallowed time, their current administration has lopped off much of what made the concerts special in the first place: genre experimentalism, a diverse crowd, and exposing young ears to new music.
The mostly teenage audiences are long gone. In recent years, many of the attendees are people who knew the glory days firsthand. If you see a kid there now, it's likely her parents dragged her there.
And while younger bands play the series, they tend to sound remarkably like their punk forebears. (When MacKaye threw a curveball in 2013 and booked the Washington Bach Consort, some people questioned how a classical ensemble that performs arrangements of centuries-old compositions didn't violate the strict no-covers rule.) The number of shows has diminished, too. While there used to be as many as 20 concert dates a decade ago, there were just eight last year, two of which were rained out.
"Certainly the crowds are getting older because people who went to Fort Reno as teenagers have their own babies," says Beth Baldwin, who shared booking duties with MacKaye in the early 2000s. "I would hope it's still inspiring kids to pick up instruments and make their own music, but I don't know if kids work that way anymore."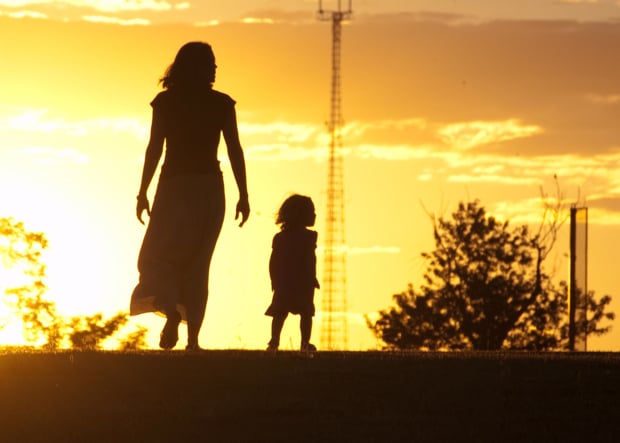 At one point, though, Fort Reno knew exactly how kids worked. MacKaye's objection to having to pay for the presence of one Park Police officer has its roots in the philosophy of the DC punk scene, which followed a code that made compromise with the outside world entirely optional.
Punks policed their own shows. MacKaye's brother Ian MacKaye played in Fugazi, who famously stopped their shows when audience members misbehaved. In Instrument, a 1998 documentary about the band, you can hear a scene at Fort Reno when his bandmate Guy Picciotto chastises some bros who were acting like jerks, calling one of them an "ice cream-eating motherfucker."
But not every disturbance can be handled by good-natured volunteers and mouthy guitarists. And no matter how sound your philosophy is, it's unlikely to survive a collision with the people who process the paperwork.
NPS, which has had its budget slashed in recent fiscal years, requires groups and individuals that stage permitted events at its parks to pay for a Park Police presence if it is deemed necessary. That applies equally to road races through Rock Creek Park, political rallies on the Mall, and summer-evening concerts at Fort Reno. Television news crews that film inside the Washington Monument have to do so when the site is closed, so they pay for police, too, says NPS spokeswoman Jenny Anzelmo-Sarles.
With crowds that maybe average 200 people a night, the Fort Reno concerts rise to the requirement of having one or two officers there just in case.
"There's no point in pulling out your dick and being a jackass to somebody, because if shit goes down, you need them," Baldwin says. "It's not an unreasonable thing."
NPS is charging permitted events $70 per hour per officer for police presences this year. Even if the cost seems extreme—Baldwin calls it "bordering on extortion"—the requirement itself does not. The Park Police say they documented 12 incidents at Fort Reno's shows last summer that required its officers' attention, ranging from illegal vending to drug and alcohol use.
The permit application fee is $120 per event. While this cost has also increased in recent years, this requirement is far less questionable than the one about cops. If Amanda MacKaye doesn't have permits four months after she met with NPS officials about this summer's series, blame rests with either a spectacular bureaucratic mishap or just bad planning (she won't say).
But then again, this year's drama was old on arrival. MacKaye's haphazard management of Fort Reno was so evident last year, that in early June, I (along with a few collaborators) started Fort Reno Rumors, an absurdist Twitter account promoting mock lineups that quickly attracted an audience made mostly of the bands that play and the fans who religiously attend the concert series.
NPS receives 6,000 applications to stage events on its National Capital Region sites every year, says Anzelmo-Sarles, and permits are awarded on a first-come, first-served basis, although there are nods to established traditions. "This is a concert series we recognize, and we see it as a benefit to area residents," she says.
But that doesn't mean NPS has any special relationship to MacKaye. To the agency, she is just the latest in a string of permit applicants. It doesn't matter who signs the checks for the park or police overtime as long as the fees come in. There's nothing to stop another interested, and perhaps better-funded and better-organized party from swooping in and programming summer concerts at Fort Reno Park next year. The baton MacKaye grabbed in 2007 might be precious, but it's decayed. Instead of passing it to the next aging punk in line, it might be time to get a new baton.