Artist Julia Vogl surveyed 1,000 people in roughly 20 locations around Tysons to create an ambitious community art project. Each respondent's answers were translated into a color-coded tile, and the tiles were then fit together to make this 5,000-square-foot ground mural. Here, from photographer Jennifer Heffner, is the story of how Tysons Tiles, currently on display through August 3, hit the pavement.
Vogl pushes her custom made Tysons Tiles art trolley into the Silver Line Center. Vogl used a custom developed app, and three questions about the individual's role in the community, opinions on culture, and a fun fact about them, at 27 different locations in Tysons to gather information that was used to create the Tyson Tiles.
Vogl (center) and Lisa Mariam with the Arts Council of Fairfax County (right) collect data from participants in front of the McLean Metro Station on the Silver Line in Tyson Corner.
A young participant waits for his colors to be put on his tiles while at the Tysons Farmers Market while visiting the Tyson Tiles art trolley.
A worker from Severn Graphics consults the map of tiles at Greensboro Green Park to figure out where to lay the next set of tiles.
Severn Graphics crew begins installation in front of Tysons West.
Vogl installs tiles in front on Tysons West, which is approximately 700 square feet.
The tiles are printed on aluminum-based vinyl, which is often used as ground graphics for marathon start lines. It is 100 percent recyclable, water-resistant, and slip-proof.
Vogl installs some of the missing tiles at Greensboro Green Park. Participants can find their tile using a map onsite at either location.
Vogl (second from right) answers questions from a curious onlooker while the crew from Severn Graphic (left) installs the Tysons Tile public art project.
Workers from the Meridian Group reinstall the Greenboro Green Park furniture.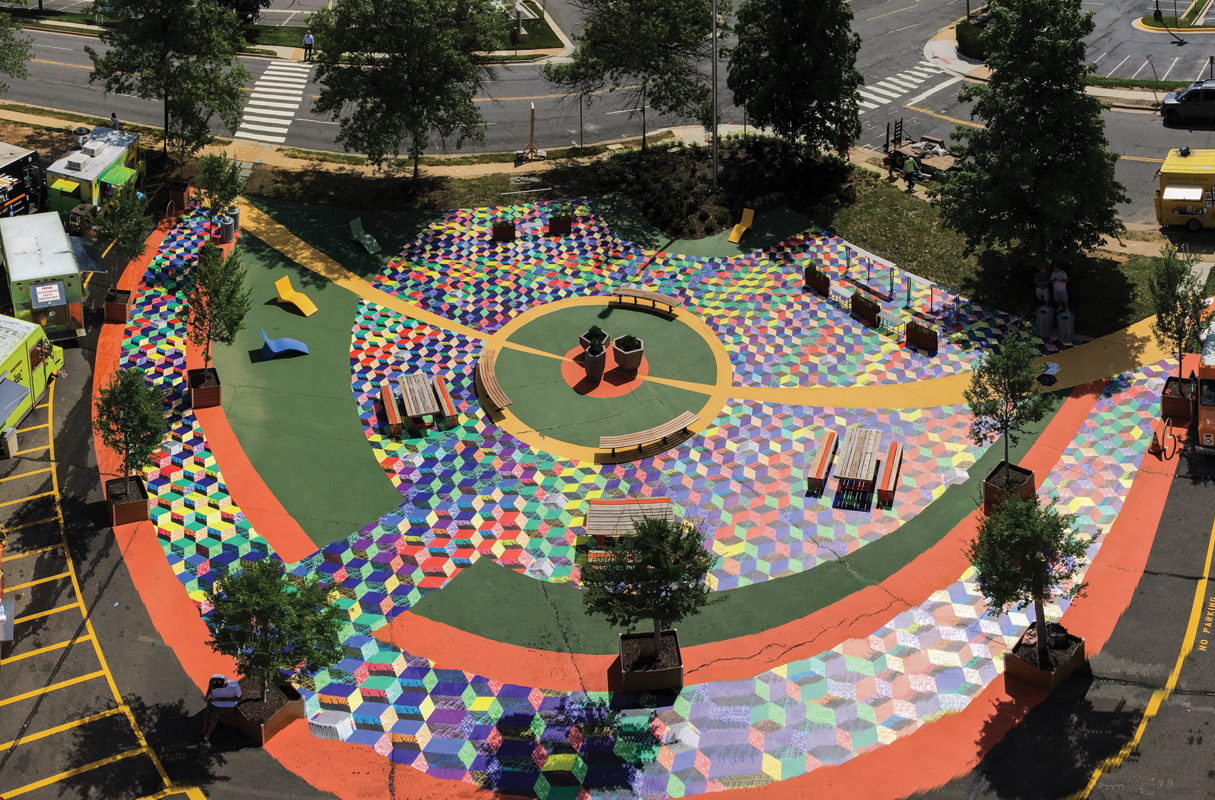 An overhead view of Greensboro Green Park, at 8301 Greensboro Drive, after the project was completed on Wednesday, June 24.
Correction: This post originally misspelled Lisa Mariam's name.