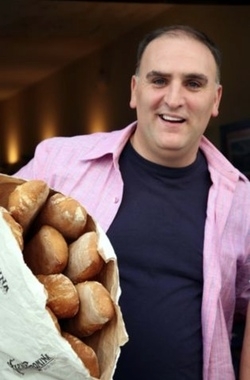 A petition on Change.org asks ThinkFoodGroup President José Andrés to "reconsider" his plan to open a restaurant in the luxury hotel Donald Trump is building in the Old Post Office.
The petition says Andrés should balk because of Trump's recent remarks about Mexican immigrants. Trump, a developer who is a candidate for the Republican presidential nomination, said last month that Mexicans are "bringing drugs" in to the US and claimed "they're rapists."
Univision, Macy's, and NBC have since cut ties with Trump. Andrés is a native of Spain whose company owns more than a half-dozen restaurants in the Washington area, including the Mexican restaurant Oyamel.
"We are proud to have José Andrés in Washington, D.C., which is why we hope he decides that Donald Trump is not someone he should do business with," the petition reads.
WAMU's Armando Trull reported Thursday that Lisa Navarrete of the Latino organization National Council of La Raza said Trump's statements are "diametrically opposed to what José Andrés believes and more importantly what José Andrés represents — an immigrant who came to this country and been enormously successful and is making contributions everyday, charitable, to our cuisine, to our culture."
Andrés replied to Trull's story on Twitter:
@trulldc @wamu885news My views on immigration are clear. All men and women should be treated respectfully regardless of their status.

— José Andrés (@chefjoseandres) July 2, 2015