"Hold on to your hats, there are appetizers and entrees," says restaurateur Michael Schlow, standing next to a stuffed peacock in the bar of his latest DC venture, the Riggsby. The Carlyle hotel restaurant is his second in Washington, a more traditional sister to 14th Street's Tico.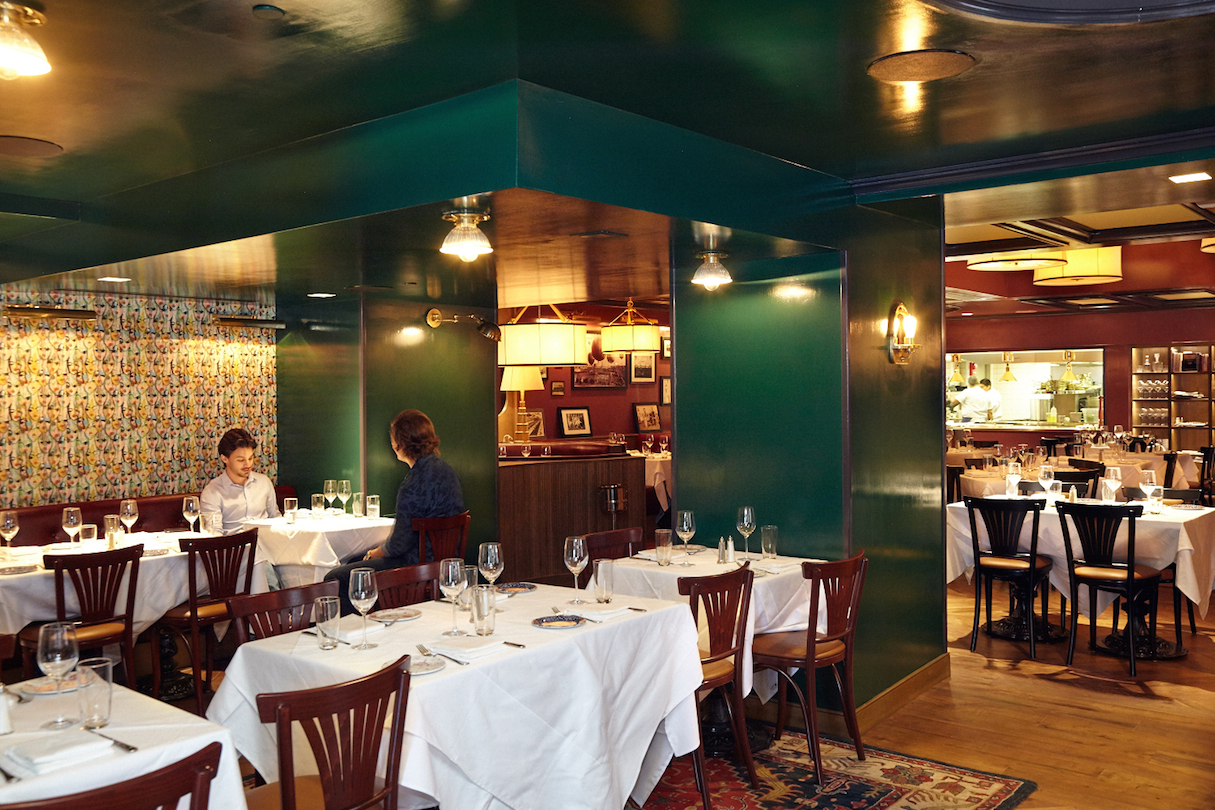 Adult-size portions aren't the only throwback element of the eatery, attached to the newly-acquired and revamped Kimpton property. A keyhole-shaped door leads guests into the 75-seat dining room, styled after a retro American supper club with deep leather booths, oak panels, and—particularly odd for the city these days—white tablecloths. The atmosphere leans more welcoming than stodgy, helped along by vibrant wallpaper and paintings from Schlow's wife, the mixed-media artist Adrienne Schlow, and a non-stop playlist from the music-loving chef/owner that might mix Frank Sinatra, Eileen Jewell, and Afro-Cuban All Stars on any given night.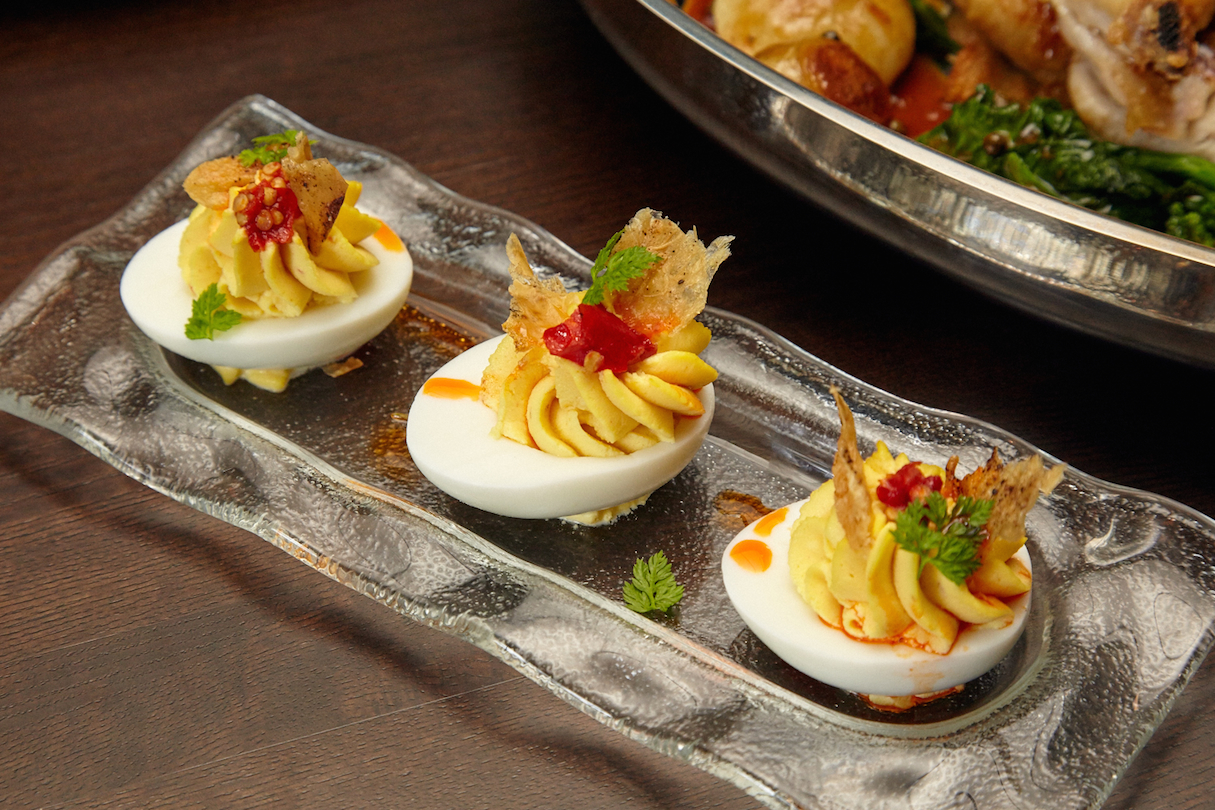 The aesthetic and menu recall those at New York's Minetta Tavern—the kind of place that makes the steak-and-béarnaise crowd feel welcome, but can also draw diners from Rose's Luxury line. Chef Philippe Reininger, formerly of J&G Steakhouse in the W hotel, oversees the open kitchen that will serve guests around-the-clock in true hotel dining style (the restaurant is currently open for dinner).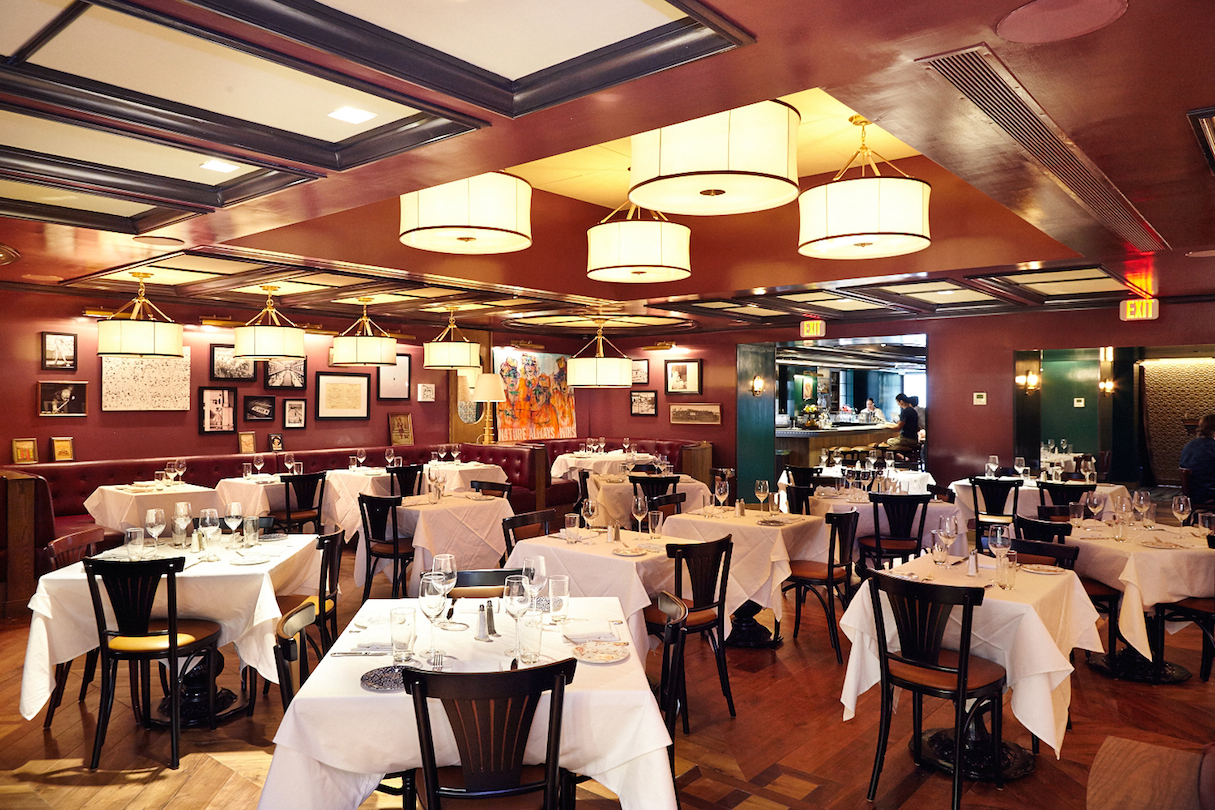 Certain dishes riff on classics, such as chorizo-stuffed mushrooms and deviled eggs decked out with Calabrian chilies and chicken cracklings, while others stick closer to home. Reininger serves filet with what's described on the menu as "Super Frenchy" béarnaise—buttery, but with plenty of lemon juice and tarragon to add zip to the sauce—while Schlow went back to his culinary school days for a little-known dish called Schnitzel "A La Holstein." The crispy veal cutlet is topped with a fried egg and lemon-caper sauce with a hint of anchovy.
A 40-seat lounge is the place to snack on potato chips with chili-green onion dip and sip a Harvey Wallbanger cocktail. Bartender Christine Kim is behind the bar, and pours house libations along with the old favorites such as sazeracs, juleps, and daiquiris.
"This restaurant isn't embarassed by its simplicity," says Schlow.
Look for breakfast, brunch, and lunch to begin soon, as well as a new look to the dining room. A skylight will replace the temporary ceiling, bringing sunshine into the space.
The Riggsby. 1731 New Hampshire Ave., NW; 202-234-3200. Open daily for dinner at 5; breakfast, lunch, and brunch coming soon.