Tazza Kitchen looks to be a fairly typical midlevel American chain. The menu is an eclectic mix of styles (Italian, Mexican, regional American) that studiously avoids settling in any one direction. Despite its distressed wood and exposed brick, the well-designed space is careful not to embrace any particular aesthetic direction—it's not homey, it's not industrial, it's not hard-edged sleek. But it isn't generic-looking and corporate, either. The mood most nights is neither lively nor muted, often falling comfortably in between.
Where Tazza Kitchen breaks from expectations is on the plate, and it does so with daring and confidence. This is a far foodier operation than you might guess walking in, with a level of detail you're not going to find at the likes of Clyde's and Sweetwater Tavern.
Start with the lengthy list of farms that supply the five restaurants in this Richmond-based chain with produce and meat, though you don't need a menu to know that the beef in the flatiron steak is of good quality—you only have to bite into it. The thick, char-edged slices are as rich as they are pink, and the unexpected Latin American touches (a runny egg on top, a vibrant salsa verde) are smart, satisfying complements, lending the dish depth and brightness. The shrimp and polenta, which features soft grits and a crisp corn cake, probably could get away with slightly substandard ingredients and still please many diners with its promise of simple comfort. With good raw materials, however—note the freshness and pop of the seared shrimp—the dish goes from a plate you chow to a plate you savor.
The steak costs $18, the shrimp dish $15. Nothing on the menu tops $19. You can have an old fashioned—a strong, well-made old fashioned—for $9. Every drink I've tried was excellent, and some, such as the Basil Lime Southside (a bracing blend of Boodles gin, basil, sugar, lime, and rhubarb and lavender bitters), were memorable. Most are $10 or less.
Take a moment and let those prices sink in. A Washington-area restaurant where dinner for two costs around $70. In 2015, not 1995.
To read the menu and travel from guacamole to meatballs to flautas to pizzas to crabcakes is to experience a sort of orbital whiplash (not to mention a dwindling confidence in the ability of one place to carry off such a range of styles). But Tazza is less interested in tight, thematic coherence than in pleasing a crowd. Fortunately, that doesn't mean stinting on the details.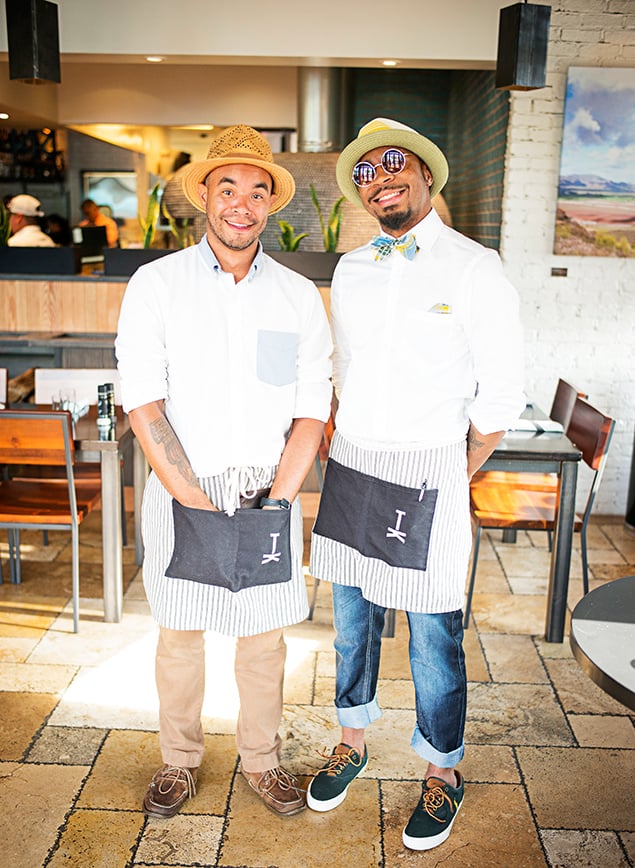 The taco garnishes include not cheddar but queso fresco, funky crema instead of sour cream, and pickled red onions and cured cabbage. The wood-fired pizzas are thin and crispy, and you can taste the time and attention that went into the dough. Order the pizza with shiitake, maitake, and oyster mushrooms and settle in for the dialogue between the browned crust and the earthy intensity of the charred fungi.
The problem is that getting a pizza would seem to cancel out the need for a cast-iron skillet filled with warm, soft goat cheese, surrounded by a fresh, sweet marinara to balance the tanginess, and with bread for dipping. Though if you order that and rule out a pizza, be sure to get the meatballs, made with the three-meat blend (pork, beef, veal) that you want but don't always find.
It was the unexpectedly tight execution of what might have been sloppy starters that drew me to the garganelli with fennel sausage, but the pasta was limply cooked and too thickly sauced, suggesting a kitchen under Saturday-night strain. The scallops also bore evidence of an overstressed kitchen, the sidekicks (a lemon risotto, a spring-pea mash) missing the sharpness and clarity evident in simpler dishes. The problem with the crabcakes, on the other hand, was a design flaw: too much binder and not enough lump.
So there is, as my handyman might say, some soft wood here.
There are also servers who, if you listen carefully, will help you avoid potholes. Credit to management for hiring and training good people, but also for thinking to have the servers pool their tips, a policy that improves performance on the floor. If you have two fingers up in the universal sign for help, it won't be for long, even if you can't locate your waiter—everybody is in this together.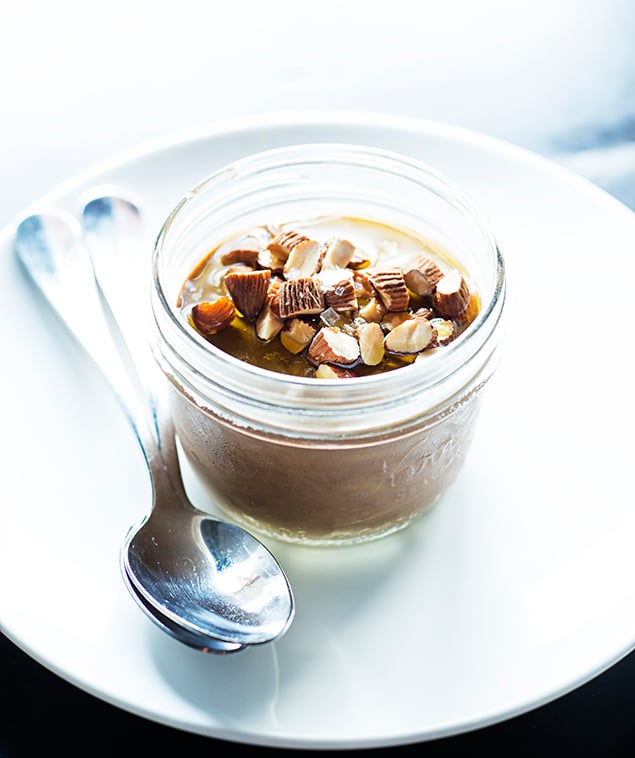 The three desserts, all better than they need to be, include a strawberry crumble paired with a poppy-seed semifreddo; pecans boiled in molasses; and a chocolate budino (an Italian pudding) capped with a thin lake of olive oil, sea-salt flakes, and toasted almonds.
Before you blanch at the combination of chocolate and olive oil, think how beautifully chocolate goes with raspberries or oranges, both fruity and sharp. Surprising? Yes. But no more so than a casual, accessible restaurant that aims for the masses without condescending to them.
---