A new generation of rock n' roll divas take the stage at the 9:30 Club this Saturday for a musical showcase presented by Girls Rock! DC—a week-long camp for Washington ladies, ages eight to 18. Not only does the program teach these young women—some of whom have never touched a musical instrument before—how to play electric guitar, bass, keyboards, or turntables, it also gives them a chance to write original music and perform it live.
For the past eight years, the 9:30 Club has offered its space—free of charge—to the showcase, and this year is no different. Founding camp member Jennifer Fox-Thomas says the concert is not about showcasing talent, but about female empowerment. "The real focus is on a feminist and women's movement. Music is just the medium," she says. "We're not a rock school, but we're about girls finding their own visions of how they want the world to be."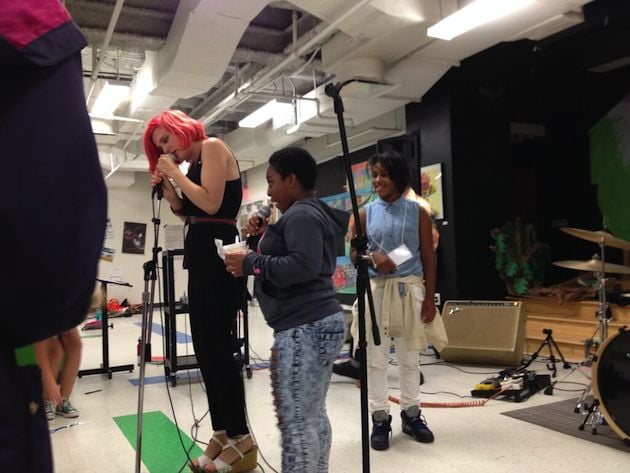 Nine bands and two DJ crews—both digital and old-school vinyl—will perform the songs and sets crafted earlier this week. Since the camp is packed with pre-teen and teenage girls, you can expect to hear lyrics about the usual adolescent strife. As for band names? Power Gurlz and No Glitter on Saturday are just two examples. "A lot of the songs deal with the issues these girls are working through in their lives," says Danielle Mouledoux, who handles communications for the camp. "There's one called 'My Perfect Imperfections' about those little habits that might make them feel bad about themselves, and how they decide to accept themselves anyway."
The showcase includes a raffle with prizes from Pleasant Pops and Red Onion Records and Books, as well as a brand-new feature: a 15-minute DJ battle and dance party to get the audience grooving along with campers. The two-hour show will also give staff members a chance to speak about the program between band songs and sets.
If you're older than 18 and still want to get your rock on, Girls Rock! DC has something for you, too. The second annual Ladies Rock DC camp in October offers women a chance to grab an instrument, hit the stage, and feel the feminine power.