Weinberg Commons—a three-building, 37-unit apartment complex at the corner of Southern and Benning roads, Southeast—looks pretty much like the low-slung housing projects in DC's outer precincts. But in the annals of urban environmentalism, the 37 apartments represent an important landmark. Developed by the DC nonprofit Transitional Housing Corporation, the former commercial property, built in the 1960s, has been retrofitted to approach "net-zero energy," a green-architecture term that to the buildings' residents means 70 to 90 percent energy savings relative to a typical bill for a two-bedroom apartment in the Washington area.
Weinberg Commons' unassuming looks can be explained by its relative lack of silicon-chip gadgetry. "We do all this with stuff we can buy at the hardware store," says Michael Hindle, owner of Passive to Positive, a design consulting firm that's working on the project. Because the city can't be rebuilt from scratch, Hindle explains, low-energy retrofits like this one are necessary to put DC on a track to sustainability.
Here's how Weinberg Commons has gotten so close to net zero.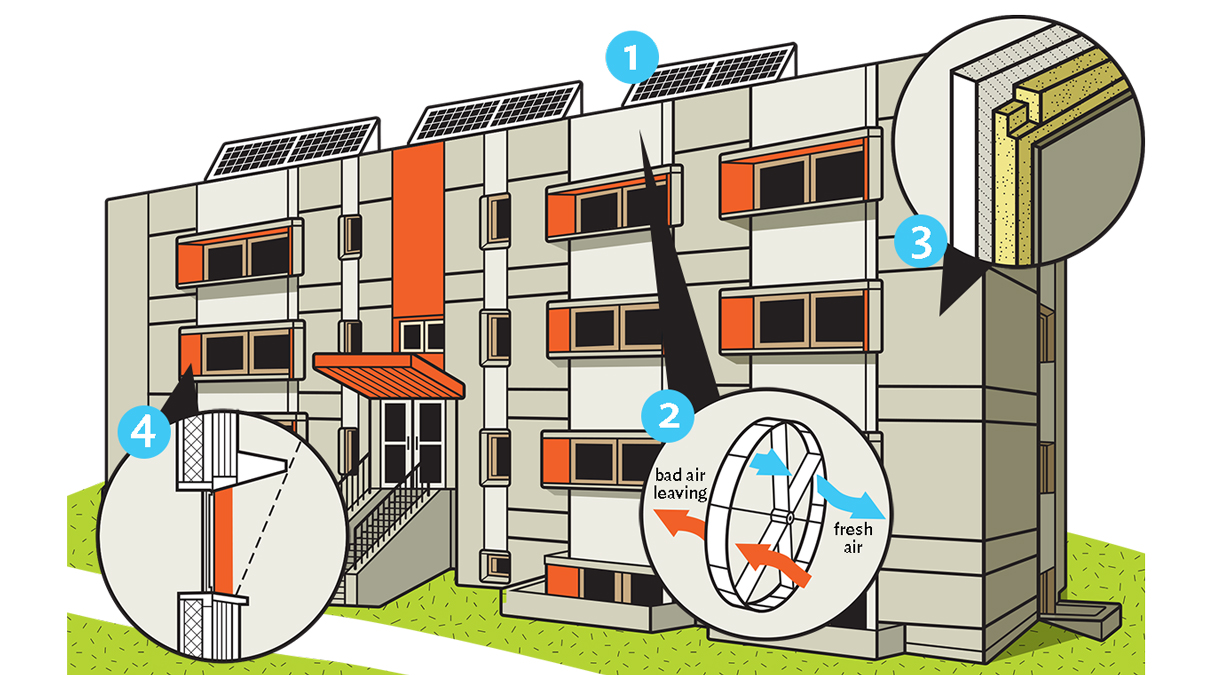 1. Solar Paneling: Panels on the roof heat water for the building.
2. Smart Venting: As fans send warm air from cooking and showering outside in winter, felt stuffing in the spinning, pie-shaped sections of an "enthalpy wheel" retain the heat. As outdoor air passes through the felt on its way in, less energy is needed to heat it to indoor temperature. In warm weather, the process works in reverse.
3. Better Insulation: The brick exteriors were covered first with recycled fiberglass insulation, then with a membrane that Hindle describes as "Tyvek on steroids." The original masonry helps soften outdoor temperature swings, conserving heat. With fewer leaks from the outside, says Blaise Rastello, director of affordable housing at Transitional Housing Corporation, indoor air will be cleaner, reducing health risks associated with dirty air.
4. Sun Shades: Irregularly tapered boxes outside the triple-pane windows are oriented to admit or block sunlight, depending on the season—providing heat in winter and tempering it in summer.
This article appears in our August 2015 issue of Washingtonian.