Welcome back to the Summer Drinking Showdown semifinals! Yesterday Roofers Union hammered hard against POV, but in the end it was no match for Washington's sleekest rooftop bar. Who will take on POV for the ultimate title? We'll see when the polls close at 5 today.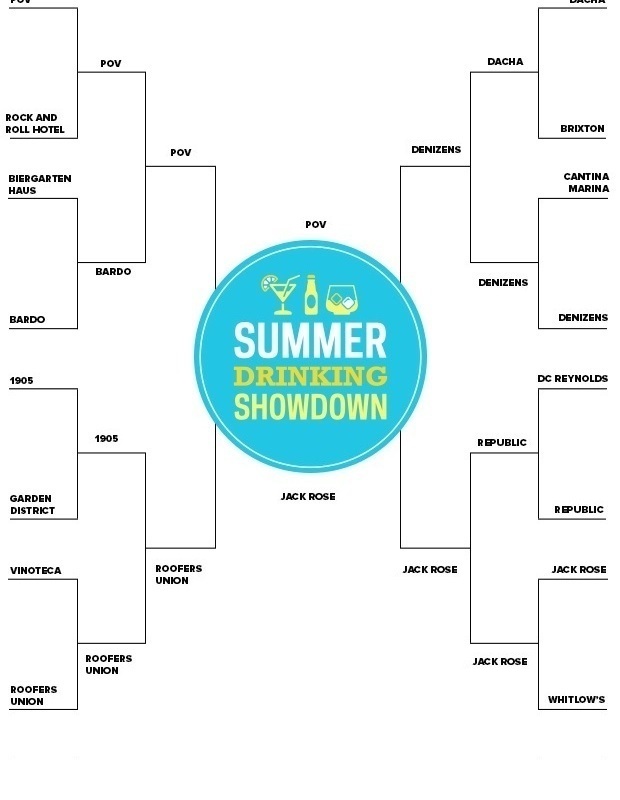 This second-to-last match pits two very spirited teams against one another. Jack Rose in Adams Morgan boasts a huge following in the whiskey community with its massive collection and frequent events. That being said, it's still the kind of inviting watering hole where you can relax over sangria and Southern fare like jalapeño hushpuppies on the open-air terrace, or sip a potent rum punch in the pop-up tiki bar. Over in Silver Spring, Denizens Brewing Co. is a playground for suds-lovers who can sample the brewery's flagship beers and seasonal creations in a atmospheric outdoor garden fit for 200. Drinkers can hang over a plate of BBQ Bus 'cue and a Big Bad Bohemian pale lager day and night, or catch weekly live music, trivia Tuesdays, and brewery tours.


This is a tough choice, folks, and we hate to see either bar go. Vote until the polls close at 5.