Summer Restaurant Week arrives on Monday, August 17, and runs through August 23. Over 200 eateries participate this year, serving $22 lunches and $35 dinners—not to mention additional perks like discount wine, additional tasting menus, and special brunches. How does one pick a place? Our annual 100 Best Restaurants list is a great place to start. Over 30 of our favorite spots are participating in the promotion, including places at the very top of the list. Browse through the lineup—here listed alphabetically—and make reservations soon.
5335 Wisconsin Ave., NW
Aggio serves an array of imaginative Italian dishes for Restuarant Week, like fresh pasta with goat cheese, sweet corn, and summer truffles. The higher-end spot is a good date-night option—ask the sommelier to pair wines for an additional $20.
Serving: Dinner Bastille
606 N. Fayette St., Alexandria, VA
Bastille's husband-and-wife duo, Christophe and Michelle Poteaux, specialize in classic French cooking. Don't miss the rock-shrimp beignets—a favorite appetizer that can be found on both the dinner and lunch menus.
Serving: Lunch and dinner Bearnaise
315 Pennsylvania Ave., SE
Get a taste of Paris on Capitol Hill at chef Spike Mendelsohn's upscale bistro. Guests can opt to dine on the patio, or inside over two floors.
Serving: Lunch and dinner Birch and Barley
1337 14th St, NW
Grab a fellow beer fan and head to this classy 14th Street spot, which offers a seasonal American menu from chef Kyle Bailey and a collection of over 500 artisanal beers.
Serving: Dinner Bistro Bis
15 E Street, NW; 1727 Connecticut Ave., NW
Brunch, lunch and dinner are all being served at this contemporary French bistro near Union Station, which offers guests a complimentary glass of sparkling wine. Menu options range from classics like French onion soup to the chef's creations—think hazelnut French toast with caramelized bananas and bacon.
Serving: Brunch, lunch, and dinner
883 MacArthur Blvd., NW
Fish fans can head Jeff Black's seafood market/restaurant in the Palisades. Drop in for lunch, and then pick your catch of the day for dinner from the display cases.
Serving: Lunch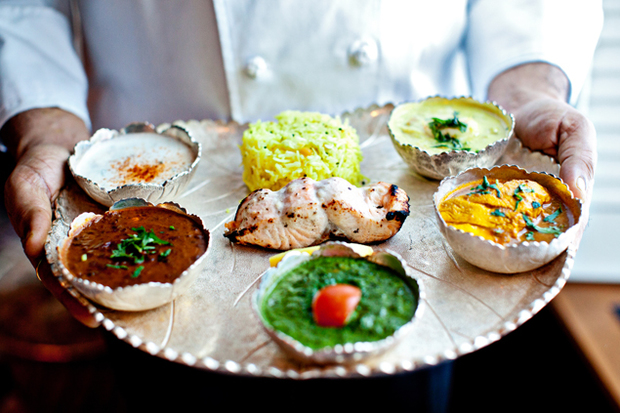 815 Connecticut Ave., NW
Restaurateur Ashok Bajaj's stately Indian near the White House is a great bet for vegetarians, with a meat-free thali (tasting) available alongside dishes such as lamb samosas and tandoori salmon.
Serving: Lunch and dinner Brasserie Beck
1101 K St., NW
Robust Belgian cooking is Beck's signature. During RW you'll find classics like beer-braised beef carbonnade and creme brûlée with speculoos cookies, which can be ordered on the restaurant's sidewalk patio.
1099 New York Ave., NW
Chef Fabio Trabocchi's osteria creates seasonal Italian menus with hand-made pastas and dishes like gazpacho with char-grilled calamari. Post up on the patio and add a cooling Moscow mule ($10) or virgin chili-raspberry limeade ($4).
Serving: Lunch and dinner
1001 Pennsylvania Ave., NW
Chef Michel Richard's downtown bistro mixes superb French and American classics. The Restaurant Week menus include many signatures, such as the goat cheese Caesar, fried chicken, and chocolate lava cake.
1720 14th Street, NW
Wine and small plates go together beautifully, and you'll find plenty of both at this 14th Street spot. Look for a selection of Old World wines and seasonal dishes.
Serving: Dinner
705 6th St. NW
Innovative Japanese small plates and a hip vibe are guaranteed at Daikaya's izakaya, located over the popular ramen bar.
Serving: Dinner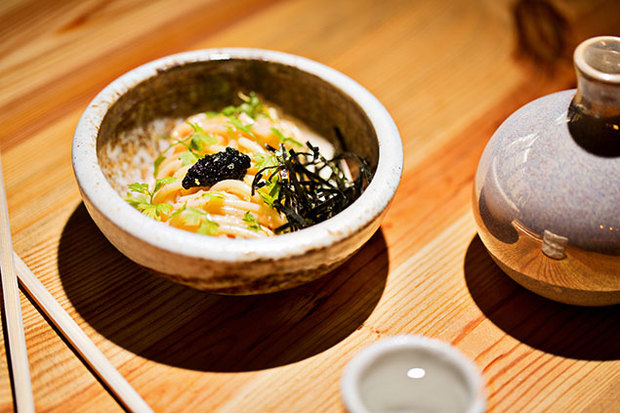 931 H St., NW
Chef Daniel Boulud's brasserie in CityCenterDC serves summery dishes like grilled salmon with corn and piquillo peppers alongside fun creations—try the "Frenchie" burger topped with confit pork belly, or a key lime pie sundae.
Serving: Lunch and dinner Del Campo
777 I St., NW
Chef Victor Albisu's Latin American dining room specializes in grilled meats and seafood, and you'll find plenty of both on the Restaurant Week menus. Dishes include signatures like scallop "sushi" ceviche with smoked trout roe, Peruvian chicken, and smoky short ribs.
Serving: Lunch and dinner Equinox
818 Connecticut Ave., NW
Chef Todd Gray seasonal stalwart near the White House taps into summer for their RW menu, serving dishes like fresh spaghetti with local clams and pancetta, or barbecued Norwegian salmon.
601 Pennsylvania Ave., NW
A fine dining atmosphere and robust Italian fare make chef Fabio Trabocchi's restaurant a good pick for Restaurant Week. In addition to dishes such as rosemary-grilled tenderloin and risotto cacio e pepe, guests can order specially-priced wines such as half-bottles of Laurent Perrier Champagne for $28.
Serving: Lunch and dinner G by Mike Isabella
2201 14th St., NW
Guests can pick between seasonal Italian menus or the red sauce-centric Sunday gravy menu at Mike Isabella's restaurant (note that the Sunday menu is $40 as opposed to $35). Two optional wine pairings are offered ($29 to $39). Good news for procrastinators: they're extending Restaurant Week dining through August 30th.
707 6th St., NW
Some of our favorite dishes from chef Mike Isabella's kitchen are available for Restaurant Week, including homemade gnocchi with pork ragu and whipped ricotta, or the calamari-topped Jersey Shore pizza. The kitchen also dishes up egg-topped breakfast pizzas at RW brunch.
Serving: Brunch, Lunch, Dinner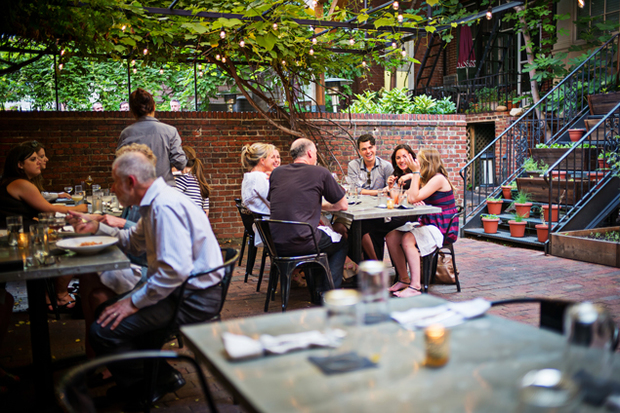 1734 N St., NW
When restaurateur Michael Babin revived the historic Iron Gate he added a year-round patio, a lofty carriage way (bar included), and a candlelit dining room. Chef Anthony Chittum prepares seasonal Mediterranean fare.
Serving: Lunch Jaleo
Locations in Penn Quarter, Crystal City, and Bethesda
All three locations of José Andrés Spanish tapas restaurant offer Restaurant Week menus, filled with classics like garlicky shrimp and gazpacho.
Serving: Lunch and dinner
2201 14th St., NW
Guests can pick between two Restaurant Week menu options at Mike Isabella's Greek spot: four courses for $35 or five for $55. Both include dishes from the regular menu, such as the signature spit-roasted meats. Note that RW is extended through August 30.
1915 I St., NW
Chef Kaz Okochi is a master of modernizing traditional Japanese flavors. Make dinner reservations, and look for signatures like sake-poached scallops or torch-charred salmon belly.
Serving: Dinner Liberty Tavern
3195 Wilson Boulevard, Arlington
Looking for a comfortable atmosphere with quality food? This Clarendon bistro often delivers, with Italian-accented fare form chef Matt Hill.
Serving: Lunch and dinner Mintwood Place
1813 Columbia Rd., NW
Chef Cedric Maupillier offers many of his signatures at the Adams Morgan bistro—steak tartare, pasta bolognese—as well as summery items like wild blue catfish with babaganoush.
Serving: Dinner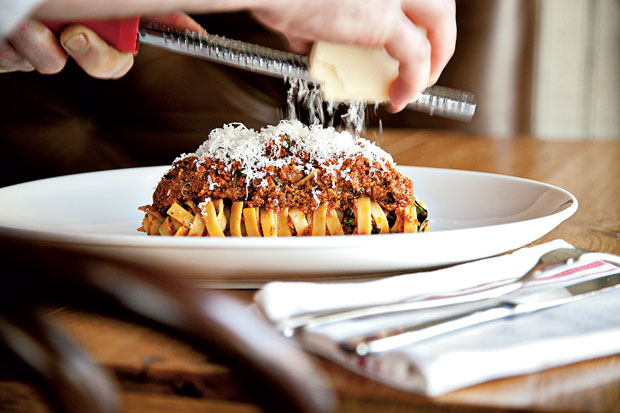 301 Water Street, SE
Restaurateur Michael White brought his New York osteria to Navy Yard, and with it a large selection of house-made pastas and wood-roasted meats. Don't skip dessert—pastry chef Alex Levin makes sweets worth a splurge.
Serving: Lunch Poste
555 8th Street, NW
While this Penn Quarter building is rich in history—the crown molding of this 1841 building is original—the talent is new. Chef Kyoo Eom prepares creative dishes using classic French techniques.
Serving: Lunch, Dinner Rasika/Rasika West End
633 D St., NW
It's a good idea to make reservations at Rasika early—yes, even for lunch—as the innovative Indian dining rooms book up fast. Guests can pick from a number of options in each course, including classic favorites like crispy spinach palak chaat and tandoori salmon.
Serving: Lunch
6939 Laurel Ave., Takoma Park, MD
This Takoma Park location is heavy in character—the bar and dining room boast Victorian-style sofas and jet-engine parts—while the kitchen mixes seafood dishes with a number of vegan options.
Serving: Lunch Ris
2275 L St., NW
Chef Ris Lacoste keeps her restaurant classic—think fresh flower bouquets and perfect onion soup. Dishes run comforting, such as Chesapeake catfish with fried green tomatoes.
Serving: Lunch and dinner Sushi Ko
5455 Wisconsin Ave., Chevy Chase
We love the pristinely fresh fish at this longstanding sushi restaurant, though fans of cooked fare can also find equally delicious Japanese small plates.
Serving: Lunch and dinner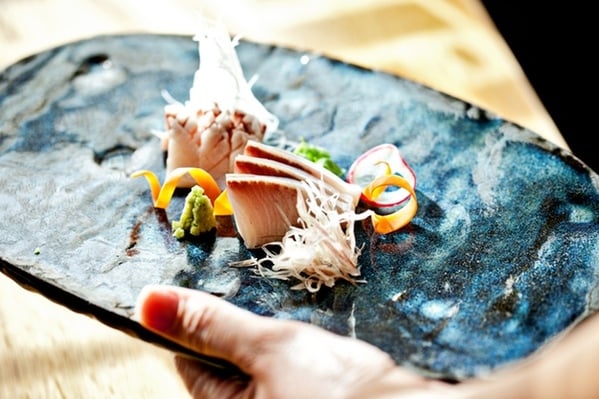 1503 17th St., NW
One of the best Japanese restaurants in Washington offers a mix of cooked specialties like grilled black cod with various options for sushi and sashimi. Guests can opt for specially-priced beer or sake pairings.
Serving: Lunch and dinner Table
903 N St., NW
This contemporary restaurant in Shaw has experienced a chef change since our rankings, but has kept its seasonal European bent—expect dishes like mussel toast or hanger steak with leek fondue.
Serving: Dinner Tico
1926 14th St., NW
Chef Michael Schlow mixes Mexican, Spanish, and American influences on his eclectic small plates menu. If they're available, don't skip ceviches, tacos, or vibrant vegetarian offerings.
Serving: Dinner Water & Wall
3811 Fairfax Drive, Arlington, VA
Chef/owner Tim Ma incorporates Asian and Southern flavors in his menu, all executed with classic French technique. The result is unusual—and often delicious. Don't skip the creme fraiche chicken wings or steelhead trout with Thai chili sauce.
Serving: Lunch and dinner Zaytinya
701 Ninth St., NW
One of the more popular Restaurant Week spots books up quick—make reservations for José Andrés's Greek/Turkish mezze spot soon.
Serving: Lunch and dinner