In 2011, Alex Tsamouras returned to DC after nine months spent working at a restaurant in Seattle and visiting his native Greece. He attended culinary school at Baltimore International College and been a chef for a number of restaurants, including Cava Mezze in Capitol Hill. But he realized something had shifted on the streets: food trucks were popping up everywhere.
"I remember just thinking, Wow, this is a great idea," he says. Since 2011, he has started two different food trucks—Feelin' Crabby, centered around crab and lobster, and South Meets East, serving tacos, burritos and quesadillas. Tsamouras says he's a year and a half away from opening a non-rolling restaurant.
Washingtonian hopped on a Feelin' Crabby truck—the one named Clawrl, to be exact, though its twin is named Shelly—to get the scoop on what an average day feels like inside a food truck.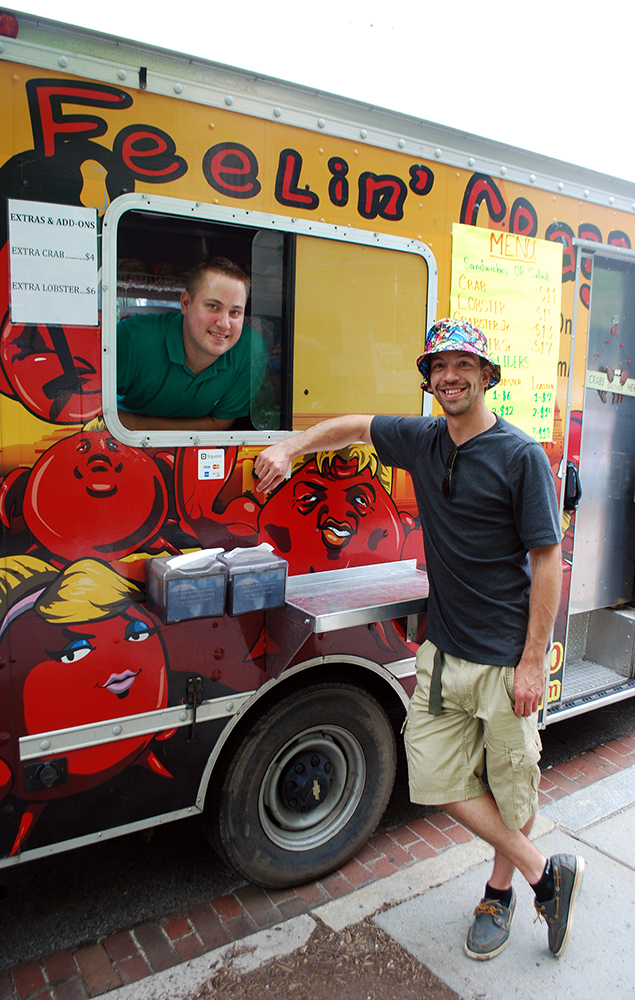 6 AM Tsamouras says this is when he wakes up in Rockville. He'll drive from his house to his kitchen in NoMa, about a 45-minute commute, organizing the day's activities in his head as he drives. "There's a lot that can go wrong," Tsamouras says, "And a lot of moving parts. Literally."
8 AM He describes the morning routine: A team of five arrives to start the prep work for the day. They mix up lobster, crab, and lemon for their special sauce, and seal it for the road.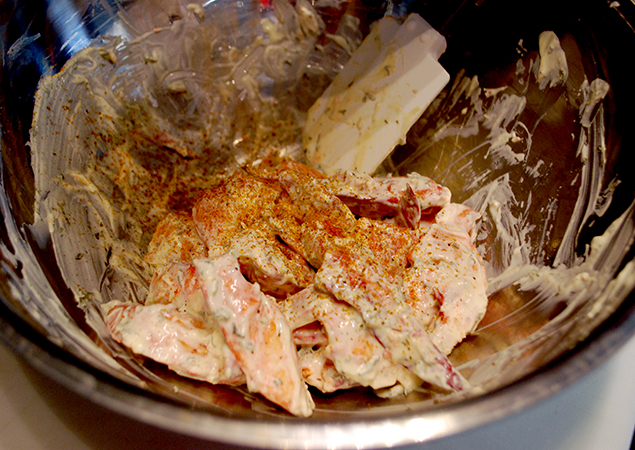 After that's finished, they load everything else into their three trucks: seafood, tomatoes, coleslaw, watermelon, greens, hot water, and drinks. Next comes social media duty—the Shelly team tweets their location online, so Feelin' Crabby's Twitter followers can find them.
Hey crabby gang Shelly has landed at van Ness with full menu come bi and get the crabby feeling see ya soon #fb

— Feelin' Crabby (@FeelinCrabby) July 15, 2015
8:45 AM Next up, Robin and Tsamouras head for the lunch location. Many food trucks change locations daily: Farragut Square one day, maybe Franklin Square the next. Today, Clawrl pulls into L'Enfant Plaza.
Feelin' Crabby always tries to arrive early, Tsamouras says, as all food trucks know the hot spots and it's difficult to find a good parking space. Often, the trucks will circle one another until 9:30, when parking restrictions end. Washingtonian arrives just in time to catch the morning shuffle: even when we finally find a good place to park, the staff of the Amorini Panini truck asks us to slide down a few more spaces for other trucks' sake.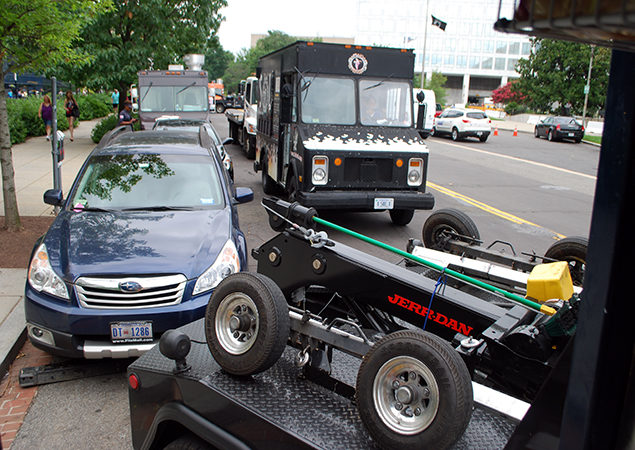 "It's like musical chairs every morning," Tsamouras says.
9:30 AM Robin and Tsamouras begin the morning set-up. They heat water, chop fresh fruit and vegetables, and set up the "register"—a box cut in half with cups as coin holders—near the truck's window. They also set out forks, plates, cups, and the like.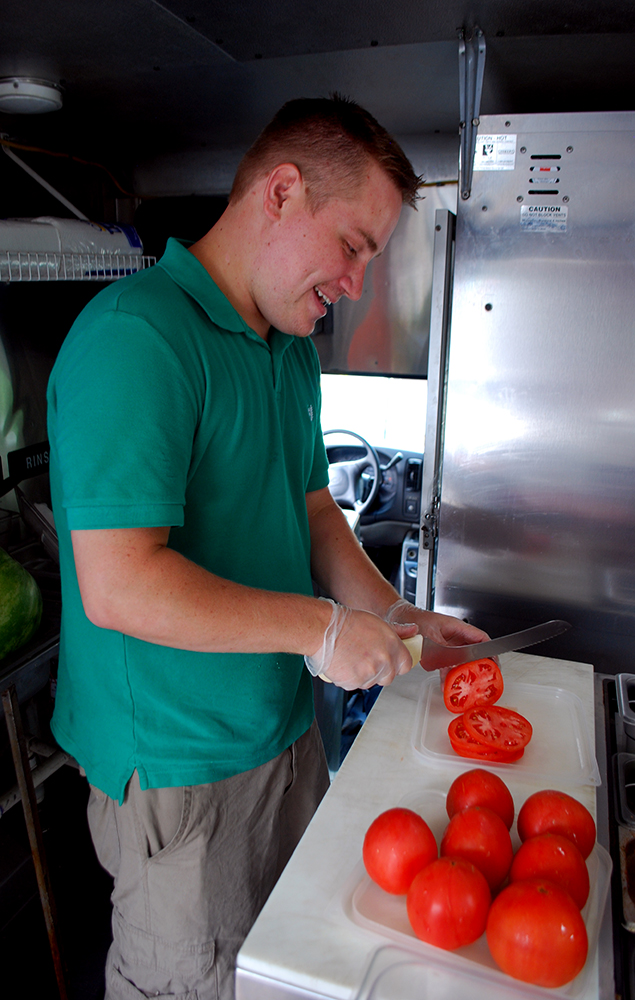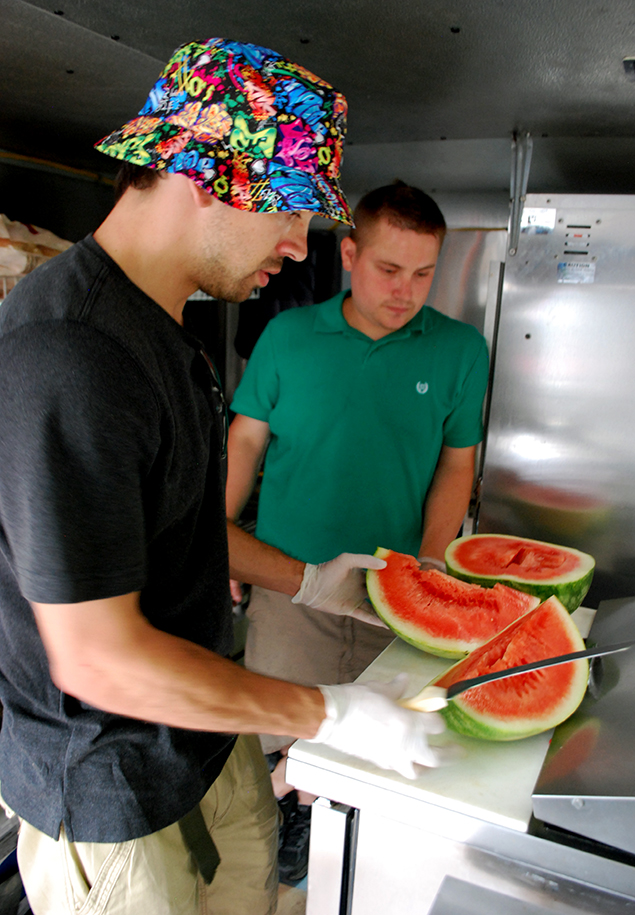 10 AM Robin fills the truck's tank, pulling a container of gas from a side compartment. Luckily, they remembered it this time. Tsamouras says they have forgotten gas before, but food trucks tend to help one another out when things like that happen.
"Even though we're in competition with each other, there's a sense of camaraderie between us all," Tsamouras says.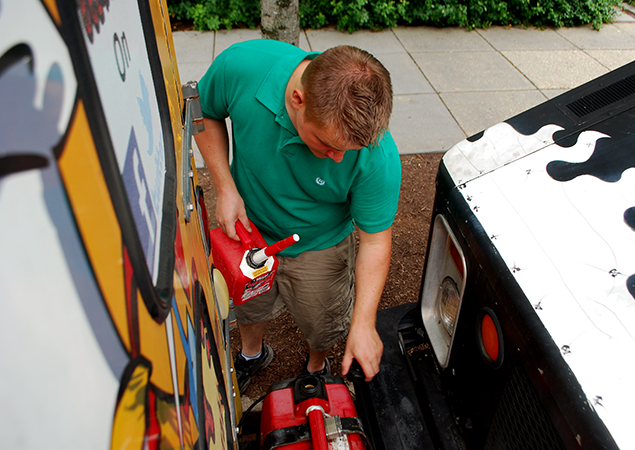 10:30 AM A health inspector arrives to be sure Feelin' Crabby's employees are registered and hold proper identification. After glancing through a paper folder Tsamouras hands her, she proceeds to the next truck.

11 AM The crowd starts trickling in. Though the busiest times are from 12 PM to 1:30 PM, a number of customers came to get crab and lobster sandwiches as early as 11.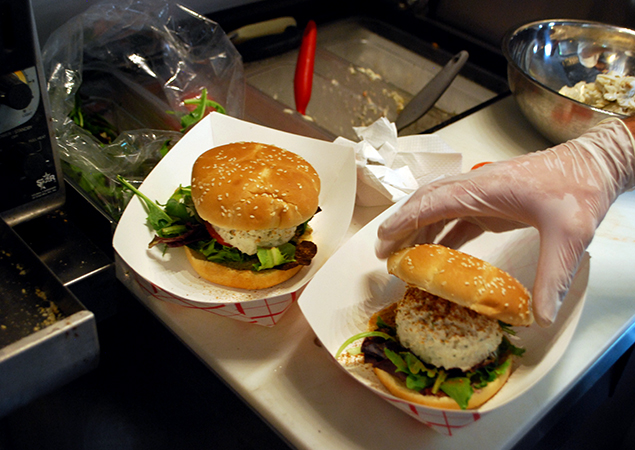 11:15 AM An advertising team arrives for Crab Week, put on by the Hyatt Regency in Cambridge, Maryland. Two interns stand outside Feelin' Crabby, and they pass out fliers to tell passerby that the truck will be in attendance. Tsamouras says he tries to secure events like these for his trucks at least two or three times a week, if not more.
11:30 AM A woman approaches Tsamouras in the street, claiming she was his first-ever customer when the truck first opened in 2011. They hug.
"In restaurants, you never get to see that," Tsamouras says. "It's a rare day that a customer ventures into the kitchen to tell us how much they liked our food. Here, it's on daily basis, and it's the ultimate reward."
11:45 AM Robin offers a free sample to a man checking out the menu, and scoops a heaping pile of crab onto a plastic fork. The man orders a sandwich shortly after. "Are you feelin' crabby today?" Robin asks people as they walk by.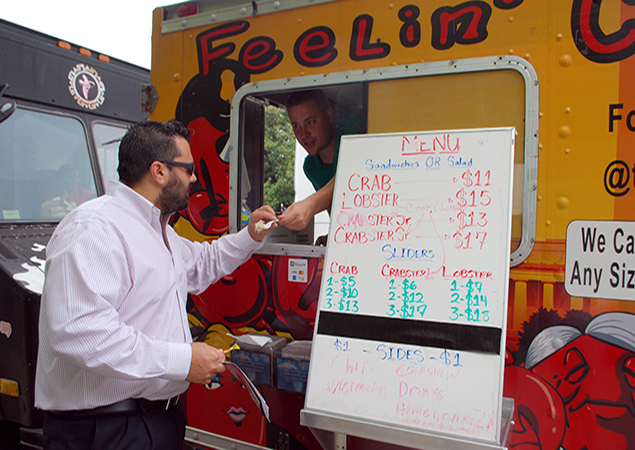 12:15 PM A line begins to build outside the truck's window. Robin begins to cater to different requests, like a woman who wants crab—just crab—with nothing else on it. He eventually convinces her to agree to a "platter," which is essentially just crab meat laid on a bed of lettuce and tomato. It looks nicer that way, he says.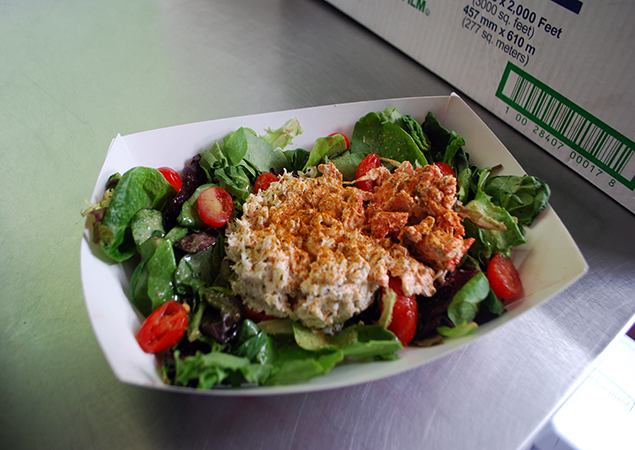 2:30 PM The lunch rush ends. The team packs up, consolidating leftover food, wrapping up unused tomatoes and greens, and throwing away trash. They place everything that could topple when they drive on the floor.
"You have to be really careful," Tsamouras says. "Once you start driving, if something could fall down, it most definitely will."
3 PM The drive back to NoMa commences, and the team unpacks and cleans at the kitchen until around 4:30. They mop, sweep, and wipe down the tiny truck.