If you're the kind of person who shops (not just window-shops) at Hermès, then Centrolina is the kind of place you might envision going to afterward.
Is this to say the restaurant is only good for people to see and be seen and graze lightly and fashionably after an afternoon spent picking out silk scarves?
Not quite. Centrolina can be more than that. If you're careful.
The store and the restaurant are neighbors at CityCenterDC, a glitzy block of boutiques, restaurants, and condos that was conceived during Mayor Anthony Williams's administration and is only now beginning to flower.
If Hermès is a branded vision of impenetrable hauteur, Centrolina is its stylistic opposite, chill and approachable. But chill and approachable in the way of a gently weathered house in the Hamptons.
Like a lot of high-end spaces, the interior is soothing in its absence of color—strong color, some designers say, is garish, suggesting fast food and other gaucheries. The general impression is of cool, clean whiteness.
The open, high-ceilinged room feels more like a bar than a restaurant, and the space flows into a market. All of which sounds looser and more rustic than it is. Every placemat, every utensil, every glass is carefully laid. One of the servers—gregarious when he worked the floor at a midlevel restaurant in Arlington—actually bowed when he left my table.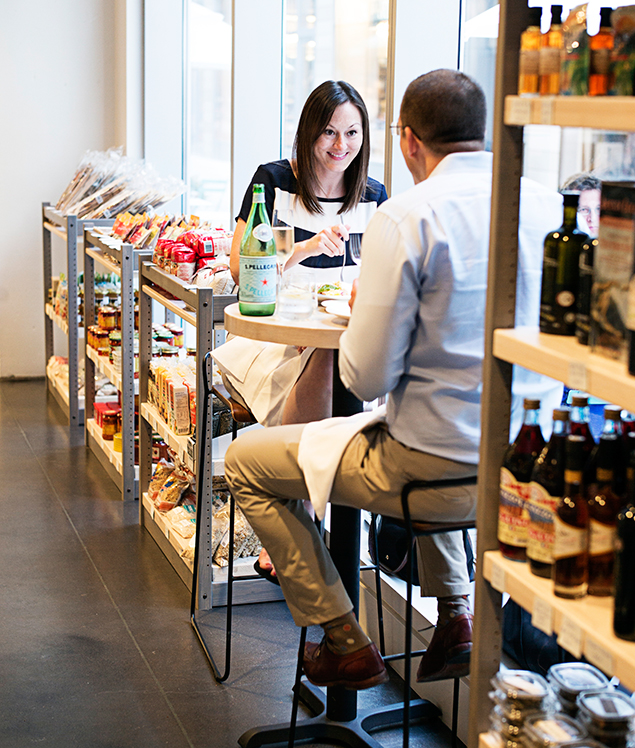 And the food?
Expensive, often exquisitely made, and gorgeously plated. It's also not as delicious as your first impressions might lead you to think. This isn't what I thought after one visit. It is what I think after three.
"Do you think we just hit it on a good night that first time?" a friend asked after our disappointing second meal. Which was, it turned out, superior to my more disappointing third.
That first visit wasn't a good night. It was a great night. Bookending the meal were two of the most delicious dishes I've had all year.
The appetizer was octopus, the tentacle braised to great tenderness, then grilled. Alongside it were a small disk of potato that had been confited in olive oil as well as another small disk of cotechinata (a sort of sausage fashioned from braised pig skin), which not only approximated the texture of the octopus but also added fatty lusciousness—permissible and not over the top here because the octopus itself was so lean.
The porchetta was even better, an expectation-raiser. What is porchetta? Imagine a jelly roll, only made of suckling pig. And instead of sugared fruit inside, imagine herbs and salt and pepper. The meat had the big, rich flavor you seldom find in a steak these days, with the lingering depth that justifies the calories and cost. It says something about the plate that I liked the baked Yukon Golds just as much.
Have it with a glass of the Negroamaro, which has none of the scruffiness that sometimes marks the varietal, while delivering the juiciness you want in a big red.
Dessert was a dud, and the other dishes we ordered were more good than great, but this was a three-star meal. I couldn't wait to return. Unfortunately, no dish that second time matched those two great ones, and I began to wonder whether there were only a few discoveries to be made at Centrolina and I had already made them.
This time the appetizer was scallops, sliced thin and the centerpiece of a composed salad of apricots, pickled ramps, lemon, and frisée. The slices were of excellent quality but served too warm, and the apricots (too sweet, too acidic, too thickly cut) unbalanced the flavors. The entrée was an homage to Inn at Little Washington chef Patrick O'Connell's "tuna pretending to be filet mignon," in which the fish is peppered, seared, and capped with a lobe of foie gras. The dish here looked magnificent: a pair of triangular slabs of seared tuna jutting like shark fins from a pool of reduced Pinot Nero and flanked by a glowing bone of roasted beef marrow and two halves of roasted onion. The fish, though, was nearly flavorless. Without an engine, all the shiny accessories don't mean a whole lot.
The one constant through the three meals, and the best reason to visit, was the pasta. The chef, Amy Brandwein, apprenticed for years under Roberto Donna, a renowned figure in Washington's culinary community until his tax evasions made him a pariah. Among the lessons she absorbed from the master is the magic that can be made with flour and water and skill and love. You won't see most of these pastas around town. You might not even see them at Centrolina. The pasta rotation was different every time I was in.
That first night, I tried two, including a reginette. Picture lasagna noodles, only thicker, dyed with squid ink, and shaped into crowns filled with lush seafood mousse. Sly touch: a scattering of roasted mushrooms that mimic the texture of the pasta.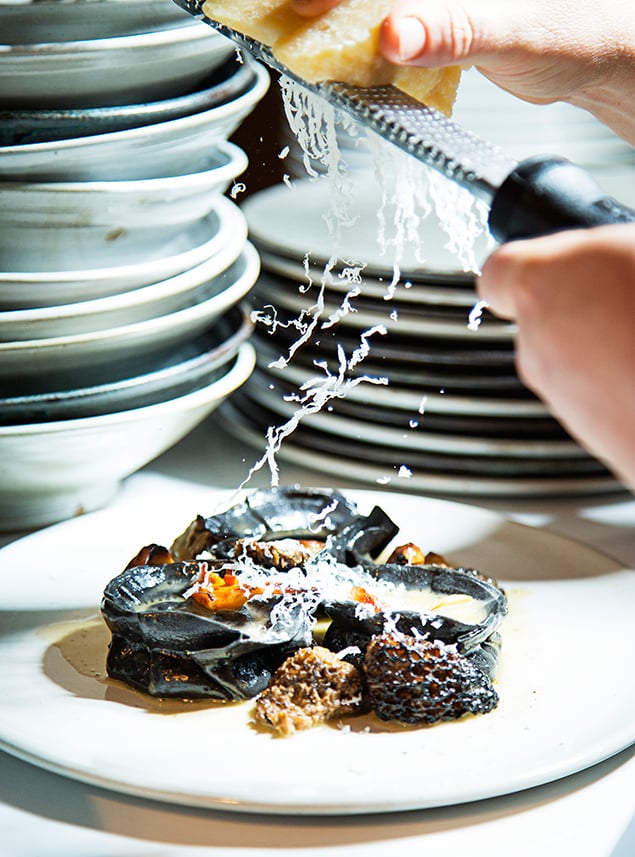 The best dish, my second time in, was another pasta with squid ink, in this case spaghetti. The noodles were black and glossy and topped with cubes of tuna that also had no taste. It didn't matter here. What looked like a dish of high style was actually, once you got into it, a dish of low pleasure: rich, slurpable noodles tossed with garlic, ground chilies, anchovies, and glugs of good olive oil.
The best dish at the worst meal of the three was another pasta seldom seen in the city: strozzapreti. The thick bands had great chew, and the tomato sauce was bright and sweet. The advertised suckling pig proved to be more condiment than constituent partner, however, which wouldn't have been such a big thing if the dish weren't $22.
The burrata that night was creamy, but not as creamy as you'd hope, and the heirloom tomatoes in the panzanella salad alongside it were only a little sweet (and sometimes crunchy). We did better with a chicken soup boosted by tender meatballs and thick slices of herbed frittata. We did worse with the fritto misto, an Italian fry plate generally meant to showcase seafood, here piled with meats and . . . other goodies. The batter-fried chicken was fine, the batter-fried sausage strange, the batter-fried amaretto cookies revolting.
I already mentioned the dud of a dessert, which was a lemon tart almost devoid of lemon flavor. The chocolate dessert, though it looks like a petit four plate with sauces, is better. The pine-nut tart, which conjures a pecan pie in its sticky density, is the one the staff pushes to more adventurous diners. The problem isn't that it leans more savory than sweet; it's that the lingering flavor of pine nuts and Parmesan is neither elegant nor pleasing.
I wouldn't make an occasion of dining at Centrolina, and I wouldn't drop a lot of money, either. There's a good meal to be had, though, if you proceed with care. Or simply stick to the pastas.
Of course, if you just dropped $400 on a scarf at Hermès, then pfft—who needs strategies? You'll be happy just to have a chill place for a (comparatively) cheap dinner.
This article appears in our September 2015 issue of Washingtonian.
---