There's a pretty good restaurant at Brine. It's just not the one Brine is trying to be.
A recent arrival to the upmarket Mosaic district, this trendily industrial fish house is the fourth restaurant in four years from Travis Croxton, following Merroir in Topping, Virginia; Rappahannock in Richmond; and Rappahannock Oyster Bar in Union Market. (That's not counting his oyster and clam farms or his collaborations with cocktail maven Derek Brown.) Each new operation in his expanding portfolio comes with a bigger space than the last—and a bigger agenda, too.
You could probably fit five Rappahannock Oyster Bars inside Brine, and the menu sprawls like a suburban tract development.
This is not the menu of an oyster bar, or even of a glorified oyster bar. It's the menu of a contemporary American bistro.
The chef, John Critchley—who comes from the glamorous Bourbon Steak—gives us the too-tricked-out burger, the fries jazzed up to look like something other than fast food, and the somehow fashionable steak tartare—dressed up with the even more unaccountably fashionable "ash," which is just what you think it is. None of these dishes is bad, but none is put across with any conviction.
What were bad were the two appetizers I ordered on a recent night. The first was a yellow gazpacho as viscous as sludge and sweeter than some desserts. The second was a carpaccio of yellowfin tuna, the fish pounded into a flower-like pattern and embellished with ginger, hijiki, and onion. Too bad all I could taste was ginger and olive oil.
I had better luck with a trio of fish—mackerel, mullet, and trout—pulled hot from the rotisserie and doused with a sauce of anchovies and greens. The mackerel was a touch overdone, a function of cooking three different-size fishes at once, but the mullet and trout were excellent, testament to what Croxton's restaurants are good at: sourcing great local product and cooking it simply.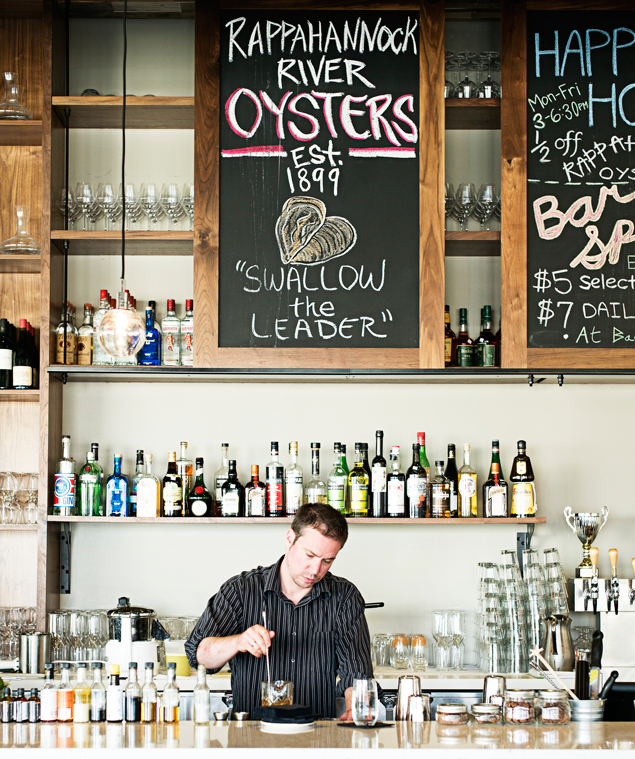 Lambs and clams, a hit at Rappahannock Oyster Bar, is reprised here. The combination of briny clams and crumbled lamb sausage is as true as PB&J and a lot more interesting.
It might not sound like high praise to say the oysters are well shucked, but believe me, you can't say that of every place that serves them. You could have a grand time just slurping half shells and drinking cold white wine.
Problems with seasoning dogged my visits. And a number of plates had niggling technical errors, most notably the Parker House rolls brought out at the start. A nice touch, and the tops were appropriately shiny with butter. Inside, though, the bread was doughy.
A tighter focus on the menu might help, enabling the kitchen to concentrate on fewer, and perhaps simpler, dishes. There's an oversize oyster bar in here somewhere. It just needs to come out.
This article appears in our September 2015 issue of Washingtonian.
---