In case a horde of public officials and a 14-page list of street closures wasn't warning enough, the District Department of Transportation and Metro have a very simple message for Washington residents about Pope Francis's visit next week: Try to avoid driving.
"Taking a trip by car is going to result in a delay on your part and your neighbors'," said DDOT Director Leif Dormsjo following a briefing from DC and Metro officials about the numerous road closures and detours the pontiff's itinerary will cause throughout Washington. Driving, Dormsjo said, should be considered the transportation option of "last resort."
But officials conceded it will be difficult to keep as many people as they want off the roads. Francis's visit, from September 22-24, lands in the middle of the week, and overlaps with a three-game series between the Nationals and Baltimore Orioles and two Ed Sheeran concerts at the Verizon Center. Even without the pope's presence, those events would put additional stress on Washington's roads and public transportation.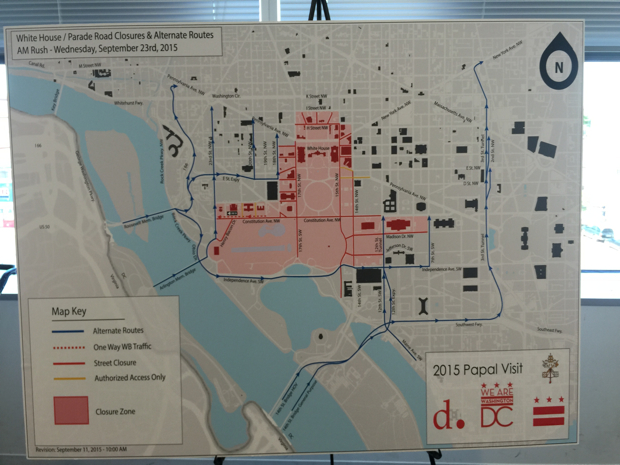 The pope's parade from the White House to St. Matthew's Cathedral on September 23 will likely cause the most traffic woes, with streets around the White House and National Mall blocked off to all forms of traffic. None of the bridges over the Potomac will be shut down, but Dormsjo said drivers from Virginia could face more than an extra hour on the roads if they try to head into the District. Instead, Dormsjo and other officials recommended people who normally work downtown try to find ways to work remotely or use public transit while the pope is here.
Just as officials at last Friday's briefing did, Dormsjo insisted public transportation will be the best option for everyone next week, even if they are not attending any of the papal events. But Metro will face severe restrictions, too, with dozens of bus routes impacted by detours and delays when Francis is out and about.
Metro's toughest challenge will come the afternoon of September 23, when Francis celebrates Mass at the Basilica of the National Shrine of the Immaculate Conception in Brookland. The neighborhood's Metro station is the Red Line's smallest, with room for about 5,000 passengers per hour. With 25,000 worshippers expected, Metro will make the Brookland station exit-only in the hours preceding the 3:30 PM service, and entrance-only afterward. The system will also push up the number of rail cars in service from the usual weekday fleet of 954 to 978, said Jack Requa, the acting general manager of the Washington Metropolitan Area Transit Authority.
Capital Bikeshare will also try to relieve some of the stress on the roads by setting up bike corrals—stations where an unlimited number of riders can park as system employees keep the docks clear—outside the security perimeters for Francis's White House visit, parade, and Mass. The DC streetcar will not be operational by the time Francis arrives.
As his visit is being handled like the combination of a presidential inauguration and state visit, Pope Francis is likely to travel around Washington only in his popemobile. But as Cardinal Jorge Mario Bergoglio, Francis often took city buses to get around Buenos Aires. While it's extremely unlikely the pope will use local public transportation next week, Requa said "we'll be ready," in case Francis wants to give Metro a try.