You expect a certain utilitarianism in design when you visit Northern Virginia's so-called ethnic restaurants. Most of these strip-mall spaces are blocky, the standard lighting cheap, and resources for recently arrived immigrants few.
Aldeerah explodes the convention. The new Saudi restaurant is a visual feast: hand-painted tables studded with gold rivets, sand-colored walls, and wide, colorfully upholstered chairs that afford diners a chance to lean back and relax like royals as the meal unspools.
For larger groups, there's an annex off the main room that conjures a Bedouin tent. You can sit on the floor and dine in leisurely splendor. The fact that most of the room is filled with expat Saudis—many of the women in full niqab—only adds to the sense of transport.
Prices, for our area, are low, but the quality of service is high, with a graceful efficiency that bespeaks a more lavish, expensive setting.
Though it isn't hard to find a range of expression in Middle Eastern cooking locally, Aldeerah is the only Saudi restaurant in Washington. The cooking focuses on the region of Najd, which includes the country's capital, Riyadh, and the culinarily well-traveled will find echoes of other, more widely represented cuisines in it. The Saudi version of kibbeh ($5.99), a staple throughout Lebanon, Syria, and Jordan, is a small bundle of seasoned ground beef fried and surrounded by smashed potato. Beleelah ($4.99)—perfectly cooked chickpeas in a hot broth seasoned with cumin and vinegar and topped with shredded carrots—feels faintly Moroccan. Like many dishes, it's beautifully and ceremoniously presented, arriving in a gorgeously patterned ceramic bowl. You're meant to lift the lid and make the discovery.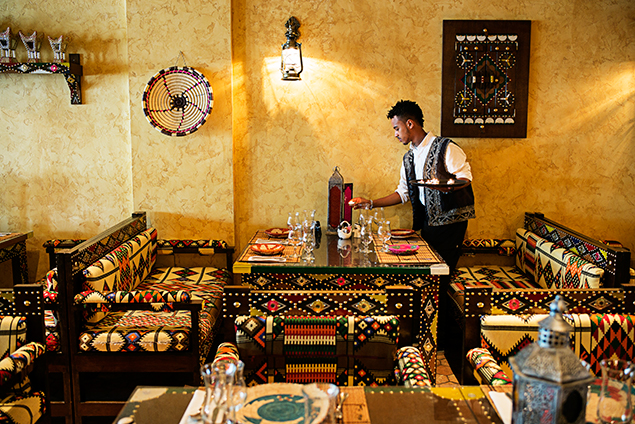 One of the most important bowls to grace the table is the smallest. The kitchen prepares its own sauces, one a tangy, spicy mixture the color of a postcard sunset. It's magic. A small dab in the chickpeas makes the flavors bloom and, as a kind of sauce for the lamb kabsa ($17.99)—a generous hunk of bone-in shoulder meat, cooked slowly in lamb broth and served with rice and fried onions—adds needed top notes to the bass-heavy dish.
Lamb, though not the only meat on the menu, accounts for some of the most interesting, rewarding main courses, such as a Thursday special ($19.99) in which boneless, marinated lamb is mixed with tomatoes, yogurt, and a cracked-wheat dish called jireesh, whose texture recalls risotto.
The cooking is, on the whole, more solid than stunning, with few plates that will make you pay closer attention—during one meal in the month of Ramadan, the highlight was a bowl of barely wrinkled dates, twice as plump as those you'd find in the grocery stores. But Aldeerah still qualifies as memorable, a reminder of what a richly evocative setting, kind and attentive service, and good, homey cooking can do.
This article appears in our September 2015 issue of Washingtonian.
---