Metro's average weekday rail ridership plummeted by nearly 40,000 passengers between 2010 and 2014, forcing the transit system to rely more than ever on fare increases to keep its revenue up, according to a report that will be introduced at a board meeting Thursday. The report offers a grim prognosis for the immediate future, with more customer-service complaints and economic pressures expected to continue challenging the troubled agency.
"The primary non-subsidy source of WMATA operating revenue is Metrorail passenger fares," the report reads. "However, after a long period (from the mid-1990s to 2009) of consistent growth in rail ridership and revenue, Metrorail ridership has declined over the past few years, and *revenue has grown only as a result of regular fare increases."
With ridership decreasing, passenger gripes seemingly constant, and potentially more fare hikes coming, Metro might finally be tumbling down the "death spiral" predicted in 2004 by its then general manager, Richard A. White.
Rail ridership peaked in 2010 at more than 740,000 passengers per weekday, but fell to just above 700,000 in the 2015 fiscal year. The report attributes the dropoff to several factors, especially a shrinking federal payroll, an increase in the number of government employees working remotely, and cuts to the federal transit benefit that resulted in federal workers receiving reimbursements for parking that are nearly twice what they would receive from using public transportation.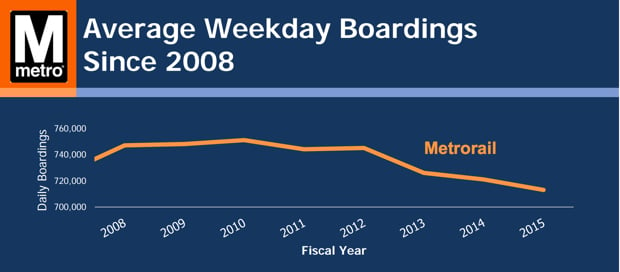 But a string of mechanical breakdowns as the system nears its 40th anniversary are also keeping more riders away, especially a fatal smoke incident aboard a Yellow Line train in January, the derailment of an empty Blue Line train in August, and, most recently, an electrical fire at the Stadium-Armory station that knocked out nine-megawatt transformer. Metro says repairs from that incident will take six months, during which Blue, Orange, and Silver line trains will run more slowly, while the Orange and Silver lines skip Stadium-Armory during rush hours.
Few trains are running on time, the report concedes.
"Rail On-Time Performance, which measures how evenly-spaced the trains are, has been consistently below target, particularly since the opening of the Silver Line," it reads. "Riders are experiencing more unpredictable travel times, and must budget more time to reach their destination."
Many residents have responded to Metro's string of breakdowns and delays by abandoning the system entirely. "Metro means that I have no reliability of getting to work on time," one former rider told WAMU last week.
The revenue report actually has a lot of blame to distribute. One section attempts to attribute some of the ridership decline to increased reliance on non-rail modes of transportation, especially cycling, which has the potential to cut in significantly to the number of Metro rides shorter than seven miles. This seems like a bit of a reach—while biking to work is increasingly popular, it still only represents 3.1 percent of DC's commuters, according to the US Census Bureau. The report also states that residents of new developments around Metro stations—what planners call "transit-oriented developments"—are actually taking fewer trips overall.
With system breakdowns, reduced financial incentives to ride, a shrinking federal workforce, and people trading in their fare cards for bike locks, Metro may have no choice but to goose its revenue by raising fares again. The system has undertaken five fare hikes since June 2004, resulting in a 59 percent increase in the base fare from $1.35 to $2.15 effective last July.
According to the report, Metro's staff is trying to find ways to bolstering revenue without another fare hike, including a "University Pass" that will offer unlimited rides to local college students and increased advertising rates. But with more people feeling uncertain toward the transit agency, packing the trains with college students might not be the fix Metro is angling for. The Washington Metropolitan Area Transit Authority, which has been without a permanent general manager since January, also faces stiff cuts to its federal funding, with House Republicans angling to slash the government's contribution by $50 million.
All the conditions of White's doomsaying appear to be happening. "It's reliability falling, ridership loss, road congestion increasing and air quality decreasing," he told the Washington Post when he predicted the death spiral.