There are reasons the name Rob Weland won't ring a bell for most restaurant-goers. Most of them have to do with Weland himself.
Reticent and self-effacing, the chef has never published a cookbook, never pursued a TV show, never sought to manage a portfolio of restaurants. The fact that he has a publicist seems to make him genuinely uncomfortable: a reminder that a chef must also be a businessman. He is happiest in his kitchen, inspecting plates at the pass, or strolling a farmers market for fresh produce. He speaks softly, with humility, and is quick to deflect credit to others around him. He has no tattoos.
All of this has left him not only woefully out of step with his camera-preening brethren, a throwback to an age when chefs were head-down pros who adhered to an aesthetic at odds with self-aggrandizement in or out of the kitchen. It also has left him without the recognition he has earned.
His new place, Garrison, ought to go some ways toward changing that, though Weland seems determined to recede into the background as much as possible. The chef puts his suppliers and their bounties front and center, and—rare even for a farm-to-table operation—these preparations have something almost sacramental about them, as if each dish has been constructed as an offering to the god who created the land that grew them. The cooking is careful, meticulous, often exquisitely rendered, and in an age when so many menus read like mixtapes—eclectic and un-unified—the thematic coherence here is remarkable. It extends from the cooked-to-order poppy-seed gougères to the desserts, among them a selection of stone fruits baked in parchment that puts you in mind of the kind of tossed-off-but-not-so-simple thing Martha Stewart might serve at a dinner party in East Hampton. There are a few plates of the buttonhole variety—as in buttonholing your friends and pressing a taste upon them—but the vast majority will leave you impressed by the chef's ability to coax so much taste out of so few elements.
Garrison arrives four years after Weland left a high-profile perch at Poste in Penn Quarter and two years after he left Cork, the cozy, charming wine bar on 14th Street, to become his own boss. He took his time looking for the right circumstance under which to return to the scene. That right circumstance was an operation he could own and run, employing the principles he'd honed over 2½ decades in the kitchen. This is Weland in a nutshell: patient, stubborn, independent, willing to sacrifice immediate gain for the long-term health of his career.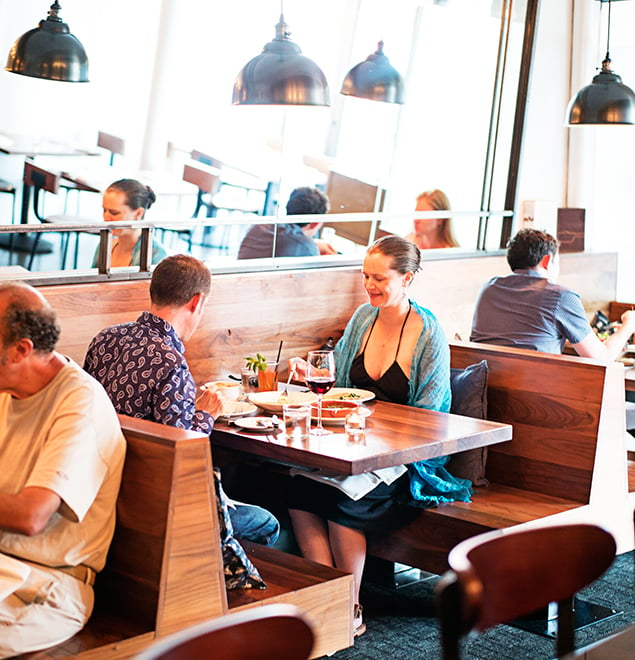 Perhaps because of his years away from the scene, or perhaps also because Weland has always heeded his own dictates, Garrison feels different from other, similar restaurants. The shotgun space is minimalist in tones of white and brown, but not industrial or shabby chic, and you're more likely to hear '80s-era Sting on the sound system than alt rock or trip-hop. The staff, though a touch stiff at times, isn't overly familiar in its interactions, and no one is got up in jeans and T-shirts. The space isn't highly buffered, but you can hear the person across from you talk. There's not a single small plate to be found. If this is commentary, and I think it is, it's pointedly unassuming.
The past few years have witnessed an explosion of high-end Asian restaurants, with their bright, pinging flavors, along with the ascension of a generation of bro chefs who have brought to the scene a strutting confidence, a love of big, bold flavors, and a restlessly eclectic approach at the stove. In that context, Weland's cooking can come across as almost too modest for prime time. Until you take your first bite. To anyone but a foodie, a dish of radishes as a nightly special sounds underwhelming and a little odd. But the sharpness of those radishes sings of the farm, and the richness of the butter accompanying them is one of those small marvels of artisanal craftsmanship. In summer, a lot of restaurants were playing around with combinations of burrata and heirloom tomatoes; Weland's cheese was somehow creamier, his tomatoes riper and sweeter.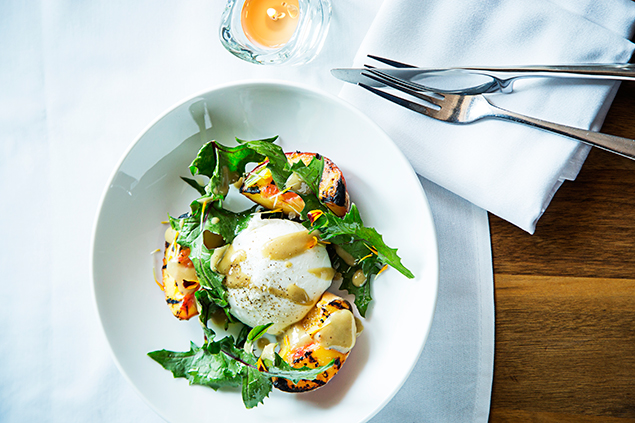 He has always been fanatical about sourcing—at Poste, Weland was among the first chefs in the city to create his own restaurant garden—but never before have vegetables been such a point of emphasis. An entire section of the menu is devoted to them, and you have only to taste a couple of these dishes to know the chef isn't simply pandering to changing times. The most virtuosic and maybe most rewarding is quintessentially Weland in its subtle reveal: a plate of slow-roasted baby eggplants (the treatment mellows their bitter bite without reducing them to mush) that sacrifices prettiness for the unfolding surprise of its flavors: the tang of yogurt, the acidity of tomato, the funkier acidity of lime pickle, the spreading warmth of toasted cumin, the floral fragrance of dill.
It's exciting to see an accomplished chef extending his range like this. (There's also an Indian-accented preparation of Arctic char.) But just as impressive as the care and thought in the cooking is that he's able to integrate them into his approach without coming across as dabbling. Weland has always had a gift for pasta, and though he offers just two kinds here (a tortellini and a ravioli), they alone are worth coming for. Some chefs like to take their pasta in the direction of the ethereal, a rich taste that vanishes almost on contact with the tongue. Weland isn't one of those. The egg-rich wrappers are as thin as tape, but each bite is so satisfying, so intensely flavorful, you may feel as though you've eaten something more substantive than a small plate of pasta.
Portions, generally, are more judicious than generous, edging the restaurant at times toward a preciousness I don't think it's trying to cultivate. And some plates require a foodie sensibility to appreciate. A preparation of duck felt stinting until I realized, more than halfway through, that what Weland is going for is a dish in which the putative star is part of an ensemble and that you're meant to savor the way the peaches (one grilled, one pickled) and braised fennel play sweet, sharp, and slightly bitter notes against the meat's rich, round tones. Similarly, the bison hanger steak is just as much a showcase for its superlative tomatoes and thick slab of good blue cheese as for the meat itself.
Of the main courses, the most fully realized is an oldie, reprised from Weland's days at Poste: a filet of hake, seared to a light crust outside and an almost pearlescent translucence inside, perched atop mashed potatoes blended, in the Irish manner, with scallions and capers, alongside a red-wine-poached egg that, when pierced, supplies the sauce. This is the kind of deeply pleasurable bistro cooking that sends thousands of Americans to Paris every year.
With any luck, it also will send thousands of Washingtonians to Garrison, to discover (and rediscover) the talents of a chef who, if he had his way, would really rather you didn't make such a big fuss.
This article appears in our October 2015 issue of Washingtonian.
---