4000 Wilson Blvd., Arlington (entrance on N. Quincy St.); 703-312-0200
Is there a more perfect bar snack than a plate of nachos? Never mind that at many sports bars you'd likely say, "Uh, definitely." Here, at Mike Isabella's Ballston cocktail lounge/cantina, the answer is no. His just-sloppy-enough rendition layers freshly fried chips with pickled jalapeños, avocado, creamy refried beans, and a mix of cheeses. It's filling, but you'll want to supplement it with an order of Mexican corn, rolled in spicy mayo and crumbly cotija cheese, plus a taco or two (the cauliflower and smoked-pork versions best the too-spicy goat) or a hefty lamb sandwich.
You'll need a few dishes like those once you start traversing the cocktail menu, the most ambitious part of the whole place. The 50-plus drinks include classics (mai tais, vespers), frozen cocktails (a wonderful watermelon-and-mezcal concoction), shareable punches, and margaritas in skull-shaped pitchers. Still, while Pepita is a cocktail bar in spirit, the appeal of the snacks goes well beyond just stomach-padding. Inexpensive.
931 Ellsworth Dr., Silver Spring; 301-588-9400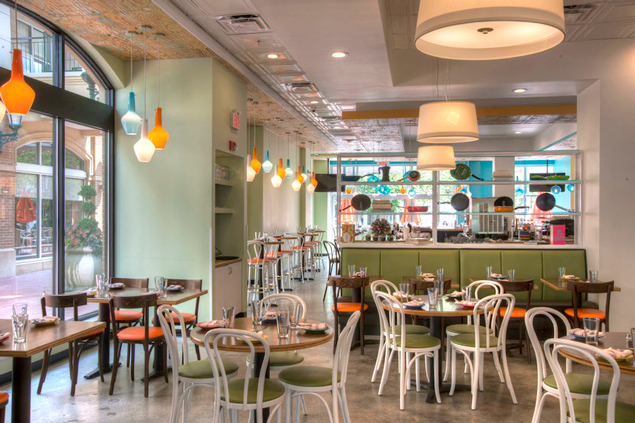 What's not to like about a place that's colorful and cheery, is lively during prime time, and sends out a good, juicy burger? Unfortunately, the list is long at this downtown Silver Spring offshoot of TV chef Alex Garcia's AG Kitchen in New York, a Latin American American restaurant. No, that's not a typo; Garcia brings us a glimpse of the way Latinos in America eat—tacos, paella, and arepas one day, burgers and hot dogs the next. Neat idea, but the service is Jekyll-and-Hyde from visit to visit, even within visits: one moment careless and even clueless (few servers seem to know the menu very well), the other overattentive and needlessly solicitous.
The attractive plating is testament to the notion that we eat with our eyes, but it belies cooking that doesn't mind the details often enough—at times slipshod (dishes oversalted and undersalted), at times bland (pork tacos), at times sweet where it shouldn't be (guacamole). The paella is a showpiece, or would be if the quality of the fish and seafood were up to the level of presentation. Moderate.
7940 Norfolk Ave., Bethesda; 301-312-8282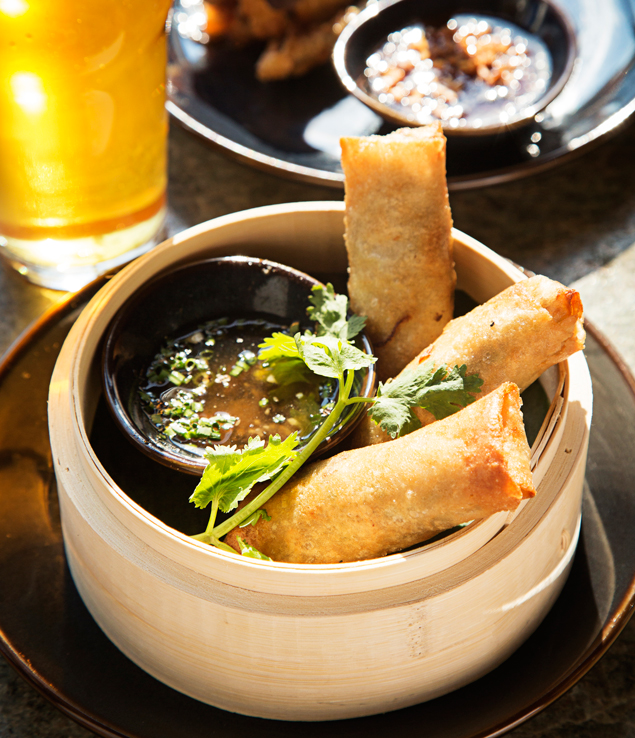 Despite its cosmopolitan name, Urban Heights aims to channel an island oasis in downtown Bethesda. A faux-bamboo elevator transports diners to the restaurant's two floors, both of them outfitted with outdoor spaces—dining patios below, a roof deck above—where guests can sip tiki drinks while browsing Cliff Wharton's Asian-fusion menu. Restaurateur Robert Wiedmaier of Marcel's and Brasserie Beck tapped the former TenPenh chef to head his 11th venture, and he encouraged Wharton to explore his Filipino heritage. The resulting lumpia—crisp rolls stuffed with beef, shrimp, and water chestnuts—start the meal on a high note, especially when paired with a cocktail made from jalapeño tequila and guava.
Not every choice proves as rewarding, particularly when East meets West with wasabi as its ambassador. The Japanese horseradish infuses shrimp and grits, mashed potatoes with hoisin-glazed salmon (hello, 1990), and a sour-cream topping for tuna rolls, imparting to all a ghoulish green hue with only a hint of spicy kick. The best approach here: home in on sashimi and tartares from the "tuna bar" and forgo lackluster entrées in favor of small plates, including lamb pot stickers and wok-seared Brussels sprouts. Moderate.
This article appears in the October 2015 issue of Washingtonian.