THURSDAY, OCTOBER 8
ART: The video art installation "Question Bridge: Black Males" opens at the Phillips Collection and runs through January 3. For the compelling documentary-style exhibit, a group of artists spent about 20 years collecting responses from more than a thousand participants, all in the hopes of redefining what it means to be a black man in America. $10 to $12, 10 AM.
MEDITATION: Get your Zen on with a free meditation session at the Freer and Sackler Galleries. The museum offers 30-minute drop-in sessions for meditators of all levels. It's just enough time to head back to work feeling refreshed–and you might even get to check out some art. 12:15 PM.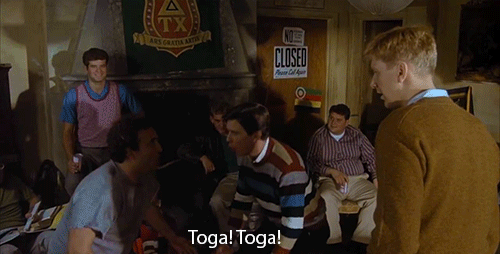 FRIDAY, OCTOBER 9
FILM: E Street Cinema will show Animal House as their midnight movie on Friday night. By the end, you'll either want to join the Delta fraternity or Dean Wormer's attempt to ban it. Popcorn and other concessions will be available for purchase, but it's definitely BYOT–bring your own toga. $12, 11:59 PM.
PERFORMANCE: All are welcome to Church Night at the Black Cat. The event features comedy by locals Andrew Bucket and Ruth Rasby, burlesque by Cherie Nuit, and music by BRNDA. $12, 9 PM.
SATURDAY, OCTOBER 10
BOATS: DC housing prices got you down? Other options exist, and they're on the Southwest waterfront. Tour the houseboats at Gangplank Marina, the largest liveaboard community on the coast, with boats ranging from luxury liners to cruisers. $20, 10 AM.
FOOD: Eat and drink your way through Taste of DC. Come hungry: The event features more than 70 restaurants, food trucks, and caterers, 50 different beers, more than 100 wines, and even a Ben's Chili Bowl Chili Eating Championship. $20 to $40, 12 PM.
ART: Spend the day touring art galleries and museums throughout DC without doing too much walking. Do The Loop is a free shuttle bus that'll take participants to venues around town, including the American University Museum, the Kreeger Museum, Neptune Fine Art, and Washington Printmakers. Free, 11 AM.
MUSIC: Head to Union Market for the All Things Go Fall Classic dance party, featuring Norwegian DJ Kygo and his unique genre of "tropical house," as well as the Knocks, who collaborated with fellow attendee Powers on the super catchy track "Classic." All that moving around will probably work up an appetite, which is exactly where local eats such as Takorean, Maketto, and Buredo step in. $60, 12 PM.
SUNDAY, OCTOBER 11
BEER: Instead of drinking beer, why not learn about it? The Culinary Historians of Washington DC present author, historian, and tour guide Garrett Peck at the Bethesda/Chevy Chase Regional Services Center. Peck, who successfully helped lobby to make the Rickey DC's official cocktail, offers a rundown on the city's history of beer and brewing. Free, 2:30 PM.
MUSIC: Memphis band Lucero has been cultivating their seamless mix of alternative rock and country since 1998. The band is a mainstay in the genre, and on their 12th studio album they've still found a way to evolve. All A Man Should Do features a cover of Big Star's "I'm in Love With a Girl" featuring Jody Stephens. Catch them at the 9:30 Club. $25, 7 PM.