Cold, leftover pizza has its fans, but not everyone loves a chilled slice—or worse, day-old pizza zapped in the microwave.
Not to worry—we've found ways of breathing life into leftovers by using yesterday's pizza in today's meal. Get ready for pizza lasagna, pizza croutons, and other no-fuss, no-waste options for your table.
Pizza Lasagna
Lasagna is a great way to use leftover pizza. This recipe from Cookin' With Super Pickle alternates thin slices with ricotta, parmesan, and mozzarella cheeses. Consider assembling your creation the night before, and pop in the oven for 30 minutes when you get home. Bulk it up by adding a layer or two of thawed spinach, some red pepper flakes, and your favorite leftover veggies.
Pizza Croutons
Feeling lazy? Pick up a pint of your favorite tomato soup, heat, and top with these crunchy pizza croutons. Constructing them is a breeze—just sandwich two pieces of pizza together, chop into bite-sized pieces, and toast in a 350-degree oven for 10 minutes. Let them cool before tossing the wedges into soup or over salad.
Pizza Salad
Here's a super easy week day meal for those watching waistlines: pizza salad. Toss lettuce, tomatoes, and onions into a bowl, lightly dress with your favorite salad dressing—ranch is a favorite splurge, otherwise balsamic will do—and top with toasted pizza squares, which add a delightful crunch and chew. This quick meal is very forgiving—just throw whatever lettuce and veggies you happen to have in the fridge into a bowl for a quick and (comparatively) healthy meal. No recipe is required, but if you'd prefer to work from the book, Refinery 29 has some great ideas.
Pizza Panini (or "pizzanini")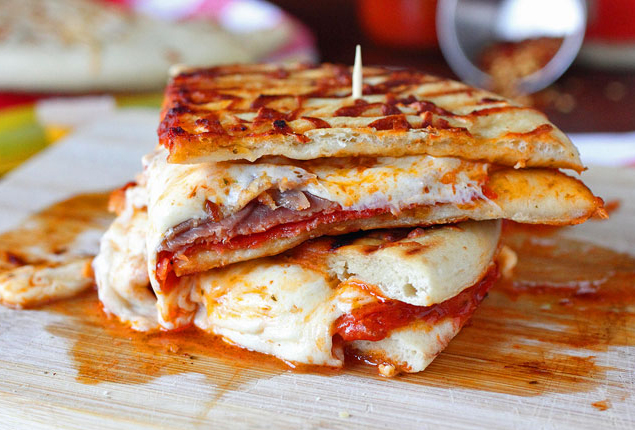 Pizza paninis, or "pizzaninis," are an obvious choice for leftover slices. Whereas a microwave results in a rubbery mess, a panini press or skillet will breathe life–and wonderfully crispy edges–back into the meal. Make your own by sandwiching any desired fillings (fresh tomatoes, lots of spinach, and mozza' please!) between two slices of pizza, and pop into a panini press or hot cast iron skillet. Toast both sides to your desired level of crunch and voila—pizzaninis! If presentation is your thing, or you want something fun to cook with the kids, take a page out of Brown Sugar's book and fold the bottom tip of one pizza slice up to the upper right edge (where the crust begins). Trim off the unsightly remainder along the folded edge, and toast in the panini press. Also, take a look at Serious Eat's step-by-step instructions for a great visual guide.
Pizza Potato Cakes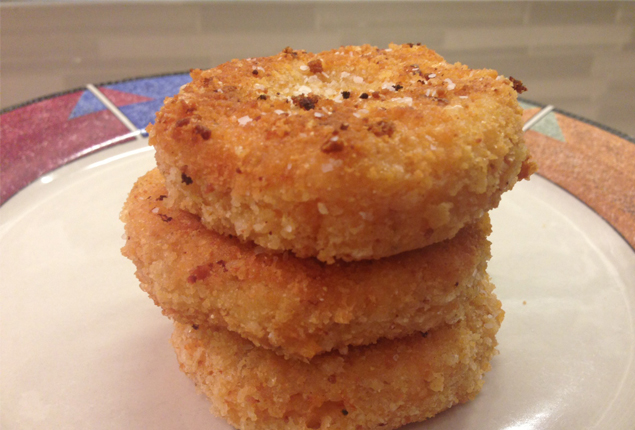 For the more adventurous chef, Mathew Guiver of Veg With An Edge has invented a clever way to repurpose leftover pizza. Each part of the pizza is deconstructed, and then reassmbled into something completely new. Crusts are transformed into bread crumb coating, toppings are added to a potato filling, and the whole thing is fried into a crispy and savory potato cake. Make sure you have time for this one, as the process takes well over an hour.