Often with urban legends, there's the story and there's the truth. That's what makes the tale of Fairfax County's Bunny Man so eerie, so bizarre and so downright creepy. While there are several variations of the urban legend splashed across the furthest reaches of the Internet, the true story of the Bunny Man may actually be even weirder. "A creepy guy, on Halloween, dressed oddly, throwing hatchets at people…it's just too bizarre to possibly be true," says Fairfax County Archivist Brian Conley, "But it is."
For four decades, the legend of the Bunny Man has captivated Northern Virginia fear-seekers. Conley first heard the tale when he was an area youngster in the 1970s. It showed up in a 1973 University of Maryland undergrad's class paper. It has been told and retold by local teens for years. While the legend has evolved and changed through the years, it follows these lines: In the early 20th century, deep in the woods that divided the town of Clifton from Fairfax Station, there was an asylum for the insane. At some point, the asylum closed and the residents were piled into a bus bound for Lorton Prison. On the way there, the bus swerved and crashed. Many of the convicts escaped, but were caught–save one, Douglas Grifon. While searching for him, authorities found a trail of half-eaten, gutted bunnies with many hanging from what was then-called Fairfax Station Bridge. For months, the police searched for Grifon, but he was never found. Then, on Halloween night, several teens were hanging out under the bridge. At the stroke of midnight, they were attacked. The next morning, they were found hanging from the bridge, gutted like bunnies. To this day, it's said that if you are at Bunny Man Bridge at midnight on Halloween night, you too will meet the fate of those teens and rabbits.
"It is a helluva good piece of creative writing," Conley says about what he thinks is the most widely known version of the story—an account that follows this narrative from "Timothy Forbes" on castleofspirits.com. He specifically cites historical inaccuracies for why the account is false–like that Lorton Prison wasn't open until 1916, there's no Fairfax court record of Douglas Grifon and the "old Clifton Library" (where the article's author tells skeptics evidence exists) never even existed.
A constant trickle of Bunny Man questions re-engaged Conley's interest in the story. "I got tired of saying I don't know," he explains. It took nearly a decade of research, but in 2002, he published what has to be considered the foremost paper on the subject. What he discovered is that the real story is even more bizarre than the legend.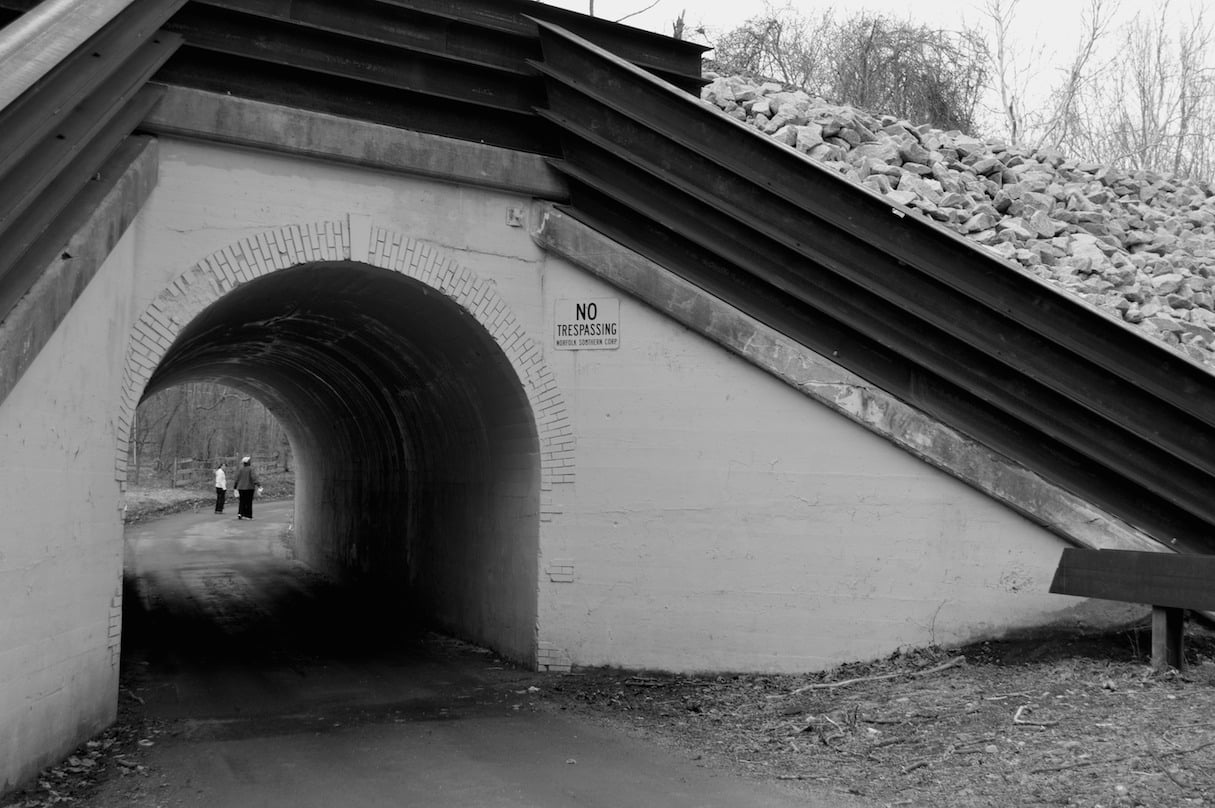 On October 18, 1970, the Washington Post reported that Air Force Academy cadet Robert Bennett and his fiancée were sitting in a car on the 5400 block of Guinea Road in Fairfax around midnight near Bennett's uncle's house when "a man dressed in a white suit with long bunny ears appeared." He yelled at the couple that they were on private property and he had their tag number. Then, he threw a wood-handled hatchet through the front car window. Luckily, neither of them was hurt.
Two weeks later, the Bunny Man showed up again about a block away from his original sighting, according to a October 31 Washington Post article. Private security guard Paul Phillips spotted the man-beast on the front porch of a new, but unoccupied house. He was holding an ax. In the piece, Phillips recounted what happened next: "I started talking to him and that's when he started chopping." Taking several swings at a pole on the porch, he threatened Phillips, "All you people trespass around here. If you don't get out of here, I'm going to bust you on the head."
Conley continued to dig. He tracked down the police and investigation reports that confirmed that the Fairfax County police looked for a male in his late teens or early 20s dressed as a bunny. But the police were unable to turn up anything conclusive, writing, "After a very extensive investigation into this and all other cases of this same nature, it is still unsubstantiated as to whether or not there really is a white rabbit." The police deemed the case inactive.
Conley was also able to track down the still-married couple that had the hatchet thrown at them. While they didn't particularly want to talk about the 45-year-old incident, they did confirm it happened. They shared vivid details, Conley says, as did the aunt who helped them after the incident. "She remembered very clearly combing glass from the shattered glass window out of this girl's hair," says Conley.
To this day, no one knows who the Bunny Man was or what motivated him. Conley knows that any theory he has is pure speculation, but he thinks it could be related to an elderly man–a "curmudgeon," says Conley—who owned the property that the couple was supposedly trespassing on. Although the man had died a year or two earlier, maybe a younger family member took up his cause. Perhaps it was just a person who didn't like the development in the region going on at that time. Additionally, if the Bunny Man was in his early 20s in 1970, then he likely would still be alive today, "unless he got careless with his hatchet," jokes Conley. As of this writing, no one has come forward and admitted to being the notorious Bunny Man.
Today, the story of the Bunny Man has overtaken the actual truth. There was no murder, no asylum for the insane, and not even a bridge. Conley thinks the Fairfax Station Bridge, which Google Maps now even calls Bunny Man Bridge, was nothing more than a a nearby local teen party spot and a creepy-looking (and potentially dangerous) bridge that got incorporated into the story. Even the town of Clifton has fully embraced the legend with T-shirts and a haunted Halloween attraction.
While the legend may be more horrific, frightening and blood curdling, the truth is just as bizarre. "If there was ever a story that was really ripe to grow and get a little bit strange, it has to be the Bunny Man," says Conley, "It's our own homegrown urban legend."