Inside or outside? Both can offer winning paths. Scott Wilfong, recently retired CEO of SunTrust Bank's regional division, and Pepco head Joe Rigby earned their laurels in increasingly powerful positions within established companies. Seth Goldman and Sheila Johnson succeeded by creating their own businesses. John Toups did a bit of both: After his California engineering company was acquired by PRC, Toups moved east and up the corporate ladder.
All five inductees to the Washington Business Hall of Fame show that success in business depends as much on the initiative and imagination of the achiever as on the road taken.
Twenty-seven years ago, Washingtonian, the Greater Washington Board of Trade, and Junior Achievement of Greater Washington created the Washington Business Hall of Fame. The dinner and awards ceremony benefit Junior Achievement, whose programs teach entrepreneurship and financial literacy to local children. Last year, the organization sent 4,577 volunteers to work with 55,154 kids in 211 area schools and afterschool sites.
For more information about the dinner, contact Nora Wheeler at 202-777-4485.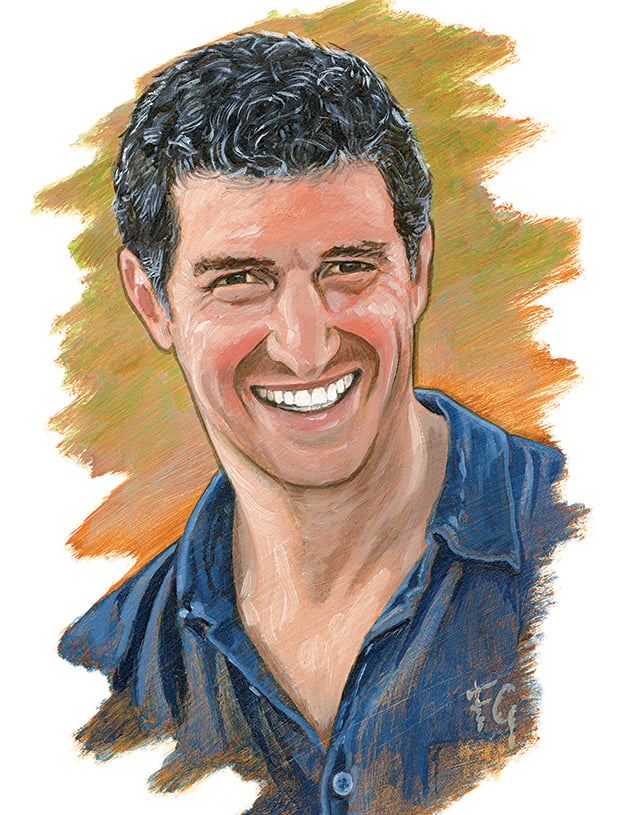 Seth Goldman
Seth Goldman brewed the first Honest Tea in his Bethesda kitchen after teaming with his Yale business-school professor Barry Nalebuff. Goldman saw the need for a drink that wasn't as sweet as the flavored beverages on the market—and also recognized a chance to brew organic iced tea using ingredients from needy communities.
Honest Tea went on sale in a few Fresh Fields stores—now Whole Foods—in 1998. Ten years later, Coke acquired 40 percent of the company for $43 million; in 2011, it bought most of the rest. However, Goldman still runs Honest Tea as a standalone business.
Sales of the bottled drinks totaled $112 million in 2013 and $134 million in 2014. Honest Teas are sold in more than 100,000 outlets around the country—including, as of May, 6,000 Wendy's restaurants.
That growth has enabled the company to expand its investment in small farms in remote places. For example, it supports farmers in rural India who grow organic tulsi, or "holy basil," and has installed drying huts to increase the farmers' profits from the crop.
What advice does Goldman give would-be entrepreneurs? "Start something you believe in and, if you do it well, you can have a positive impact on the world and on yourself."
Sheila Johnson
When Sheila Johnson cofounded Black Entertainment Television with then husband Bob Johnson in 1980, she didn't give up her day job—for the first year, she kept teaching violin to support the family. "You can't say, 'I can't do this,' " she explains. "You have to find another way."
Viacom purchased BET in 2001. After the Johnsons' 2002 divorce, Sheila became an entrepreneur in her own right, buying 340 acres in Middleburg to create the luxe Salamander Resort & Spa. (Salamander Hotels & Resorts also owns several Florida properties.) Meanwhile, she bought into three Washington sports franchises—the Wizards, Capitals, and Mystics. The chance to inspire women in a field dominated by white men was irresistible, she says. Johnson has become a film-industry angel as well, backing works about underserved communities, among them The Other City, a 2010 documentary about AIDS in DC. She was also an executive producer of Lee Daniels' The Butler.
She's committed to passing on her commitment: The Sheila C. Johnson Leadership Fellowship, created with a $5-million gift, provides tuition, health-care coverage, and a stipend for two years' work on a master's degree at Harvard's Kennedy School. Another $5 million established the Center for Human Services at UVA's Curry School of Education. Johnson acknowledges she had an advantage many young people lack: "My mother never told me there was anything I couldn't do."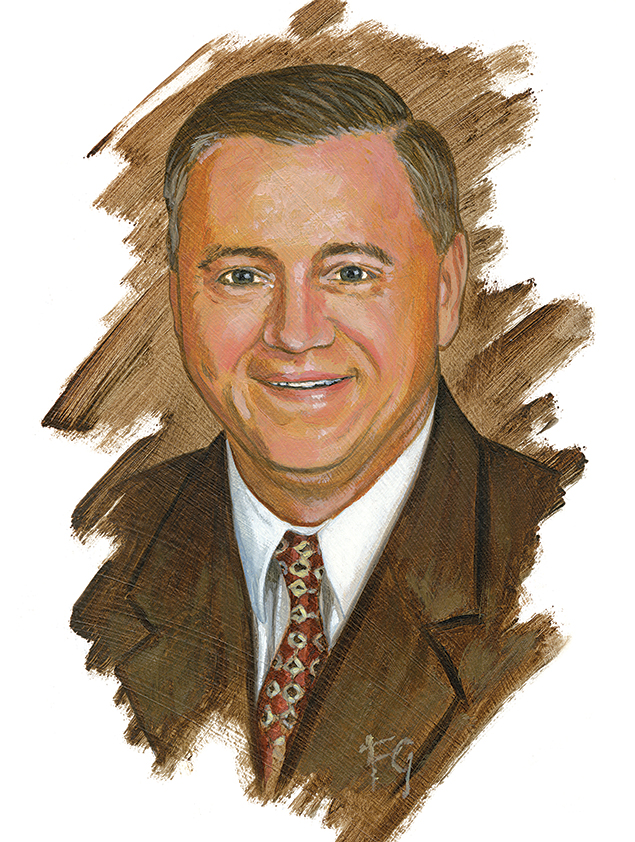 Joseph M. Rigby
Pepco's Joe Rigby admits he was head of America's most hated company after a June 2012 storm, called a derecho, knocked down power lines across Washington and left a million residents sweltering in the dark. "You guys do what you have to do," Rigby told staff. "I'll take the shots, and we'll get through this." He was confident that plans for Pepco upgrades, already in the works, would help restore faith in the power company. When Hurricane Sandy hit that October, Pepco was ready. "Sandy was the storm we needed to prove our system was improved," he says.
Rigby, the CEO of Pepco Holdings, started his career as an accountant with New Jersey's Atlantic City Electric in 1979. For more than 12 years, he worked primarily in finance. In 1998, Atlantic City Electric merged with Delmarva Power to form Conectiv; Pepco acquired it in 2002. A leader on the merger transition team, Rigby moved from managing numbers to managing people, overseeing a major company reconfiguration. As senior VP of Pepco from 2004 to 2007 and president starting in 2008, he learned that people were the key to good business: "Getting people dedicated to change and growth is more important than keeping the turbines spinning."
Rigby—who has chaired the Greater Washington Board of Trade and the United Way of the National Capital Area—plans to retire in the next year or so. A proposed merger of Pepco with Chicago's Exelon Corporation is pending. "The best part of my tenure has been working with the 5,000 Pepco employees," Rigby says. "They are the ones who really do the work."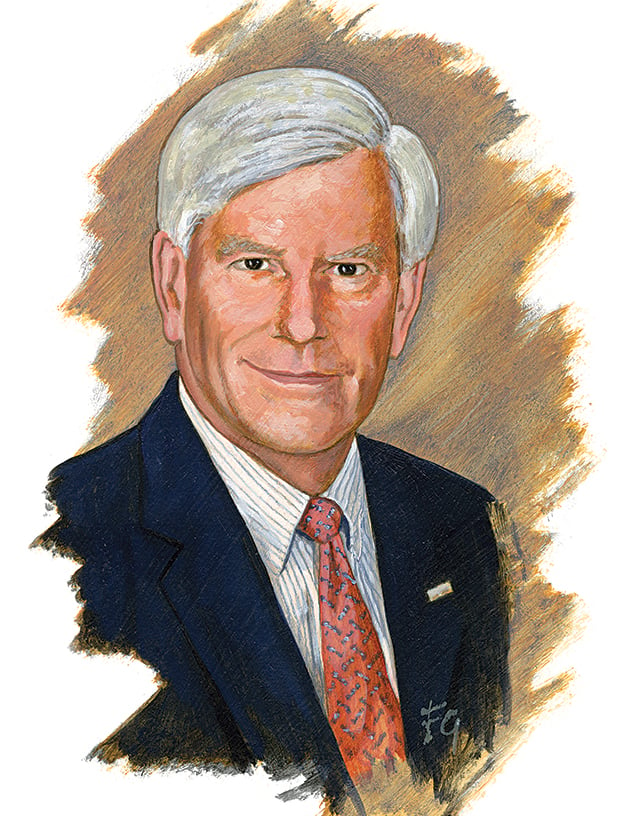 J. Scott Wilfong
Banking has changed dramatically since 1972, when Scott Wilfong started with the Equitable Trust Company in Baltimore. But Wilfong—who retired as CEO of SunTrust's Greater Washington/Maryland division this year—retained his local focus despite industry consolidation.
"I started my management training when Baltimore had strong regional banks," Wilfong recalls. After Richmond's Crestar Bank became his employer, "I told them local mattered and that a knowledge base of the community and the drivers of the economy was important." He worked for several area banks and spent five years with SunTrust in Atlanta before earning its top regional job here ten years ago. All told, he was with the bank and its predecessors for 18 years.
Wilfong has been a philanthropic as well as business leader, working for Catholic Charities and his alma mater, Mount St. Mary's University, among others. In retirement, he plans to devote more time to Living Classrooms, an educational-enrichment program based in Baltimore, and other efforts to empower kids in the District's Wards 7 and 8.
The economies of Washington and Baltimore are synergistic, says the Charm City native who has spent so much of his career around the two places. However, he recognizes the differences. For one thing, he notes, "in Baltimore they tell you what high school they attended; in DC they tell you where they went to grad school."
John Toups
When John Toups moved Planning Research Company (PRC) from DC to Tysons in 1980, the IT and engineering company was among the first firms to settle in what the business community considered the hinterlands. In the '80s, Toups was a founding member of the 123 Club, created to promote economic growth in Northern Virginia and support George Mason University.
Toups demonstrated visionary leadership early on. As a civil engineer in California in the '50s, he developed a process for pumping treated sewage water underground to raise the water table and keep seawater from invading the coastline; it's still in use today. He left local government in 1958 to start his own firm. In 1970, Toups Engineering was sold to PRC, and three years later he became head of its engineering companies. By 1976, the PRC board had lost confidence in the leadership and summoned Toups to a private meeting about the company's future; the next day, he became president. (He was appointed CEO in 1978.) PRC was sold to Emhart Corporation, and he retired in 1987. The company eventually became part of Northrop Grumman.
An early supporter of Inova Health, Toups helped it grow into a five-hospital and research-center system. He has donated to Northern Virginia Family Service and to Camp Agape, a program sponsored by the Episcopal Diocese of Easton, Maryland, for children with incarcerated parents.
"If somebody comes to see you, never say no," he advises. "Say back to them what they've said to you to show that you've understood. People need to be heard."
Lifestyle editor Leslie Milk can be reached at lmilk@washingtonian.com.
This article appears in our November 2015 issue of Washingtonian.