At his restaurants in Louisville, chef Edward Lee has gathered critical accolades—and four James Beard nominations for best chef in the Southeast—for his interpretation of Southern food. Which is to say Southern food as refracted through the prismatic lens of a Korean-American who grew up in Brooklyn. Lee's restaurants there are small and intensely personal, with hard-edged, stripped-down interiors and menus that are at turns rib-sticking (pork burgers on pretzel buns) and daring (charcuterie salad with shaved foie gras, grapes, and black-radish "bottarga").
What they're not much like is Succotash, the 200-seat dining room in National Harbor that's Lee's first foray outside of Kentucky and his first team-up with a separate restaurant group—Knead Hospitality—which approached him about the space.
Here, the Southern-gothic interior is practically dripping with curls of wrought iron, Edison bulbs, and oversize sconces. The centerpiece of the dining room is a giant sculpture of a horse, made from old Steinway piano parts (take that, reclaimed wood!). The result is gaudy and theatrical—it wouldn't be out of place in the Magic Kingdom.
The menu—created by Lee and executed by his deputy, Lisa Odom—leans heavily on the repertoire of the Deep South, and Korean ingredients show up only sparingly. There are collards with kimchee, but the dish just tastes like a really good, tangy bowl of long-simmered greens, without much trace of fermented cabbage. Gochujang—the fermented red-pepper paste that has knocked Sriracha off its throne as the "it" condiment—gives a subtle kick to a skillet of gooey pimiento cheese (tasty in spite of its oiliness) and to the honey that gilds pieces of terrific "dirty" fried chicken (it bests the glaze-free version that accompanies a pair of stiff waffles).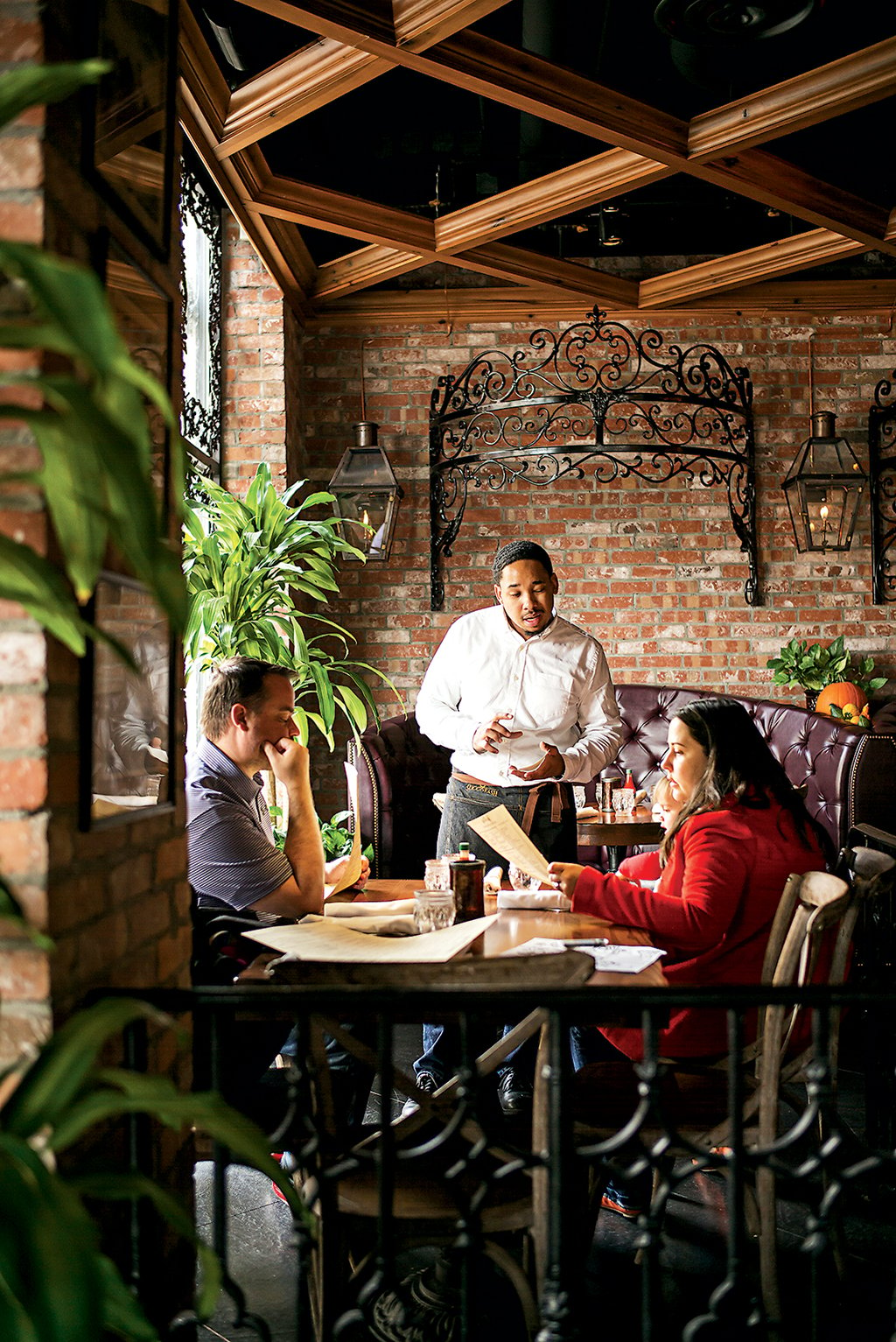 But many plates succumb to a flat-tasting over-richness, with nothing to offset it. A bowl of shrimp and grits had fine ingredients—fat shrimp, nicely cooked grits—but was doused in a sauce that managed to be watery, buttery, and bland all at the same time. The smoked wings that servers tout as Lee's signature arrived salty, scrawny, and dry, with an unenthusiastic zigzag of mayo-based white barbecue sauce. A skillet of thin trout filets came slathered in flavorless pecan butter and sided with lackluster roasted grapes. If fish is what you're in the mood for, a plate of airily fried blue catfish—which tastes cleaner and fresher than standard catfish—is far better, especially with its charred lemons and jalapeño-mint aïoli.
The dish I found myself reaching for time after time was a simple side of watermelon with fried peanuts. It wasn't that the pairing was all that special; it was that the fruit was the only refreshing thing on the table. Lest you think the drinks might perform that function, too, beware: Of the four whiskey cocktails I tried, three—an old-fashioned, a mint julep, and a concoction made with vanilla-infused bourbon and apricot—tasted like simple syrup on ice. (A Manhattan, made with walnut bitters, was decent but still too sweet.) You're better off ordering a glass of the straight stuff from the long list of bourbons.
Maybe Lee is showing restraint in the face of having to please a broader crowd, consisting mostly of conventioneers from the nearby Gaylord National Resort. But I couldn't help wishing for more punch—or at least gochujang—on the plate and a whole lot less sugar in the glass.
---