The most popular—and dreaded—New Year's Eve resolution is back: eat healthier. The good news: that doesn't mean you have to give up flavor or a fun meal out. Here are some of the waistline-friendly dishes we're already craving this year.
Tacos stuffed with smoky greens at Chaia
3207 Grace St., NW
Georgetown's new vegetarian taco shop boasts a small menu, but you won't go wrong with any of the freshly-griddled corn tortillas (gluten-free!) stuffed with seasonal veggies. We're longtime fans of the mushroom-salsa roja, but don't miss a newer favorite: smoky collard greens, tomatillo salsa, queso fresco, and pickled radishes.
Kale salad with pomegranate at G by Mike Isabella
2201 14th St., NW
Where can you find the best kale salad in Washington? Dinnertime at G. Sure, kale salads can be boring because they're everywhere (and full of kale), but Mike Isabella's version is downright addictive—filled with crunchy, bright bursts from fresh pomegranate seeds, and tossed in a tangy yoghurt-tahini dressing that reminds us of our favorite creamy salads (minus the wedge-induced shame).
Sour soup at Thip Khao
3462 14th St., NW
Chef Seng Luangrath's fiery Laotian fare runs healthy– think fragrant steamed fish and herb-packed salads. Our winter craving: the tamarind-infused sour soup, both bracing and comforting, filled with shimeji mushrooms, cherry tomatoes, and lemon basil.
Eden Bowl from Beefsteak
Multiple locations
José Andrés's vegetable-centric, fast-casual concept bests the average salad bar any day. The bowls are more satisfying and creative, and aspire to be just as diet-conscious. Try the Eden with an optional serving of house-smoked salmon or avocado for healthy fat.
South American-style steaks
Some of the best steakhouses baste, poach, and/or top their meat with butter for oomph. Paleos should try the South American asado at two of our favorite red meat joints, Del Campo and Rural Society, for a healthier alternative. The cuts absorb flavor from the wood-burning grill, and can be paired with olive oil and herb-based chimichurri sauce instead of buttery béarnaise.
Beet tartare with dates at Water & Wall
3811 Fairfax Drive, Arlington
Sure, vegetarian carpaccios and pâtés can be lame compared to the meaty originals, but chef Tim Ma's beet tartare rises above the rest. Thank the dressing—a punchy orange-soy vinaigrette—plus crunchy bits of apple, pistachio, and finely-chopped dates that add a touch of sweetness.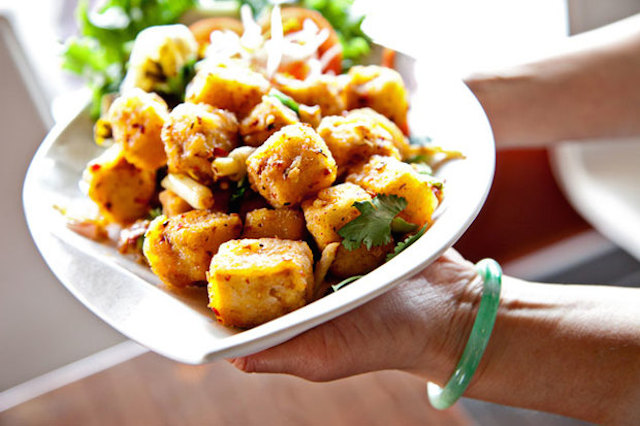 Spicy lemongrass tofu at Rice Paper
6775 Wilson Blvd., Falls Church
Sure, there're plenty of carnivorous treats at this stellar Eden Center restaurant, but we can't help but order this crispy tofu that's generously spiced with chilies and fresh lemongrass.
"Greens + Grains" bowl from Cava Grill
Multiple locations
For those times you're only feeling half-loyal to your Atkins diet: a mix of super-greens and your choice of grains (including virtuous brown rice or lentils). The customizable Mediterranean bowls can then be topped with spicy harissa, grilled chicken, and an abundance of veggie toppings.
Raw bar!
All those weekday salads have to end in some kind of weekend splurge, right? Pristinely fresh seafood never comes cheap, but the raw bar—and especially shellfish plateaus—are the ultimate diet-friendly indulgence. Some of the city's best: Le Diplomate, Kapnos Taverna, Fiola Mare, and Joe's Seafood Prime Steak & Stone Crab.
The vegan menu at Equinox
818 Connecticut Ave., NW
Kudos to chef Todd Gray for devoting half the dinner menu to "plant-based selections" that are inventive and often delicious. Equally smart: making most dishes available in half-portions so omnivores can sample mushroom pot au feu or porcini-chestnut veloute without wholly converting to a meatless meal.
Sushi and sashimi from Sushi Capitol
325 Pennyslvania Ave., SE
Chef Minoru Ogawa sources top-quality fish from some of the finest suppliers in the country, and the evidence appears on the plate. Each jewel-like slice of fish appears as if it was styled for a photo shoot—and tastes even better.