Jackie Wilson's "Higher and Higher" cut through the bitterly cold waterfront air at National Harbor as the crane on top of MGM Resorts's upcoming casino and hotel pulled a large evergreen tree up to the roof to commemorate the building's topping-out on Wednesday. The tree-raising ceremony—a custom dating back to eighth-century Scandinavia—marked the completion of another phase in the construction of the 24-story resort, which is scheduled to open in late 2016.
While the hotel tower is still skeletal, many of the casino's structural features are nearly finished, including the ziggurat-like podium that hides the 5,000-space parking garage under the main building. "There's nothing good-looking about a parking garage," said MGM Resorts Chief Executive Jim Murren.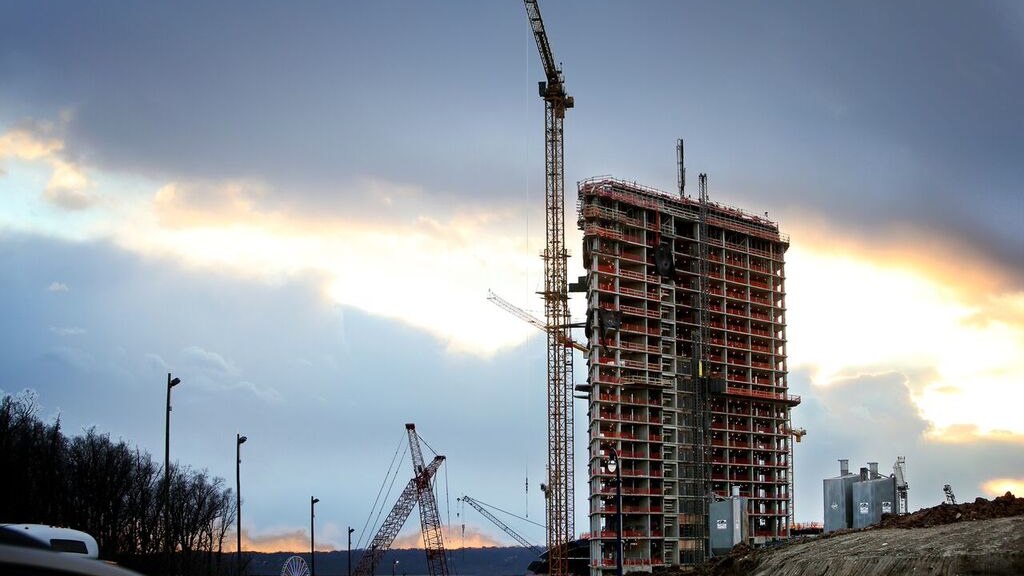 MGM won the rights to build Maryland's sixth casino in December 2013, a little more than a year after the state's residents voted to expand casino gambling in the state, and broke ground in May 2014. Since then, the project's timeline has been extended while its budget has grown. Initially estimated $800 million, the casino's price tag has increased to about $1.3 billion as MGM has refined the design. Swapping a planned 3,000-seat theater for a 4,000-person-capacity facility that can be used for conventions, boxing matches, concerts, and other events added about $100 million to the casino's construction budget, said Lorenzo Creighton, the casino's president chief operating officer.
When it opens, MGM National Harbor will feature 234 rooms, 74 suites, 18,000 square feet of retail, 12 restaurants, another 27,000 square feet of meeting and convention space, and a 125,000 square foot casino. (Maryland Live! in Hanover, by comparison, is 140,000 square feet.) Several of the planned restaurants will be from name-brand chefs, including José Andrés, Marcus Samuelsson, and Bryan Voltaggio, who attended the tree-raising event.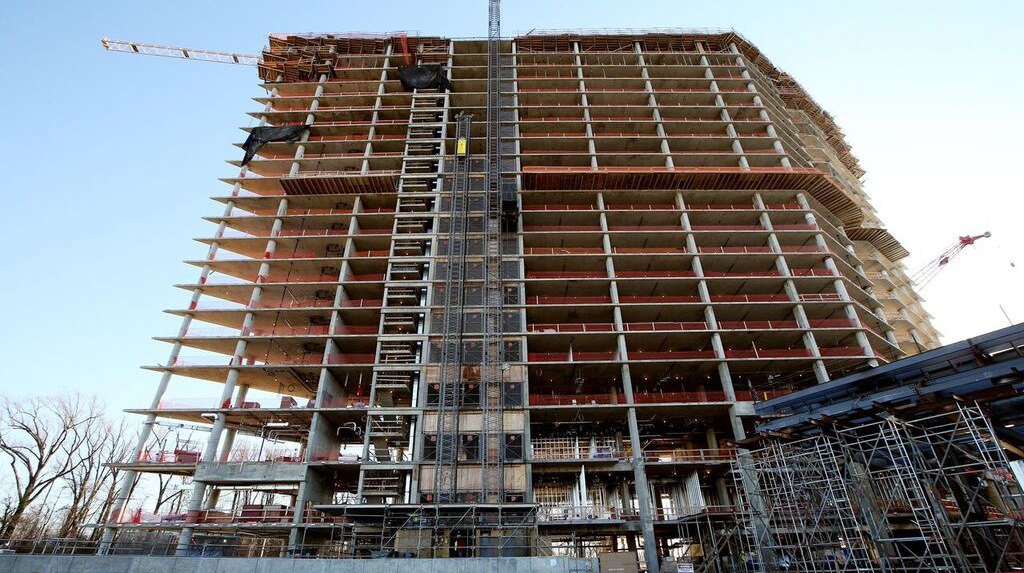 About 1,100 workers come to the construction site daily, according to an MGM corporate fact sheet. Murren and Creighton said that when it opens, the hotel and casino will have about 3,600 permanent jobs, about 80 percent of which will be full-time. The company says its average annual full-time wage is about $60,000, with 140 "job classes" ranging from dealers to hotel receptionists to managers. (Dealer training begins in May, with an emphasis on learning blackjack first, said Bill Boasberg, MGM National Harbor's general manager.)
Murren also boasted MGM has upped the luxuriousness of the hotels rooms, suites, and amenities since the casino was designed. "The suite product is the best we've done as a company," he said. But will it be superlative enough to match the hotel Donald Trump is building at the Old Post Office on Pennsylvania Ave., Northwest, 11 miles away?
"We'll blow that away," Murren said.