There's a new boutique fitness chain in town, but it's not quite as boutique-like as others we've seen enter the Washington market in the past year. The first BLAST (Balanced Level of Aerobic/Anaerobic and Strength Training) studio opened this weekend in West End, and unlike other exercise studios, BLAST offers more than just a sweat session.
Similar to other fitness boutiques–yoga or spinning studios–BLAST only offers one type of workout–intervals–though the nature of interval training means that participants are alternating between strength training and cardio throughout the 60-minute class. But what sets BLAST apart from other studios is the data that informs the workouts. The BLAST method is built on three elements–classes, metabolic testing, and nutritional coaching–offerings you might normally only find at a bigger gym.
The BLAST method was launched in 2008 in Georgia by Missi Wolf, a self-proclaimed "regular mom" who lost 100 pounds, and in the course of doing so, realized that she needed a place that could not only guide exercise but also her nutrition. Given that DC is a city filled with highly educated fitness obsessives, Wolf felt it would be the ideal city for BLAST's first studio outside of Georgia.
"Our plan is to do a national expansion, so when we started looking at test markets to go outside of Atlanta, we knew we needed to be in metropolitan cities," says Wolf, who came into town for the studio opening. "We started looking geographically at what made the most sense, demographically what made the most sense, and DC just hit it. It's such a fit city, and people will spend the money if you bring them value."
That added value will be key, as BLAST classes are $38 when purchased individually–a bit more than other newer DC boutique studios' individual class prices, such as Flywheel ($28) or SoulCycle ($30) or Solidcore ($37). The fitness testing starts at $90 and nutritional consultations begin at $75. The first DC studio will serve as a test market for BLAST before they decide to open in other cities or in other locations in the Washington area, such as Bethesda or Arlington.
The BLAST Profile 
The metabolic testing might be what hooks DC's fitness geeks. There are several types of testing that BLAST offers, the sum of which makeup a client's BLAST Profile. The tests include a basic fitness test, a resting metabolic rate test, an active metabolic test, and an evaluation of body composition. Clients have the option to purchase just one of these tests or to purchase any combination–or to opt out entirely and just participate in the workouts.
After taking the BLAST Basic profile on Monday evening, I could see how the testing would become addictive. The Basic profile was focused on my active metabolic rate (identifying the heart rate above which my body stops burning fat) along with what my VO2 peak number (which measures how my body uses oxygen during exercise). And though I'd gone into it nervous–what if they told me I was horribly out of shape?–by the end, when BLAST's profile director Stephen Phillips walked me through what the test said about my fitness levels, all I wanted to do was to get more numbers, more information about how I can make my exercise more efficient. (The fact that I'd only filled in one portion of the pie graph portion of my BLAST profile bothered the completist in me, though filling out the rest of the pie chart would mean signing up for more tests.)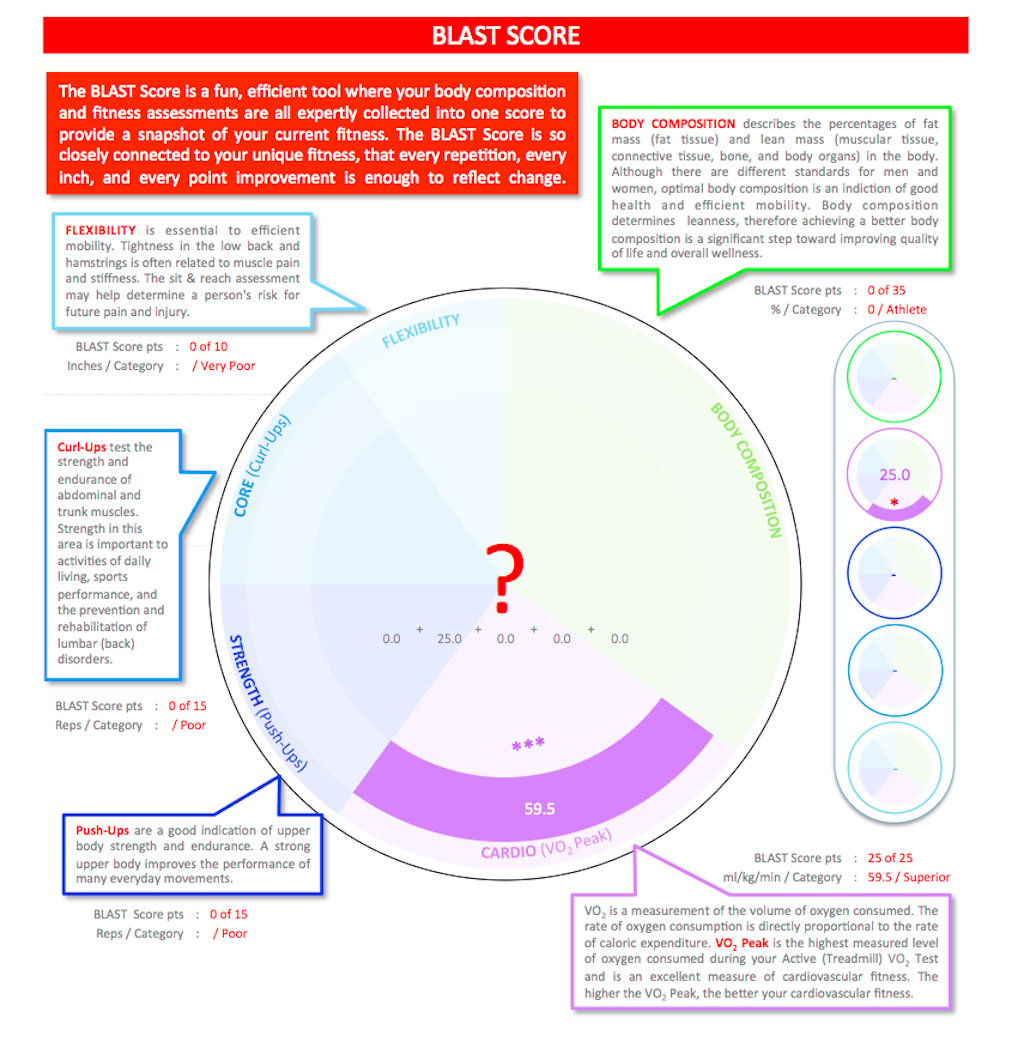 Though metabolic testing certainly isn't a new science–in fact, similar tests are already available locally at George Washington University's Milken Institute of Public Health— BLAST makes the results of the testing both easy to understand and translates them into day-to-day exercise routines.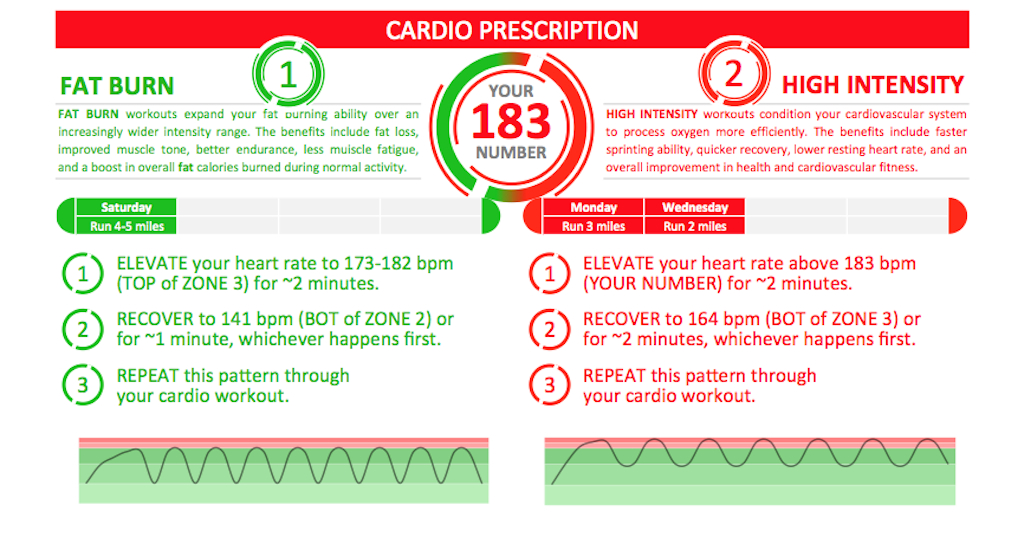 For instance, during the test, Phillips used the metabolic cart to identify 183 as the heart rate at which my body stops burning fat. Using a graph, Phillips explained that if I wear a heart rate monitor while exercising, I can focus on maintaining a heart rate that is below 183 for fat burning workouts or peak above a 183 heart rate for high intensity workouts–both of which Phillips prescribed to me. Phillips explained that while a higher number like 183 isn't necessarily a good or a bad thing–it just happens to be how my body works–it does mean that I can go longer into my workout as my heart rate climbs and continue to burn calories from fat, which sounded like good news to me.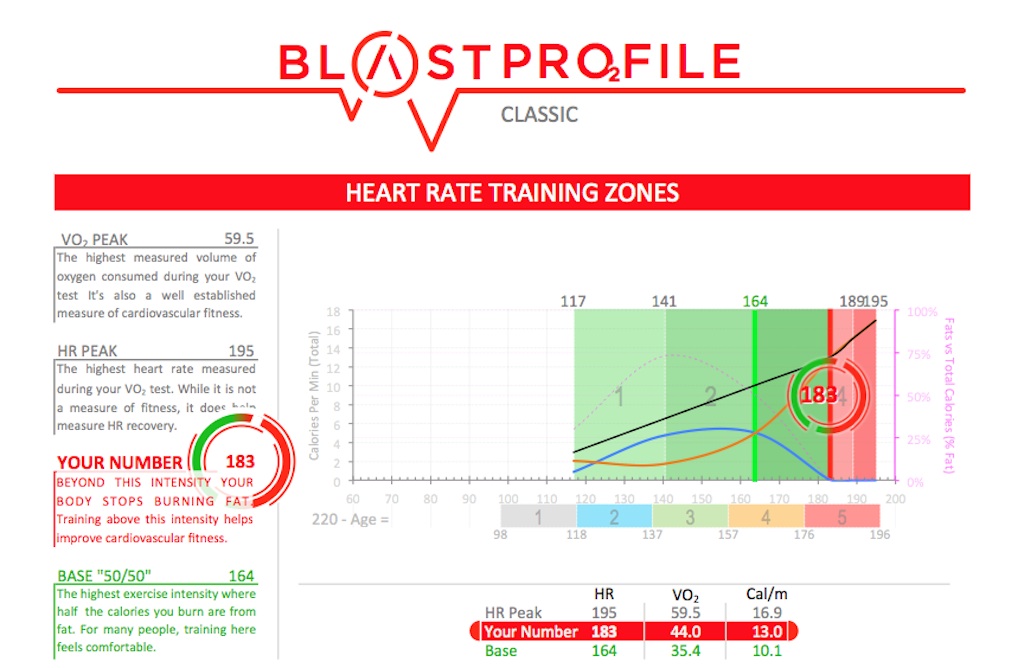 The BLAST Workout
Armed with this new information, I headed into a BLAST class, still wearing the heart rate monitor. The setup of the class may confuse newcomers, and that's because each BLAST class is really two classes in one: half the class begins on numbered treadmills that line opposing walls of the room, while the other half of the class begins on the floor at numbered stations. Throughout the class, the instructor calls the treadmill half of the class to swap positions with the floor portion of the class so that participants are constantly switching between cardio and strength training.
The workout was challenging, but ultimately, it was as challenging as I wanted it to be. Throughout the treadmill portions of the class, the instructor yelled out three speeds for walkers, joggers, and runners, allowing the participants to choose how fast they wanted to move. Knowing I didn't want to max out my heart rate in order to stay in the "fat burning zone" I opted to stay among the joggers for the majority of the class. The three speeds–while allowing participants who are using a heart rate monitor to stay in their ideal zone–also makes it possible for those who have injuries or need to take it at a slower pace to customize their workout as needed.
The equipment at the floor stations may change from class to class, but for Monday night's class, the floor was littered with Step 360 Pros and hand weights. During the strength training portion, the instructor lead the room through squats, dumbbell rows, reverse flies, curls, crunches, and more–all while continuing to yell out instructions to the treadmill runners. The fact that both halves of the class are simultaneously engaged in totally different exercises can make it difficult to follow at times. In one moment, the instructor might be yelling a series of speed numbers to the treadmills before quickly switching to counting down lunges for the floor crew. That, combined with the high-energy background music, requires that participants stay focused so they don't get lost. On the bright side, the sheer number of moving parts and the alternating between strength training  and cardio has the effect of making the hour-long workout pass quickly.
At the end of the class, I received an email from BLAST that had translated the data received from my heart rate monitor. While I was pleased to see that I'd remained in the ideal fat burning zone for the majority of my workout–and burned 648 calories while I was at it–I wasn't able to keep an eye on my heart rate throughout the workout. For this, Phillips recommends wearing a fitness tracker watch that displays your heart rate, such as the Polar A360 or the Polar A300.  
Overall, I left the class feeling like I'd received a complete, full-body workout and used the time more efficiently than if I'd spent an hour running on a treadmill. But more than that, I felt that I left the gym armed with information about how I can train using my heart rate whether or not I do it in a fitness class or exercising on my own.
BLAST is now open at 2311 M St., NW.
Update: This post previously listed the gym in Georgetown, but it is actually in West End.