Foster MacKenzie III was kicked out of Sidwell Friends, supposedly got tossed off the porch of his Yale fraternity by brother George W. Bush, and climbed over the White House fence while on an LSD bender. He was only getting started. Somewhere in the course of his development he took the stage name Root Boy Slim, formed the Sex Change Band, and reigned as a bizarre and increasingly unpredictable Washington-area musical hero from the late '70s into the '80s.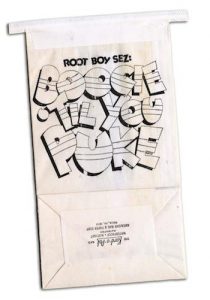 Song titles like "I'm Not Too Old for You," "Dare to be Fat," and "Hicktown Pizza Hut Woman" made it easy to write Slim off as a novelty act, said Dick Bangham, who created album covers and swag for Slim before joining his band as a backup singer. "But he wrote intense, funny songs and sang them with conviction." Bangham has assigned himself the possibly impossible task of explaining the Slim phenomenon with a documentary, Boogie 'Til You Puke: The Forgotten Legend of Root Boy Slim.
"I want people to see how good he really was," Bangham says. On April 13, he will show clips of the work in progress at the Shaw Library.
It's a wild ride. The documentary will feature clips of live performances at the Bayou and other local venues where Slim pretended to throw up on stage, fall asleep inside the bass drum, and jump on tables. He often played barefoot. Well over six feet tall and two hundred-plus pounds, Slim's kept knocking things over with his big feet onstage, remembers saxophonist Ron Holloway, a Sex Change Band mainstay who's also played with Dizzy Gillespie and Gil Scott-Heron. Bangham produced a stage set with a plywood neon pink backdrop and Christmas lights spelling out ROOT.
Slim came tantalizingly close to the stardom he craved. In 1977, local DJ Josh Brooks shared a demo with college roommate and Steely Dan lead singer Donald Fagen. Root subsequently got a $250,000 contract from Warner Bros. and performed at a Los Angeles new act showcase in 1978. The story goes that Slim got wasted on cocaine before showtime. He stumbled onstage and knocked over a table where an important Warner Bros. executive and his wife were sitting. His performance bombed.  (Another possible explanation is that his first record for Warner Bros., Root Boy Slim and the Sex Change Band with the Rootettes, simply didn't sell very well.) Whatever the reason, Warner Bros. bought him out of his contract for $40K.
Schizophrenia and drug problems contributed to Slim's subsequent professional decline. Never able to match his popularity outside the DC area, he dissolved the Sex Change Band and soldiered on with other musicians sporadically for several years before moving to Florida, where he died in 1993.
Slim's isn't the only local music story about to be immortalized on film.
Nighthawks on the Blue Highway got a preview at AFI Silver Spring in January. Director and Damascus High School graduate Michael Streissguth is waiting to hear if it will be picked up for an official unveiling at a film festival this summer. The local blues and roots band continues an active touring schedule including an April 26 benefit performance at the State Theatre for former member Jimmy Nalls, a Falls Church native suffering from Parkinson's disease.
The Humbler, the story of Grammy-nominated guitarist Danny Gatton, is nearly finished, says director and Twinbrook resident Virginia Quesada. A veteran of music videos and documentaries, she's worked "off and on" for 26 years on the DC-born Gatton's story. The film is"ramping up now," Quesada says, and she plans to launch a crowdfunding event this summer to get enough money to finish it. Gatton, sometimes called the world's greatest unknown guitarist, committed suicide in 1994. Fans John Fogerty and Vince Gill join a long list of guests appearing in the documentary.
Potomac-based director Jay Schlossberg is eyeing a December 2016 release for Feast Your Ears: The Story of WHFS 102.3. The documentary focuses on the Bethesda music scene from 1969 to 1982 and features interviews with Silver Spring native Lewis Black, Roger McGuinn from the Byrds, and Starland Vocal Band member Jon Carroll.  Schlossberg eclipsed a crowdfunding goal last summer and will hold a benefit concert May 7 featuring Jonathan Edwards and Danny O'Keefe at Montgomery College's Robert E. Parilla Center for the Performing Arts in Rockville.
Film technician Scott Mueller, who is working with Bangham on Boogie 'Til You Puke, says all these documentarians are hoping to tell parts of an unexplored story of the DC music scene in the '70s and '80s: "There's a lot more to it than go-go and hardcore punk."