Building a house is daunting. But in Washington's competitive real-estate market—where, unless you have an unlimited budget, it's often impossible to find exactly what you want—custom builders say more families are committing to construction projects. The trend is up nationally, too: The National Association of Home Builders reports that last year, 158,000 custom homes broke ground, compared with 123,000 in 2011.
Depending on issues such as permitting, demolition, and the complexity of the design, it can take nine months to two years before a custom house is complete. Here's what to know before you get started.
Find the land
"You can't get too far into the design process without knowing where you are building," says Rob Fisher, principal of Vienna's Fisher Custom Homes and president of the Custom Builders Council, a consortium of smaller firms. "You need to know the elevation, whether it's a corner lot, and other things that affect the whole plan."
Custom homes can happen one of two ways: the totally design-and-build-it-yourself route or the spec-home route, in which you buy an under-construction house or lot that a builder has financed and planned and that you put the finishing touches on. The latter option saves the work of finding the land yourself—plus the architect and builder. Real-estate agents can help you suss out spec houses, just as they would completely built houses.
If you're starting from scratch, you likely won't be looking for an empty plot. In Washington, most custom jobs involve "infill building"—industry lingo for buying and tearing down an existing house, then constructing a new one in its place. "There are just very few lots left without houses sitting on them around here," says Todd Wood of Bethesda's Castlewood Custom Builders.
You can acquire your own lot with the help of a real-estate agent, or if you pinpoint a builder you love before the location, he or she can often help search for lots and even negotiate the price.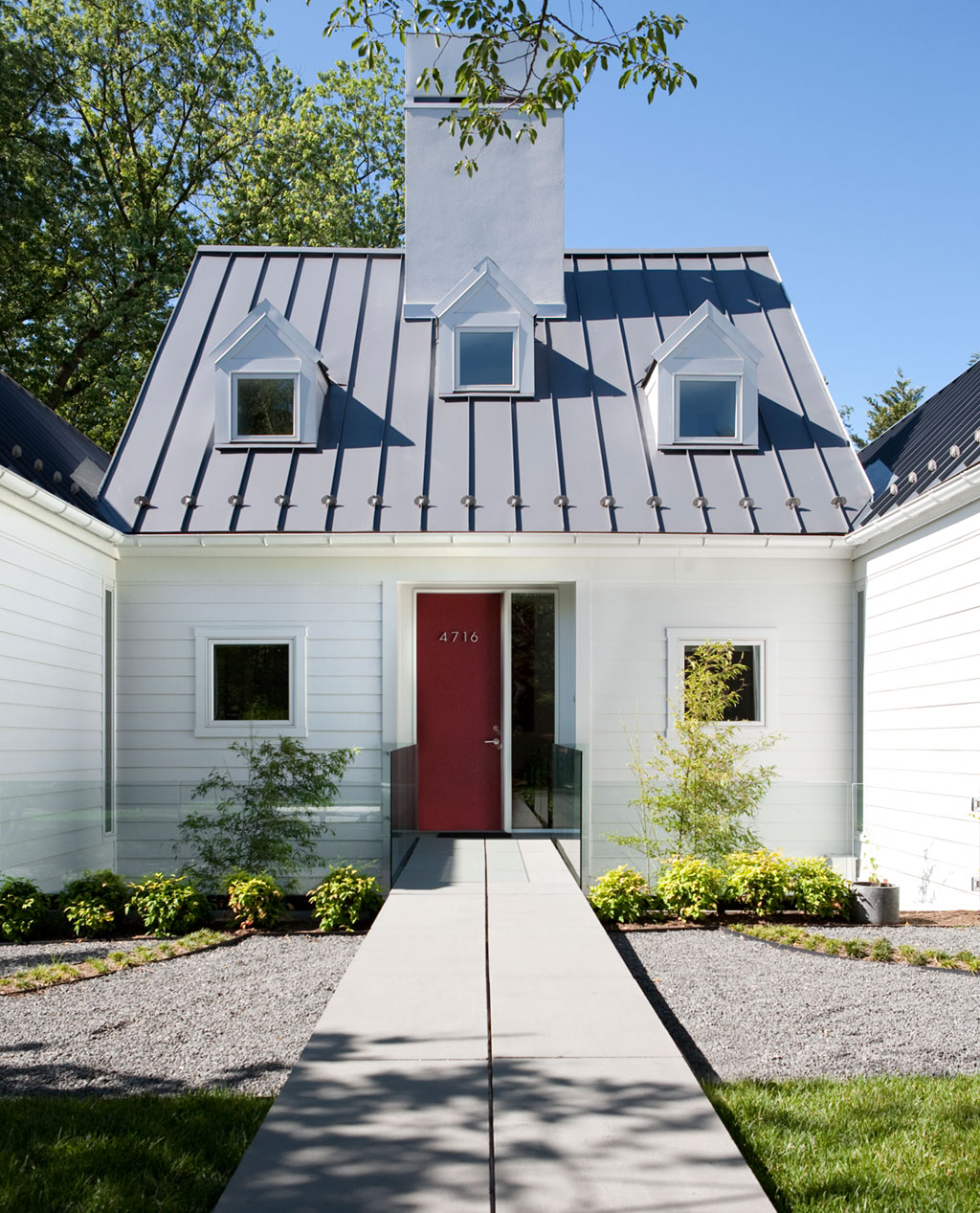 Find a builder
Hiring a builder or architect is like hiring an employee—you'll need to talk to several candidates before you commit. Many custom-build companies—such as Sandy Spring Builders, Tradition Homes, and Anthony Wilder Design/Build—have in-house architects, saving you the step of finding one yourself.
If you're assembling the whole team on your own, there isn't a right or wrong order to follow: If you choose an architect first, that person will likely have builders to recommend, and vice versa. To find professionals, drive around the neighborhoods you're interested in with an eye out for development signs, and check design websites like Houzz to see portfolios of local builders' and architects' work. Don't be shy about requesting references from past clients. And check whether your builder belongs to organizations such as the National Association of Home Builders, which holds members to high standards.
You'll need to like the home pro personally, too. "When you meet with a builder, ask a lot of questions, but also do a lot of talking about what you want in a home," says Sean Mullin, director of design at Anthony Wilder. "You want to feel comfortable since you'll be working with them for a chunk of time."
The builder should be just as interested in you. Says Stefan Széll, owner of Zold Design Build: "I spend a lot of time getting to know clients, figuring out what their kids like, their backgrounds, whether they like to cook. It's part of getting the recipe right for their home."
Understand the financing
If you buy your own lot or tear-down house, the financing often involves a construction-to-permanent loan, which enables you to pay for the property and the build-out. The loan usually covers 75 to 80 percent of construction costs. After the project is complete, the rest of the loan turns into your home mortgage. (One downside of spec homes: If a builder buys a plot and sells it to a customer, the price of the land is usually higher because the builder has assumed the up-front financial risk.)
Before you design anything, look at what other houses in the neighborhood cost. You don't want to create something wildly out of sync with surrounding property values. Set a budget—then stick to it.
Freelance design writer Jennifer Barger can be reached at jnbarger@gmail.com. On Instagram, she's @dcjnell.